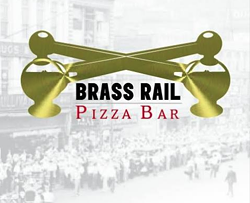 Grand Circus Park's R.U.B. BBQ is a thing of the past as the restaurant closed this week and will re-launch next week as
Brass Rail Pizza Bar
.
Eater
reports
R.U.B.'s owner, Dominic Yono, is also behind Brass Rail, and the change is motivated by an "underdeveloped downtown pizza market."
Indeed, there's not much in the way of pizza near Comerica Park and the Ilitch parking lot desert, and competing with Slow's and Red Smoke for a share of the barbecue market must be tough.
On paper, the pizzas are intriguing and worth checking out. The "Chip of the Ole Block", for example, includes mozzarella, cippolini onions, arugula, lemon zest, bacon, and balsamic reduction.
The "Wakey Wakey" is topped with mozzarella, sunny side eggs, home fries, bacon, and black angus strip. Beyond the pies, Brass Rail will have about a dozen sandwiches, a few entrees, pastas, and a wide ranging list of starters with everything from tater tots to charcuterie.
Check out the full menu
here
. The restaurant is located at 18 W. Adams St., Detroit.