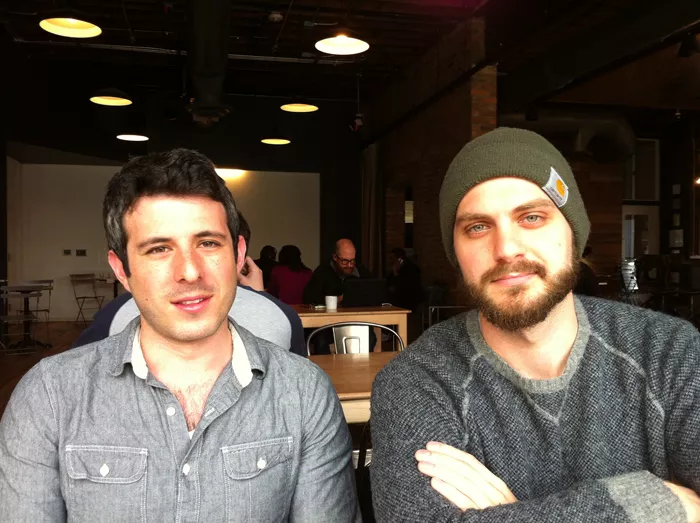 Garret Koehler, 27, was one of the masterminds behind last year's bid to bring the X-Games to Detroit along with his partner Kevin Krease. Although the effort ultimately failed, Koehler and Krease wanted to capitalize on the excitement the initiative had generated around town. So, they brought in Chad Rochkind, 29, and started ASSEMBLE, a group that now intends to broaden the appeal of the Mackinac Policy Conference.
The yearly Mackinac conference draws every mover and shaker from across the state who, in theory, convene to discuss Michigan's future. The four-day event, though, costs more than $2,000 to attend. Of course, with that steep of an entry fee, some young residents who have a stake in Michigan's future are essentially priced out. Enter Rochkind, Koehler and Krease: They want to ensure a diverse pool of Detroiters have a seat at the table — at a fraction of the cost. And that's the plan with [email protected](ish). Participants will be able to livestream sessions from the conference, respond with their own panel discussions, and provide those on the island with their own thoughts. Oh, and it's all set to take place on a beautiful farm in nearby Charlevoix. Rochkind and Koehler joined us as Great Lakes Coffee in Midtown to talk about the effort.
Metro Times: What first spurred the idea? Why'd you guys want to get involved with the Mackinac conference?
Chad Rochkind: We actually wanted to send a youth contingent up to Mackinac … and when we approached the [Detroit Regional] Chamber about it, they were like, "That's great, the youth should be a part of the conversation." … But they were like, "Hey, here's a few scholarships we have, maybe there's a few people that could go." It was a small amount, maybe five or six. We wanted to have a real youth presence, particularly a Detroit youth presence. … That was cool, but maybe we should have our own meeting that could consolidate the youth voice and could make it something we could shine a light on, rather than as an afterthought … It's a great way to get people from Detroit doing great things together.
MT: Where is everything taking place?
Garret Koehler: We actually thought about doing it at a campground that's across the island. … maybe all go over in canoes, like George Washington crossing the Delaware [laughs]. … But we got access to a guy who supported our work who has a farm in Charlevoix. He was like, "Hey, you can try to figure out camping, or you can just use this farm … So we went up two weeks ago and saw it … He has some 400 acres up there; he's got a lakefront property, it's got cottages, this huge old barn. We thought, "This could be cool to turn this whole property into some compound for the week, where we set up a live stream infrastructure in the barn. … We'll actually be watching the live stream from Mackinac, then we'll be responding to it pretty much in real time with our own stuff. … So that, essentially, we watch, digest in small groups, then those small groups would send a representative up to sit in on [one of Mackinac's] panels … then we live stream a panel essentially in response to different Mackinac programming.
MT: Have you worked it out so you'll have your discussions live-streaming on the island?
Rochkind: WDET is working with us.
Koehler: Yeah, WDET and Model D have been early supporters of this concept … WDET wants to integrate their coverage of our event with their coverage of Mackinac. So we're kinda fleshing out the details of that right now, but it's probably going to look like a dual embedded live stream on Mackinac and Mackinac(ish).
MT: What are some things you feel are missing from the Mackinac Policy Conference?
Rochkind: Well, I mean, they're trying to have a real conversation, right? We're just assuming that's what they want to have. So we're going to be … rounding out that conversation and we're going to play to all the best intentions of what they're doing, and we're going to show them we're engaged with that.
Koehler: The genesis of the idea was that we see the value of Mackinac — there's a ton of value in that! There's a lot of really engaged young and young-at-heart people in the city who want to participate in a conversation about what the future of the state is — a conversation that's serious, about policy, economics — who, to be frank, can't afford a $2,000 ticket. We're thinking, "Hey, how do we bolster Mackinac's conversation for a voice that can afford it?" Because that voice is interesting too.
MT: How much does it cost? What are you going to be providing?
Rochkind: It's $80. We're going to take them up to the farm … We'll have three [lodging] options: cottage beds for people … people can bring their own gear, and then we're going to provide communal tents.
MT: How many people can attend?
Rochkind: Fifty.
Koehler: Yeah, for the first year, it needs to be a small group, not just because of capacity … it's the first time we've done it, so we're trying to keep it a bit manageable.
MT: How is the selection process for would-be attendees going to work?
Koehler: We have a team of people looking at all the applications coming in, and they'll just have some questions about the work that [the applicants] do. … The success of our program is dependent on it being interdisciplinary, with tons of experience. … It's trying to create the most diverse pool … it's the only way this is successful.
MT: From an outsider perspective, it always seems like there's some huge current issues that are being missed at Mackinac. Why, with every top lawmaker and civic leader in the room, do you think that happens?
Rochkind: I think Detroit is a very silo'd city, and groups don't feel comfortable talking about other groups. I think that cuts across every way you can divide people … I think what we're trying to bring to the table is more of a mentality of collaboration. If we break down those silos, that's where the magic will happen. It can't be done in backroom deals. Transparency is the name of the game.
MT: The argument with Mackinac has always been, lawmakers are always dialed in to the day-to-day grind, and the conference gives them an opportunity to take a step back and discuss the state's future in a quiet environment away from Lansing. But everyone's connected each day, no matter what, thanks to innovative smartphones. So why not, say, bring that conversation back to a central location? Is that something you'd like to see happen in the future?
Rochkind: For me, Detroit is the future of the state, so what I don't understand is why statewide leaders aren't 100 percent in on making Detroit the center of the conversation.
Koehler: I'll counter that slightly … [having] this conversation in Charlevoix, or Mackinac, two places that represent … [some of] the greatest assets in Michigan … this conversation about the future of Detroit … that is sort of an expression of that relevance that the Detroit story is relevant outside of Detroit.
Would-be attendees for [email protected](ish) must apply online. (For $80, attendees will receive transportation to and from downtown Detroit to Charlevoix, three nights of lodging, and eight on-site meals.