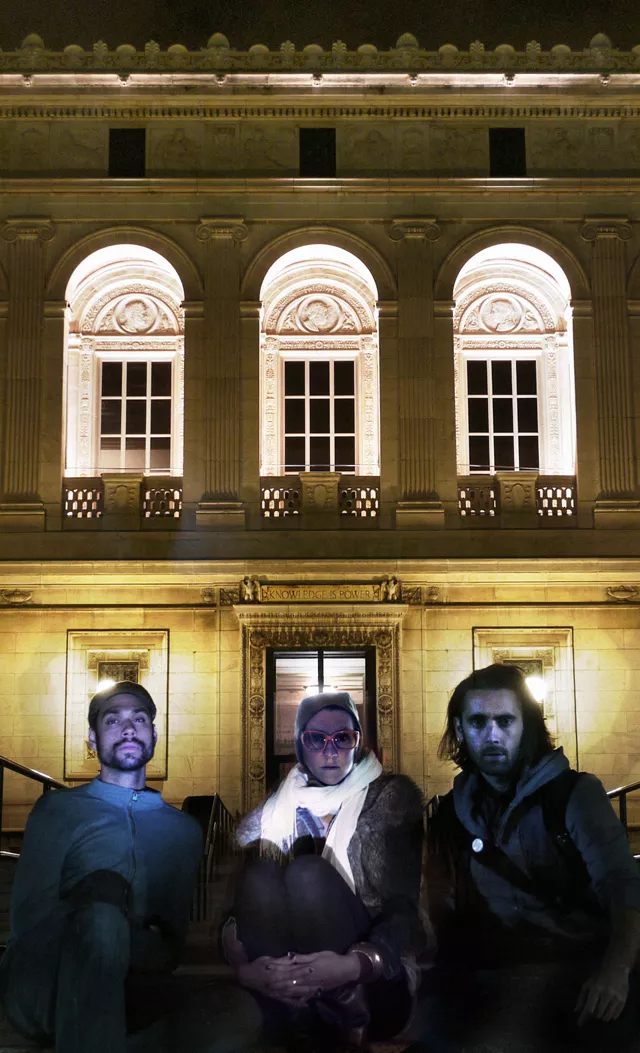 Dlectricity
What: An after-dark light and art exhibition.
When: From 7 p.m. to midnight Oct. 5, from 7 p.m. to 2 a.m. Oct. 6.
Where: Midtown Detroit.
This Friday and Saturday night, Midtown will be transformed into a glowing exhibition of light and art by the new Dlectricity festival. The festival will feature about 35 installations scattered along the Midtown area from CCS to the MOCAD. It is produced by Art Detroit Now and Midtown Detroit, Inc, headed by Sue Mosey, also known as the "Midtown Mayor." Sue has been working for more than 20 years to develop Midtown into a thriving business and art district. Mosey feels that events such as Dlectricity are "a critical part of revitalization, because it brings a lot of folks here and really contributes to our local economy." Midtown Detroit also produces the art events Noel Night and Art X Detroit. Mosey points out that, as an area with three museums and more than 35 galleries, events like Dlectricity are important to Midtown's art district branding.
The idea for the festival was born of the many technological resources already available in the area. The idea of combining art and technology is certainly a hugely developing field, and organizers knew there would be a lot of people interested. More than 200 applicants called wanting to participate, including Detroit artist and U-M alum Melanie Manos. Manos has a penchant for creating art with her own body juxtaposed with a built environment. She says, "It comes from a compulsion to climb in things and on things — I didn't lose that from being a kid." But more recently, Manos has begun doing collaborative work, including projected installations. When she heard about Dlectricity, she knew a projection piece would fit in well. She took photos of buildings in the area to inspire her piece, "The Climb." The official description of the piece, published in the brochure, reads, "A woman scales the wall of the 71 E. Garfield Building in a Buster Keaton-esque climb to the top — GASP!" When confronted by a friend about the daring task, Manos' reaction was, "I didn't think anyone would think I was actually going to do it." Her description, it turns out, was meant to be a joke. In actuality, a giant projection of a woman scales said wall — not quite as dangerous, but still sure to be a spectacle.
Another event, scheduled for the Detroit Public Library, is a 3-D animation paired with live music by Gabe Hall, Daniel Land, Audra Kubat and Gabe Rice. The piece will project the history of recorded human knowledge, including the tragic destruction of the Library of Alexandria.
Other events include a shadow puppet show, a block party in the Sugar Hill district (around MOCAD and the N'Namdi Center), laser shows, an interactive electronic DJ, and a light bike parade. The event is free and mostly outdoors, and Manos points out, "Detroit has this great tradition of outdoor music festivals and I think this could really fall into that tradition." To get more information about Dlectricity, see dlectricity.com. —Emily Riopelle
Evil Dead: The Musical
What: A singing, dancing version of the seminal 1981 horror-comedy pitting humans against "deadites"
When: Oct. 4-27.
Where: The City Theatre inside Hockeytown Café, 2301 Woodward Ave., Detroit; 313-965-9500
How much: $26 for general admission.
What could be better than a campy, bloody movie about teenagers turning into demons in the woods? A musical version! At least, that's what the producers at The Ringwald Theatre thought four years ago, when they brought Evil Dead: The Musical to Detroit — and audiences agreed. This year, the show is back, running every weekend in October at the City Theatre inside Hockeytown Café. Though the musical was first put on in Toronto, it only seems appropriate that the show should be brought to metro Detroit, the birthplace of Evil Dead director, Sam Raimi.
The musical version follows the characters, Ash, Cheryl, Scott, Linda and Shelly, from the 1981 film The Evil Dead, but the plot draws from all three of the Evil Dead films, focusing on the third, Army of Darkness. The show uses the musical vehicle to bring the tongue-in-cheek camp of the film to a whole new level. Numbers like, "All the Men in My Life Keep Getting Killed by Candarian Demons," and "Bit Part Demon," poke fun at the low-budget gory silliness that created the Evil Dead cult following in the first place.
Hardcore fans of the films have probably already seen the show three times, but if not, they will jump at the opportunity to see Ash's hand caught in the blender in person or Linda's severed head. The cheesy gore that every horror movie buff loved in the films is amped up in the musical, and the blood-soaked carpet on the theater floor proves it. Three rows of seats are even designated the "splatter zone" to warn audience members that they may be covered in blood by the time they exit the theater, but producer Jamie Warrow warns, "I'm not guaranteeing people in the back rows won't get hit."
The combination of a horror movie and a musical may seem odd, but the humor is what ties the show together and brings fans of both horror and musicals together. The dialogue is packed with clever one-liners ("the trees are alive with the sound of evil") and cheesy puns that everyone can enjoy. As Warrow puts it, "It's funny if you haven't seen the movies, it's hysterical if you have." For a not-so-scary (but still adult) Halloween activity, find tickets at olympiaentertainment.com. —Emily Riopelle
Death and the Maiden
What: Playwright Ariel Dorfman's riveting dramatic answer to the crimes of the Pinochet regime, exploring what happens to people after being subject to the brutality of totalitarianism
When: Performances at 8 p.m. Friday-Saturday, at 3 p.m. Sundays, until Oct. 14
Where: The Matrix Theatre Company, 2730 Bagley St., Detroit; 313-967-0999; matrixtheatre.org
How much: $20 for adults, $15 for students and seniors, $12 for members of groups of 10 or more (call in advance)
What a hook! Set in a Latin American country in the wake of Chile's totalitarian Pinochet regime, a lawyer named Gerardo is returning from a visit to the capital to the small beach house he shares with his wife. When his car gets a flat tire, he's helped by a doctor named Roberto, who gives Gerardo a ride home to his wife. But there's something about this doctor that reminds Gerardo's wife, Paulina, of the brutal torturer whose face she never saw, the man who raped her when she was a political prisoner. What ensues is a trial, of sorts, in which the doctor must answer for the crimes of the former regime, and in which we're never sure if he is, in fact, guilty at all. The play, written by Ariel Dorfman in 1990, in the immediate aftermath of the Pinochet government, is a hard-hitting piece that, in the hands of skilled actors, can pack quite a punch.
The all-local cast is directed by Kate Peckham, with Karon Kron giving a compelling performance as Paulina. And this staging makes powerful use of Matrix's small space, as no audience member is more than six feet away from the actors at any point. Shaun Nethercott says, "It's an extremely powerful, very convincing journey through good an evil, and to be so close to a raw and powerful performances is amazing."
What's more, it fits right in with the small southwest Detroit theater's mission to use the "transformative power of theatre to change lives, build community and foster social justice." —Michael Jackman