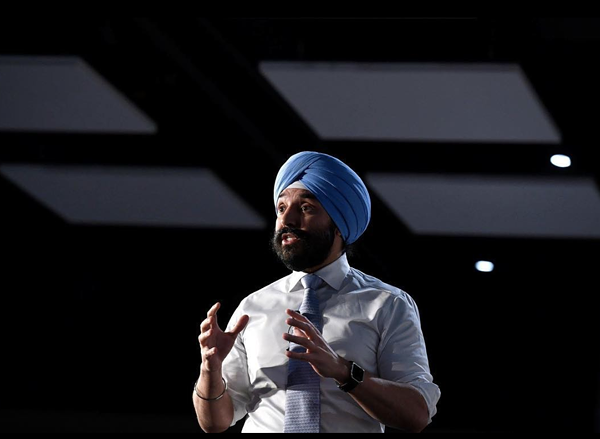 Canada's Minister of Innovation, Science and Economic Development is speaking out about a possibly discriminatory incident he says took place at Detroit Metro Airport in 2017.

Navdeep Bains tell Canadian outlet La Presse that he was asked last year to remove his turban while traveling through the airport, despite having passed all necessary security procedures.
"I went through all the security checks without revealing my identity as a minister," he told La Presse. "I did it knowingly, as is my habit, to understand better what ordinary people are going through when they sometimes have trouble getting along with people in a position of authority."

Bains was asked to endure a second security measure after going through the metal detector without any issues. It was then that an agent asked Bains to remove his turban.

"I will never be asked to take my clothes off. It's the same thing. It's a piece of linen," Bains told the newspaper. After passing the second test, the diplomat was asked to return to security claiming that "protocol had not been followed"

Following multiple requests for the Canadian official to remove his turban, Bains "reluctantly" presented his diplomatic passport, after which he was given permission to board his flight.

"As a Sikh, wearing the turban is considered one of the most dutiful acts for a person of the faith and I am proud to represent my community," Bains told CNN. "Unfortunately, these types of incidents do occur from time to time to minorities in particular. But it should never become the norm."

In 2007, US travel policy was adjusted to permit followers of the Sikh religion to keep their headgear on during security inspection. According to TSA guidelines, "removal of headwear does not apply to Sikh travelers wearing religious head coverings" and "Sikh travelers should request to stand in line for the puffer, a machine which blows air at the turban, without touching it, in order to detect chemical traces, such as gunpowder, or other explosives."

Canadian officials expressed concern with the U.S. government shortly after the incident and were issued an apology. Bains told La Presse that he had accepted the apology and only decided to go public to bring awareness to the issue and ignite dialogue about diversity.

#DiversityIsOurStrength #CdnPoli #PolCan pic.twitter.com/rPCOl1Eq1R

— Navdeep Bains (@NavdeepSBains) May 10, 2018
Stay on top of Detroit news and views. Sign up for our weekly issue
newsletter
delivered each Wednesday.