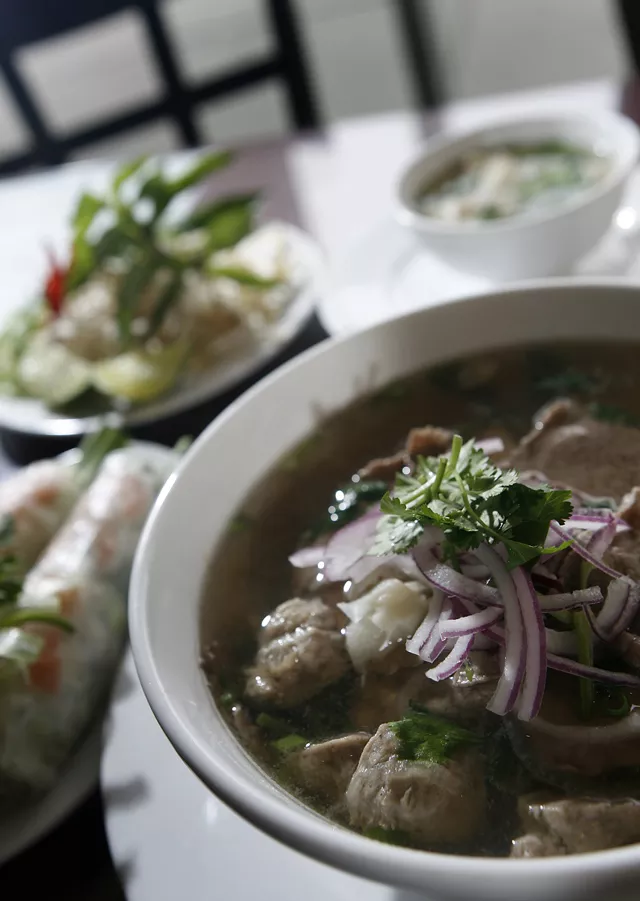 Pho Viet
3854 E. 13 Mile Road, Warren
586-558-8115
Commerce along the thoroughfares of Madison Heights and Warren isn't pretty. Aging strip malls and asphalt parking lots are the dominant aesthetic. But what these arteries lack in architectural character is made up by a vibrant Southeast Asian community and the abundant restaurants and food markets that cater to it. Within a few square miles, particularly around the area where 13 Mile Road intersects Dequindre, it's easy to find everything from exotic fruit smoothies adorned with tapioca pearls that are sucked in through oversized straws to banh mi sandwiches filled with various processed meat parts such as liver paste and pork skin.
Pho (pronounced more like "fuh" than foe), a Vietnamese spiced beef broth and rice vermicelli soup, is standard at a half dozen restaurants where English is obviously the second language for a majority of the clientele. It's no different at Pho Viet, the newest addition to this ethnic dining district. And with that name, this restaurant's specialty is entirely clear.
There are nearly 20 ways to order pho at Pho Viet. Most are some combination of proteins — rare beef, well-done flank, brisket, tendon, tripe, beef meatballs, or all of the above. We ordered the loaded version and couldn't finish a regular-sized order ($7.50). With a depth of flavor from long-simmered bones and a delicate hand with the spices, the broth really is the star in this dish. A plate of bean sprouts, Thai basil, fresh hot pepper slices, lime and culantro (a large leaf herb that tastes similar to cilantro) accompanies the soup, to be added as you prefer. The youngest of our dining party is a fan of pho ga, the Vietnamese equivalent to American chicken noodle soup, and she orders it at every opportunity. She approves of the big flavors in Pho Viet's broth.
Pho isn't the only thing on the menu. For an appetizer, the classic summer roll of shrimp, rice vermicelli and herbs wrapped in chewy rice paper with thick, sweet peanut dipping sauce is a crowd pleaser. Shrimp and pork dumplings are served with a thinner, spicier sauce, and while tasty, they are a bit cumbersome to chew through the thick and glutinous rice flour shell.
There is a host of other soups. Spicy bun bo hue gets its pronounced flavor from lemongrass, among other things. We tried another bowl described simply as "special rice noodle soup." It was filled with a few different cuts of beef as well as tripe, liver, shrimp, imitation crab, a couple of slices of some kind of meat loaf, greens and even a few hard-boiled quail eggs. It was satisfying and fun to eat as every stab with the chopsticks seemingly brought something new to the surface. It was called hu tieu dac biet. We suspect the literal translation is "clean the pantry soup" or "oh shit, the-fridge-is-busted soup."
One of our personal favorite Vietnamese dishes is the combination of rice vermicelli and vegetables under grilled pork and a crispy roll. Called bun cha gio thit nuong, or #32, it is simple in preparation yet wholly satisfying with a light dressing of garlic fish sauce and julienne daikon radish and carrots for crunch. There are also a handful of dishes made with fried rice, broken rice and regular rice, most with pork.
We received complimentary hot tea on one visit, only ice water on another. There is no alcohol, but a lot of interesting drinks are on the menu. We're not quite sure what either the pickled soda lemonade or soda with egg yolk and condensed milk tastes like because we were busy sipping fresh coconut juice with thick slabs of chewy pulp at the bottom. A strawberry smoothie came with whipped cream and a paper umbrella. Food adventurers will want to try a durian smoothie. Though the durian fruit is beloved in Asia, it is sometimes banned in hotels and on public transit due to its pungent odor.
With tall ceilings and a wide, open floor plan, the dining area feels enormous. A dance floor and bandstand are near a long bar. It would be a fine place for a wedding reception if only to see how many of the conservative eaters in your extended family could be convinced to eat tripe without knowing it.
Pho Viet was quiet on a recent weekday night, but the lunch hour on a Sunday saw a good many tables filled with patrons leaning into their steaming bowls of soup. The service that day was superior, making us feel as if we were in an upscale restaurant. Without pestering, no less than five employees served our food and ensured the experience was positive. If they can maintain that level of service, along with the quality fare, Pho Viet just might become the standard-bearer in the area.
Pho Viet is open from 10 a.m. to 10 p.m., Monday through Thursday and 10 a.m. to 11 p.m., Friday through Sunday.