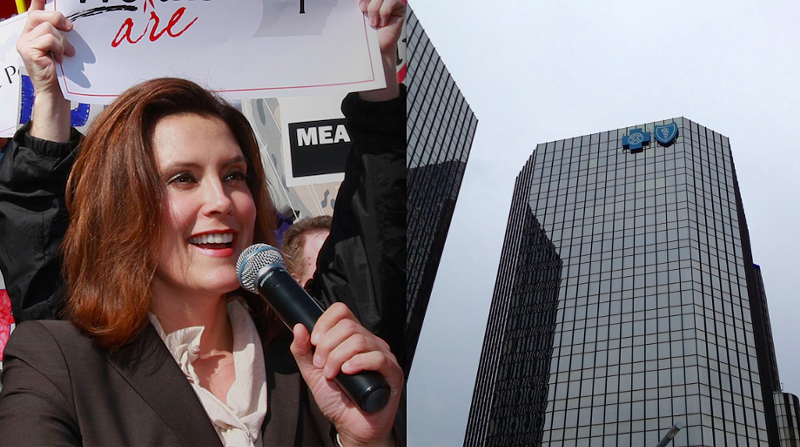 On a frigid Wednesday in early March, dozens of Blue Cross Blue Shield of Michigan employees ventured from their downtown Detroit offices to a nearby restaurant for a fundraiser for gubernatorial candidate Gretchen Whitmer. They'd been asked to the luncheon by Blue Cross executives who double as officers for its political action committee. Invitations — sent directly to their homes after the PAC took the unusual step of opening its member address book to the Whitmer campaign — reportedly encouraged them to donate between $100 and a maximum $6,800 to the Democratic candidate.
The fundraiser brought Whitmer nearly $145,000 in donations, campaign finance records show, making it one of the most lucrative events for a primary candidate in Michigan in 2018. It also drew ample criticism from her most progressive opponent, former Detroit health director Abdul El-Sayed, who has frequently taken shots at Whitmer for being "bought off" by the state's largest health insurer.
"On March 7 ... at Firebird Tavern in Detroit, Senator Gretchen Whitmer sold out the 600,000 Michiganders who do not have access to health care for $144,710 in campaign donations from Blue Cross Blue Shield," El-Sayed said in a statement after the fundraising total was disclosed in a campaign finance filing last week. "That's 24 cents per Michigander."
Though in their invitation Blue Cross PAC officers applauded the former state senator for her role in helping expand Medicaid eligibility under the Affordable Care Act — a move that directly benefited the insurer — the rationale behind their support for Whitmer is likely far more simple. Whitmer is the only Democrat running for governor who does not support state-level single-payer health care, a program which would all but eliminate private insurers to drive down costs and help guarantee everyone
access
to care.
She also has personal ties to Blue Cross Blue Shield of Michigan: Her father served as its CEO for 18 years, and, according to a 2015 interview brought to light by
The Intercept
, current BCBSM CEO Dan Leopp was the first to encourage her to get into politics. Whitmer was elected to the state legislature in 2000 and served for 14 years, eventually becoming Senate minority leader.
The money Blue Cross employees contributed to Whitmer after encouragement from some of their superiors greatly exceeds the insurer's largest direct PAC contributions in any gubernatorial primary in the last decade, campaign finance records show. The $145,000 raised is three times the amount of Blue Cross PAC's largest contribution this election cycle. The PAC, known for pouring money into state politics on both sides of the aisle, has so far directly contributed $42,000 to Republican gubernatorial frontrunner Bill Schuette. It has not contributed to Whitmer directly, though it was a regular contributor to her campaigns until she left the Senate, giving at least $34,000 to Whitmer or her leadership fund in her last six years in office.
The unique giving arrangement underscores the political quandary facing Whitmer and Blue Cross, says longtime Michigan political analyst Bill Ballenger. With two of three Democratic candidates, El-Sayed and Shri Thanedar, advocating for single-payer health care for the first time ever in a Michigan gubernatorial race, the stakes for the insurer appear higher than ever before. But as both of Whitmer's opponents refuse corporate PAC contributions and shine a critical light on the influence of big money in politics, Blue Cross has been forced to steer the candidate money more quietly.
"I think they decided it simply will not help Whitmer to have a huge PAC contribution coming from Blue Cross Blue Shield," says Ballenger. "Instead, they said 'These could all be individual contributors.' But it's a distinction without a real difference because she got the money in greater excess than Schuette or anybody else."
While the PAC has directly donated up to tens of thousands of dollars to candidates in this and the past two gubernatorial primary cycles, none of the candidates it supported raised more than $4,000 in contributions directly from company employees during the primary (separately, Governor Rick Snyder raised about $100,000 from Blue Cross employees as the incumbent in 2013). We analyzed contributions to Whitmer's primary rivals, Republican primary candidates Schuette and Lieutenant Governor Brian Calley, 2014 Democratic gubernatorial candidate Mark Schauer, 2010 Democratic gubernatorial candidates Andy Dillon and Virg Bernero, 2010 Republican gubernatorial candidate Pete Hoekstra, and Snyder. The PAC gave Hoekstra $34,000, Bernero $20,000, and Dillon at least $34,000.
"The maximum amount a PAC can give a candidate is $68,000," says Craig Mauger, director of the Michigan Campaign Finance Network. "So if you get enough like-minded individuals together they can give more than a PAC could potentially give."
Asked whether the PAC has held fundraisers for gubernatorial candidates in the past, Blue Cross Blue Shield spokeswoman Helen Stojic says "someone at the PAC ... recalled" there were others. When pressed on which past candidates might have been afforded such an accommodation, Stojic says "the PAC was not commenting on matters relating to the governor's race."
The same line was given when
Metro Times
asked about the PAC's assist in a primary race that for the first time threatens Blue Cross' very existence. But Stojic has previously offered her thoughts on single-payer health care, and questioned the need to replace the insurance market with a government-run system, saying "more people are insured" and premiums "are moderating."
"There is robust competition here," Stojic said in a recent statement to
Crain's Detroit Business
. "The private insurance market is healthy in Michigan, and we see no reason to dismantle it."
Approximately 600,000 Michigan residents do not have health care in Michigan — or 1 in every 17 people — and others still struggle to afford it. The number of uninsured is expected to grow when Republican-passed Medicaid work requirements go into effect.
El-Sayed has proposed a detailed
state-level single-payer
plan that he says would require the average Michigan family earning $48,500 to pay in less than $40 for care per year. The plan would be funded through a graduated income tax, a tax on large businesses, and redirecting federal health care dollars currently used for things like Medicaid. The program would also save on administrative costs by excluding insurance companies that function like middlemen.
Whitmer's health care plan is far more modest. It involves "bolstering" the market-driven Affordable Care Act, opposing Medicaid work rules, and repealing a Michigan law that allows drug companies to avoid accountability.
When Whitmer was asked what she thought of Medicare for All in a March interview with
Metro Times
, before her health care agenda was introduced, she said her "goal is to get every Michigander access to affordable, quality health care." At the time, she said that could be done through "a statewide expansion of Medicaid or ... hopefully some sort of assistance from the federal government at some point, but I can't wait on the feds."
In more recent interviews with other outlets, she has shot down single-payer as infeasible, calling it a
"buzz phrase."
On El-Sayed's plan
in
particular, she has said that allocating Medicaid and other federal dollars to the program would require waivers from the "Trump administration" and that the tax structure El-Sayed envisions would require a constitutional amendment. (El-Sayed's campaign appears to be banking on a Democrat replacing Trump in 2020 and Democrats capturing the Michigan legislature.)
While Whitmer's position could indeed be rooted in pragmatism, Ballenger says she will always have a difficult time getting people to see it that way.
"I think she will never rid herself of her ties to Blue Cross — they will always be hanging around her neck," says Ballenger. "She'll have to do something very dramatic to convince the news media and
general
public that she's not beholden to that company and that her policy decisions won't be constricted by what's good for it."
The Whitmer campaign denied that's the case.
"The fact is, Gretchen Whitmer is the only candidate in this race who has ever expanded health coverage, and she's the only one who has ever stood up to the big drug companies by fighting to repeal Michigan's drug immunity law," said campaign spokeswoman Nicole Simmons. "Gretchen is a proud Michigander and she has always prided herself [in] being a public servant. She isn't beholden to political parties or corporations, but to the people of Michigan, and her record reflects that."
Still, Whitmer remains dogged by her connections to the insurer. In a new report highlighting $550,000 in untraceable money given to Build a Better Michigan, a group campaigning on Whitmer's behalf,
Crain's
brought Blue Cross into the story, saying that Whitmer's opponents have suggested "the mystery entities" could be "operating for the sole purpose of concealing corporate money from a big business like Blue Cross Blue Shield of Michigan."
When
Crain's
asked the Whitmer campaign if it knew where the money had come from, a spokesman declined to comment. Stojic, the spokeswoman for Blue Cross, also declined comment.
Stay on top of Detroit news and views. Sign up for our weekly issue newsletter delivered each Wednesday.