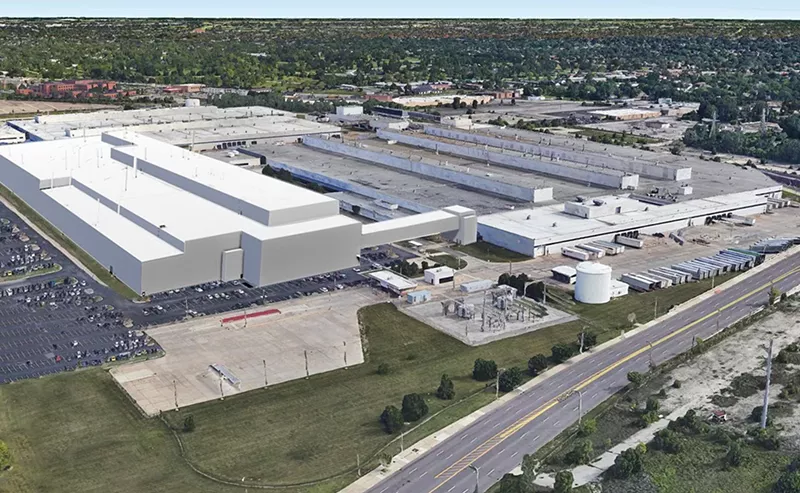 While the city of Detroit was negotiating behind closed doors with Fiat Chrysler Automobiles to open an assembly plant, a company connected to one of Mayor Mike Duggan's biggest campaign contributors purchased land adjacent to the site.
Billionaire Anthony Soave's Fodale Group & Associates paid just $60,000 each for contaminated former dumps owned by Republic Services at 12001 and 12017 Mack Avenue, according to city and county property records.
The deal was sealed on Nov. 7, just one month before news finally broke about the FCA's plans to open the assembly plant.
If Detroit City Council approves a controversial land swap Tuesday to make way for the assembly plant, Soave's purchase will pay off — big time. In exchange for the two contaminated parcels (5.3 acres), which would be used as parking lots for the assembly plant, the tentative deal calls for Soave to receive 72 parcels (9.5 acres) in the area of Van Dyke Street and Lynch Road for a new development.
Neither Soave nor his public relations firm would explain the timing of the purchase or why he wanted a former solid waste disposal site that once had a leaking underground storage tank. According to the property deed, Soave purchased the land "as is."
Under the deal between Fiat Chrysler Automobiles and Duggan's administration, taxpayers will be on the hook for cleaning up environmental contamination.
The city says the timing of the deal was coincidental.
"By the time we started looking into these properties for possible FCA land acquisition, Fodale and Soave already were under contract to purchase them," says Basil Cherian, deputy group executive for the city's Jobs and Economy Team.
Soave has a checkered past. He admitted giving then-Mayor Kwame Kilpatrick about $400,000 worth of private flights and a Rolex watch while getting lucrative contracts from the city, according to court records, but he was never prosecuted. In August 2017, a construction crew working on his mixed-use development in Corktown
damaged the UFO Factory
, a music venue surrounded by his construction project, prompting some to claim it was intentional.
Soave has a long history with the mayor that dates back to when Duggan was a deputy county executive. Soave donated more than $9,000 to Duggan's mayoral campaign, and Yale Levin, the vice president of Soave Enterprises, contributed another $7,800 to the mayor.
Under the deal, the city would turn over 215 acres of land to Fiat-Chrysler Automobiles to build the $2.5 billion plant. In exchange, FCA is pledging to create 4,950 jobs.
Despite mounting public opposition to the land swap, Duggan's administration continues to lobby council to support it, saying the deal will generate nearly 5,000 manufacturing jobs.
Activists have pledged to launch a petition drive to recall all council members who support the deal.
In a letter to the Economic Development Corporation, Councilwoman Raquel Castaneda-Lopez called the deal "a misuse of public bond money."
"This transaction is a massive giveaway of public lands without any community engagement," she wrote.

Stay on top of Detroit news and views. Sign up for our weekly issue newsletter delivered each Wednesday.