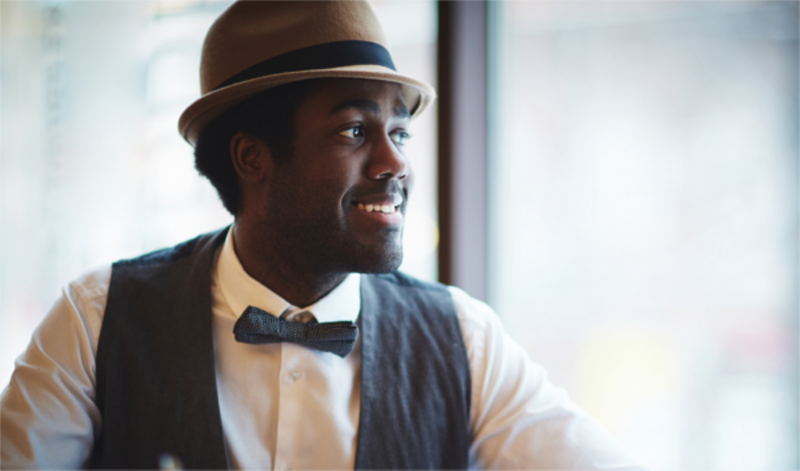 With the announcement that
Henry the Hatter's downtown location is closing,
prepare yourself for commentators once again to mutter a eulogy or two over the grave of the fancy hat. While it's true that the heyday of headgear — evidenced by those shots of uniformly hat-wearing crowds from a century ago — is over, there's something about the rush to judgment that because hat shops are closing, hats are "old hat."
Sure, hats have fallen far. At the turn of the last century, hats were so common that even a convict's mug shots would show him with and without his hat. Hats were ubiquitous enough to stake out a place in our language: We talk through our hats, eat our hats, throw our hats in the ring, and go hat in hand. Your hat stood for who you were, and going bareheaded was once a visual cue that something was very wrong.
After World War II, men started to hang up their hats in a big way. Soldiers back from the war locked their G.I. hats away in attic trunks. Hairstyles, more than hats, grew to define a man's look. Despite faddish revivals of some classic men's hats, by the 1970s America was well into the age of the baseball cap, and hats were something your mother hectored you into wearing. Brims gave way to bills, crowns and pinch-fronts sank away. Hat designers were older men out of touch with youthful styles. The death of mass transit and urban spaces coupled with the rise of the personal automobile and the climate-controlled shopping mall killed the hat's purpose: to shut out sun, rain, and wind. And, yes, Kennedy doffed his topper before taking his oath of office on television.
When
we spoke with him
10 years ago, Paul Wasserman of Henry the Hatter recalled the decline of the hat frankly: "Once upon a time," Wasserman says, "in Hudson's heyday, the hat department was 3,000 square feet. As times changed, the bottom-line people, as opposed to the style people, found that the profit was greater in such non-bulky commodities as jeans because you didn't need all that space."
As the business shrank, however, hatters have found new niches. In the old days, hats defined your class, from the banker's homburg to the hourly worker's pie-shaped cap. Today, hats are a statement of individual style. Alternatively, some buyers take their cues from celebrity hat-wearers.
And, of course, African-American fashion never dropped hats the way white America did. "That's why I'm in downtown and not in Birmingham," Wasserman said. "Trends come and go but [African-American customers] are the linchpin."
That, of course, adds another dimension to the lamentations about Henry the Hatter closing its downtown location. Downtown's newfound prosperity coupled with shifting demographics means Henry the Hatter will no doubt remain most profitable at its Southfield location.
If there's any real mourning to be done, it's for stylish menswear. There was a time when a man who wanted all heads to turn would wear one of those imposing Borsalino hats with a 3- or 4-inch brim, or suits in shades like "lime green," "ice blue," or "butterscotch" with matching alligator shoes. It's all well and good to despair at a hat shop closing after a long run, but when you get on a commercial flight or walk into a courtroom anywhere in the country and see people wearing sneakers, golf shirts, and ball caps, what do you expect?
Not to be too flip, but, "Don't mourn: accessorize." Drive out to Southfield right now and invest in a hat that will fit you perfectly and last 30 years if you care for it. Walk out Gratiot a bit further and you'll find Joe Porter's Menswear, with a wide selection of lids. While you're at it, see what it's like to shop at a place with a tailor that can give your slacks that half-cuffed look. Be the change you want to see embodied. It's a bit harder than getting droopy-eyed over one store closing, but it does a lot more for men's style — as well as keeping hats "on top."