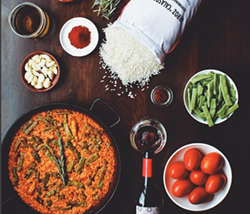 Sava's, Aventura, and Tavolina Catering & Events owner Sava Farah is planing a new restaurant for Superior Township, just east of Ann Arbor.
MLive
reports that it will open in the building that formerly held The Lord Fox and Roger Monk's at 5400 Plymouth Road.
When ready, the full-service restaurant will offer breakfast and an outdoor space for weddings, picnics, and other events. Farah is also considering installing paths along nearby Fleming Creek, and making use of a large, old barn on the property.
Inside, she plans to remove a wooden spiral staircase at the front entrance to create vaulted ceilings, enlarge the outdoor deck areas, and demolish and rebuild the kitchens. Farah also tells
MLive
that she's planning an all-season outdoor dining area with floor-to-ceiling glass windows.
On the menu, expect some of the dishes from Farah's other restaurants, as well as stone oven-baked pizza.
Farah recently cut the Babo juice brand from her umbrella company, SavCo Hospitality, to focus on its restaurants.