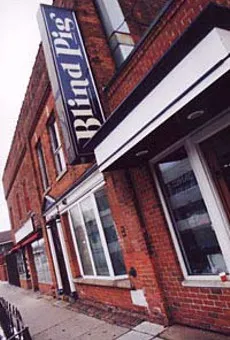 After months of rumors, Ann Arbor music venue the Blind Pig is officially up for sale. Swisher Commercial
listed the building
on Thursday, which includes the venue and its attached 8 Ball Saloon bar.
Founded in 1971, the club is famous for hosting an early gig by Nirvana, who sang the praises of the venue. It has also featured performances from then-up-and-comers Sonic Youth, and Soundgarden, among many others.
No asking price is listed. The building's credentials as a popular nightclub and venue are touted in the post, so hopefully the future buyer will maintain it as a music spot. It seems like a no-brainer, what with all college-aged students with a disposable income at the University of Michigan — otherwise, options for pop and rock music are slim, besides occasional crossover gigs at folk venue the Ark or infrequent musical programming at the Michigan Theatre.
Then again, it might be futile. In recent years, Ann Arbor has become increasingly gentrified.
"If they close down, I don't know what is going to happen," Scott Morgan of the Rationals told
MLive
. "The last thing they need is more high-priced condos."