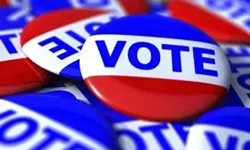 While the nation's attention is focused on the presidential
circus
election coming up in November, many forget that local primaries are just around the corner.
On August 2, Michiganders will have the chance to vote on a number of local races and issues, which given the status of the national political events (which seems more akin to late-night reality TV than the actual nominating and electing an individual to the 'highest office in the land') may be more important than ever before.
Here's a rundown of what proposals are on the ballot in Macomb, Oakland and Wayne county (plus where to find out who is running for what).
Macomb
Macomb County Veterans' Millage — "
If approved, this proposal will increase the 0.04 mills levied by Macomb County that expires in 2018 by 0.029 mills to a revised total of 0.069 mills for two years, 2017 and 2018 and renew the increased millage for four years, 2019, 2020, 2021 and 2022," the ballot's language reads. If passed, the millage will "continue the funding of financial aid and services for Macomb County veterans and support the administration of the Macomb County Department of Veterans' Affairs and Macomb County Veterans' AffairsCommission."


Macomb County Zoological Authority — "
Accordingly, as a renewal of the previously approved millage authorization which expires with the 2017 tax levy, to continue providing zoological services to benefit the residents of the County, shall the 0.1 mill (10 cents per $1,000 of taxable value) on all of the taxable property located within the County continue to be imposed for a period of ten (10) years, being years 2018 through 2027?" If the proposal is approved, the millage will generate approximately $2,563,833 in 2018.
There are additional proposals for individual cities and townships within Macomb county. You can view the full list
here
.
You can view all of the candidates running for public office in Macomb county
here
.
Oakland
Oakland Country Zoological Authority Renewal Millage —
Just like in Macomb county, the Zoological Authority is seeking "authorization from the electors to levy a tax on real and personal property to provide revenue" for the zoo. Since Oakland is bigger than Macomb, if passed the millage would generate approximately $5,609,562 in 2018.
For the complete list of candidates running, and proposals of individual cities and townships in Oakland, visit
this website
.
Wayne
Parks Millage Continuation — "
To continue the millage authorized in 2010, shall Wayne County levy this millage at the estimated 2015 rollback rate of .2459 (about 25 cents per $1,000 of taxable valuation) for five more years (2016 through 2020) to continue to improve and operate several parks and related facilities, including Hines Park, Elizabeth Park, Chandler Park, and improvements to municipal parks in the 43 communities as provided in an implementing ordinance through an annual allocation by commission district of the greater of $50,000 or 15% of the total funds generated from that district, on the condition that, for any year for which this continued levy would be imposed, Wayne County must budget from other sources an amount equal to its 1995-1996 fiscal year appropriation for parks?," the ballot's language reads. If passed, this renewal will generate approximately $9,865,514 in 2016.


Wayne Country Zoological Authority Renewal Millage —
This is the same proposal that's on the ballot in Oakland and Macomb. If passed, the millage would generate approximately $3,940,066.55 in 2018.
Here
is the full list of proposals in Wayne county cities and townships. There is a special primary election for state senate in District 4. The candidates can be viewed
here
. A full list of people running for public office in Wayne county can be found
here
.
Polls are open from 7 a.m. - 8 p.m. The deadline to register for the August primary has passed, but you have until October 11 to register for the general election. For more information, visit
michigan.gov
.