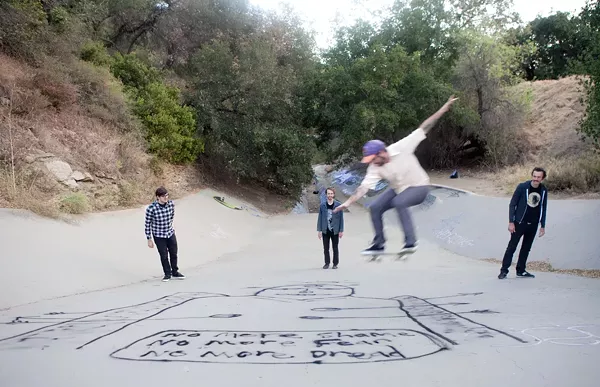 AJJ is a folk-punk band with honest songs. Since starting in 2004, it has had only two consistant members — frontman and songwriter Sean Bonnette and upright bassist and backup vocalist Ben Gallaty. Even though the band has collected more permanent members over the years, Bonnette and Gallaty are going on a ten year anniversary tour for their 2007 record, People Who Can Eat People Are the Luckiest People in the World, with a stop at the Loving Touch on Thursday, Sept. 14.

Metro Times spoke with Bonnette about the details that make the record so captivating — including Kurt Vonnegut references, polarizing emotions, and cannibalism.
MT: Because it's the 10th year anniversary can you explain how AJJ has grown from the People Who Can Eat People Are the Luckiest People in the World release?
Bonnette: Yeah, sure. I'll say that People Who Can Eat People was our first decent record. It was the one where I feel like we kind of developed the language that we have ended up using for the rest of the band's career, as far as learning how to have fun using multi-track recording, and the songwriting — I kind of really found my voice there.
I started getting more out of writing songs than just making people laugh, which is kind of what the goal was with the previous album (Candy Cigarettes and Cap Guns). Since the record came out we've added some more full-time members. It was the first thing we did that was a radical departure from the other things we did. Like Candy Cigarettes and Cap Guns, to my ears, sounds completely different. Change is a constant core value of the band. We're never trying to do the same thing twice.
MT: Can you talk about the writing process for the record?
Bonnette: I remember writing "Bad Bad Things" really late at night/early in the morning after a really fun night going swimming with my friends. You know, just jumping into a hotel pool or something, but I remember as the song was coming out, I remember thinking it was so strange to write such a violent and sad song after such a really fun night. But, a lot of the writing for that happened in my first apartment that I ever lived in alone. I was probably 18 or 19 at the time and having that level of solitude was cool. It was kind of just me and books, also a lot of partying and going out too. A lot of the songs on the record are inspired by the author Kurt Vonnegut.


MT: Yeah, I noticed the title of the record is a quote from Hocus Pocus.
Bonnette: Yeah, totally. And the last verse of "Personal Space Invader" is a paraphrase of Elliot Goldwater's speech to the babies who are being born, about being kind and all that from God Bless You Mr. Rosewater.
MT: Why did you choose that specific Hocus Pocus line?

Bonnette: I'll tell you what I remember. Then I'll share my theory for what 19-year-old Sean was doing at the time. I was reading Hocus Pocus in the van and we were driving overnight to Los Angeles. Side note: it was with one of the bands that came before Joyce Manor, Fever Kids. I think Barry and Matt were in that band. But, we were on the way to the show and I think the line struck me because he was making fun of Barbra Streisand and I liked wrapping in a double reference in the album title. I was really into references at the time.
And, here's my theory that I've kind of noticed looking at my lyrics over a long course of time: I'm pretty preoccupied with cannibalism and the idea of eating people, the idea of being eaten, which I've come to learn on the internet is something called "vore." So, that might have been the first time I referenced the idea of being devoured or devouring in a record. Since then, shit, every other song is about getting eaten.
MT: Did you purposely study Vonnegut at the time for the album?
Bonnette: I was just super into him. I was really fully embracing that message of secular humanism, and I wanted to share that idea with people in the way that I knew how.
MT: When you were writing this record, how was the creative process between you and Ben?
Bonnette: That was back in the day when Ben and I would play a show a week in Phoenix and that's where we honed our craft, I'd say. [Laughs.] But the creative process was just us purely doing it, just playing live. We didn't really practice, we just kind of learned the songs as we went and just stumbled through them at the shows we'd play in Phoenix at that time. So, that's how the songs developed performance-wise.
Then making the record and recording it, that creative process we ended up bringing in a bunch of players and kind of being like Steely Dan — the way they would do it. Those guys would write the songs, then perform them, and then they would bring in a guitarist or a drummer and just kind of piece each song together on a piece-by-piece basis. They'd even bring in multiple musicians for the same part and kind of pick which one they liked better. That was also our process even though we weren't really aware that that was how Steely Dan did it at the time. It is a nice way to do it for sure.
MT: Where does the artwork of the album come from?
Bonnette: The artwork came from our buddy Ryan Pisscitelli, who drew the bunny and the bumble bee, and all of the extra stuff. I think we gave him a copy of the record and he did some sketches and that's where the inside sketches come from.

The rabbit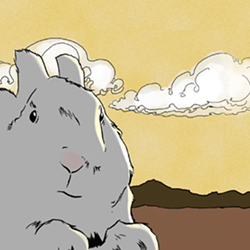 and the bee came from a story that our buddy John Martin — who does some vocals on that record — he told us a story about his rabbit named Stormy got attacked by what he called "meat bees," which are I guess bees that eat meat. But, in Chino Valley, Arizona — this rabbit
just got fucking mauled by bees and died, and I didn't like that story, but it affected me and it made me think of lyrics to write, and it ended up being the artwork for that record.


MT: That's intense inspiration.
Bonnette: Yeah, I believe John, but I haven't heard anything about meat bees ever.
MT: Do you have any specific memory of playing in Detroit?
Bonnette: Yeah, I've got lots of great Detroit memories. One time we played at the Magic Stick and that night we ended up staying in the rectory of an abandoned church. We had to break into the church and check it out. There was a bunch of graffiti and sex-cult stuff. It looked like they just shot a horror movie there. And, I didn't play, but I went to Trip Metal Fest this year and I got to skate with John from Wolf Eyes. We went to a spot down the street from El Club.
MT: Was it the Wig?
Bonnette: Aw, I love the Wig. But, no it was by the bus station. There's a chess board that's the size of a bench and you can grind it. It's just like a plaza, but I love the Wig.
MT: Since it's been ten years how do you personally feel about the album from when you first put it out and now?
Bonnette: Proud on both accounts. I was really, really, really, proud of it when it first came out and now I'm like proud of it. Looking back on it, the amount of time that has passed has definitely had an effect on my opinion on it. Like, if you had asked me about it around the seven year anniversary of the record and asked me if I would do a ten-year celebration tour, I would have said no. But, the last three years has made me really reflect on this record, and I'm pretty excited to return to it.
AJJ plays on Thursday, Sept. 14 at the Loving Touch in Ferndale; Doors at 7 p.m.; Tickets are $15.