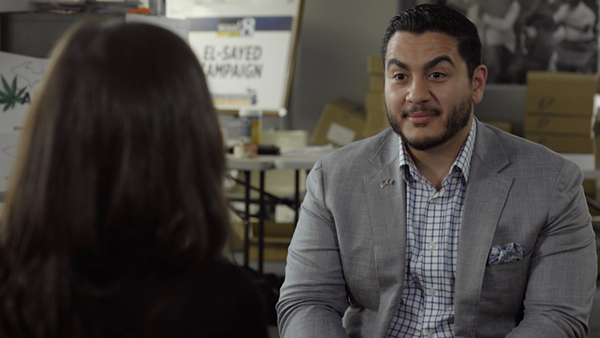 Democratic candidate Abdul El-Sayed knows his candidacy is
a long-shot
, but that doesn't mean that he's going to back down in his quest for Michigan's governor — even if that means fighting against some of the party's most powerful Democrats.
In an interview with
Vice News Tonight
on HBO
set to air Monday evening, El-Sayed discusses his campaign as a progressive candidate and how he attempts to diffuse the issues of his religion — and his color — with humor.
"Being able to dispense what the clear difference is, and frankly other people's discomfort with those differences via humor is always an easy way to get us to the goal," he says.
We spoke with Abdul El-Sayed, a 33-year-old physician running as the Bernie Sanders-esque candidate for Michigan governor.

See it on VICE News Tonight, 7:30 PM EDT on @HBO pic.twitter.com/VQpoECH54t

— VICE News (@vicenews) July 30, 2018
But even if voters have come to terms with Abdul's religion, that doesn't mean that influential members of the Democratic party have the same vote of confidence. Already getting the side-eye for running a Bernie Sanders-style progressive campaign from establishment Democrats, El-Sayed sat down with
Vice News
to openly talk about the party's lack of faith in his candidacy:
"I had, we'll just say very powerful people who call a lot of shots in the party sit me down and say, 'We think you're great. You just, you know, it's not that we're racist. It's just that we think that people outside of southeast Michigan are racist, and so you can't win. See? It makes sense.' And I'm like, "No, not how it works, thank you. And if you think I'm ever going to stop, you've got the wrong guy."
Abdul El-Sayed's full interview with
Vice News
airs at 7:30 p.m. on HBO.
Stay on top of Detroit news and views. Sign up for our weekly issue newsletter delivered each Wednesday.