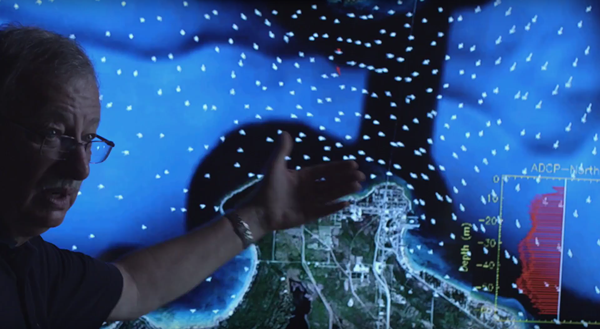 A documentary on Line 5, the
controversial
aging gas and oil pipeline situated on the bottom of the Straits of Mackinac, is set to be released this summer.
According to independent filmmaker Barton Bund, the documentary
Line 5
will be released in two parts.
Part One: The Threat
, will be released sometime this spring, and the full film will follow.
"What began as a conventional, informative documentary quickly became a far more passionate project," Bund said in a press release. "After speaking with pipeline specialist Beth Wallace, author of
Sunken Hazard
, the 2014 report that exposed the dangers of Line 5, I soon realized that this crisis has potential to affect my entire home state of Michigan, and beyond."
The pipeline, first built in 1953, has been under increasing scrutiny in recent years. Operator Enbridge Energy was forced to install new anchoring after the authors of
Sunken Hazard
revealed the strait's shifting sands had left large expanses of the structure unsupported. More recently, Enbridge has been under fire for downplaying damage to the pipe's enamel coating, and after Gov. Rick Snyder said he was
"no longer satisfied"
with the operation of the pipeline, the state
reached an agreement
with the company to look at possibly moving the pipeline to a tunnel under the Straits.
"The risks outweigh the benefits," he said in the release. "This film is part of a statewide effort among citizens to protect those waters from this catastrophic potential spill."
The Straits connect Lake Michigan and Lake Huron. Scientists believe the powerful, oscillating currents common in the Straits could cause an oil spill to potentially travel in either direction and could reach more than 700 miles of coastline.
The trailer can be viewed below. More information is available on
line5film.com
.
Stay on top of Detroit news and views. Sign up for our weekly issue newsletter delivered each Wednesday.