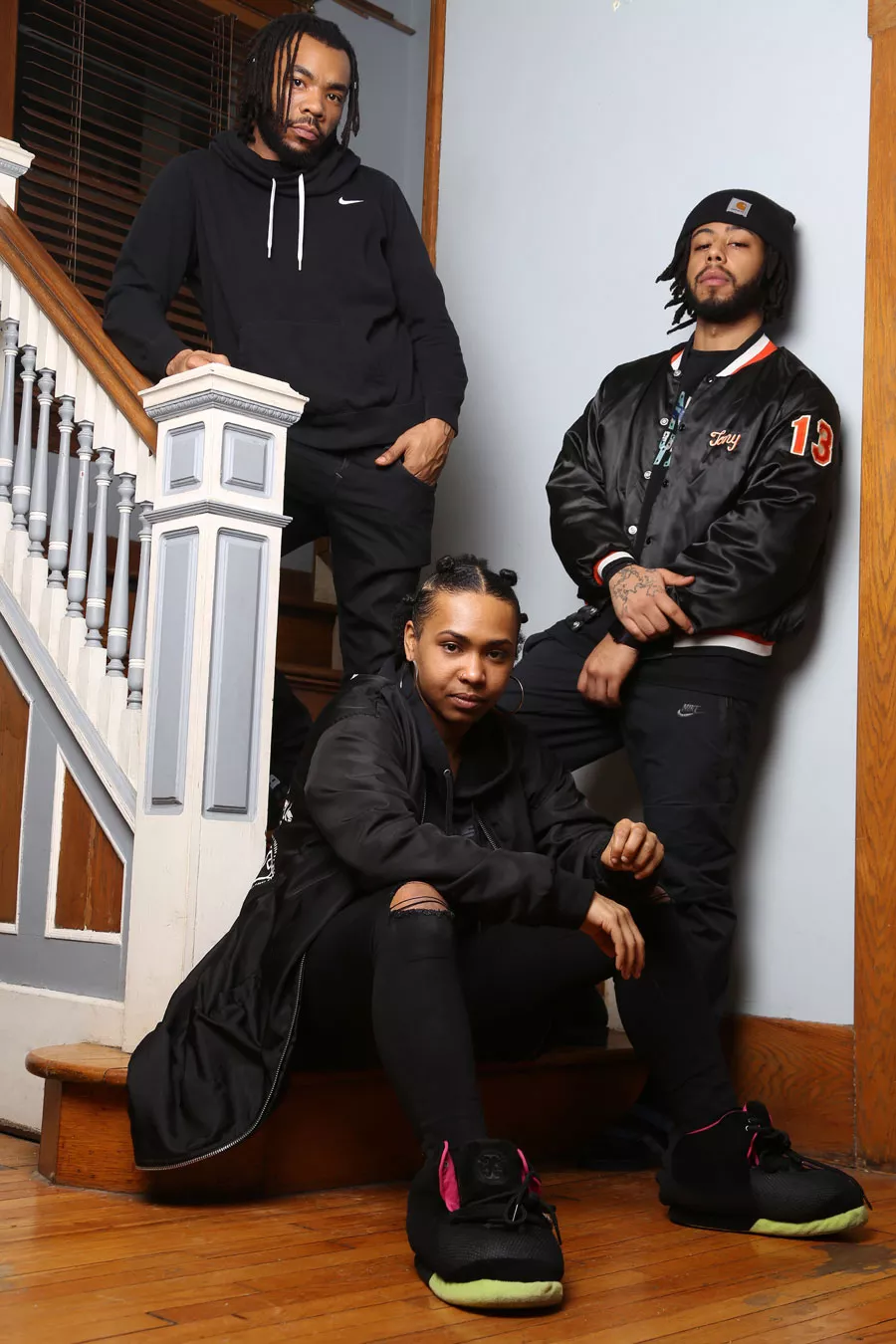 The Whlgns live in a three-story house on a street where the snow is slow to get plowed and the neighbors are quick to wave. Located in the North End, their neighborhood is in the center of Detroit, a great place to house a group that has its eyes on homegrown success.
What is a Whlgn? For our purposes, a Whlgn (pronounced "Hooligan") is an independent creative with a business imprint that is housed under the Whlgn moniker. According to artist manager Allante "Uncle Tae" Steele, photographer Bre'ann "Bre'ann Whlgn" White, and visual artist Antonio "Tony Whlgn" Robinson, a Whlgn is a lifestyle, a mindset, and a commitment.
"It's bullet points," says Steele. "It's a determined, motivated, hard-working, talented, creative, intuitive, open-minded, influential, and multi-cultured individual. It's us. It's you."
Just a few years ago, it would be hard to catch the Whlgns under one roof. Collectively, the entire Whlgn crew — which includes about seven people — have spent time in New York, San Diego, Los Angeles, Las Vegas, and Chicago, but over the last four months, the three founding Whlgns have created a headquarters and a home base in Detroit.
Like many of their artistic peers, the Whlgn squad was once caught in the allure of elsewhere. Miami has Art Basel, New York has fashion week, L.A. has... well, everything. Now Detroit has the Whlgns.
"Everything reminds me of Detroit," says White. "Chicago is a big Detroit, New York is a bigger Detroit, and Miami is Detroit with palm trees."
In order to keep up the work that they've been doing around the country, the roomies have agreed to never fully furnish the living or dining rooms of their Detroit house. Those spaces are instead reserved for a roster of self-care Sunday events, art showings, and photo shoots. Although the house is large enough to host an epic house party, the Whlgns vowed that the space will primarily revolve around work and that means keeping it clean and inviting for the collaborators who come through.
"The biggest event that we'll probably have is if we have a chess tournament," says White.
When you cross the threshold into the Whlgn home, there is a waiting room — complete with a black leather couch and coffee table. There are framed album covers from artists like Joey Badass and Big K.R.I.T., plus promotional posters from BBC, Kith, and Lil Uzi Vert's Smoker's Club Tour graphics. Although these visuals would make for an aesthetically pleasing and culturally aligned choice for any millennial who wears their love for hip-hop on their sleeve, this isn't a fanboy display — these are homemade pieces of art by Whlgn founder Antonio "Tony Whlgn" Robinson.
A series of serendipitous events summoned Robinson to leave Detroit for the first time and jumpstart his graphic design career. After sending a portfolio of local rapper mixtape art to an email he found in Joey Badass' Twitter bio, he linked up with the Pro Era team a few weeks later at the Detroit stop on their tour. While there, Jonny Shipes, Joey's manager and an incoming head designer at Marc Ecko's Ecko Unlimited, invited Robinson to New York to work as a junior designer. Robinson spent one year with Ecko Unlimited and then headed over to design for Kith, all while keeping his roster of freelance clients on deck, but close to his chest.
"I've been blessed to be one of those people who made it out solely on art, but I never wanted to stay out too far or too long without bringing it back," says Robinson.
Like many of their artistic peers, the Whlgn squad was once caught in the allure of elsewhere. Now Detroit has the Whlgns.

tweet this
With a little distance from the expensive and expansive city of New York, Robinson has gotten reacquainted with his hometown through live visual art performances. By constituting art as an adornment to nighttime hangouts, cultural hubs, and public spaces, Robinson moves art from the realm of glass-sealed galleries to everyday environments that invite his young, fresh Detroit peers to engage with a notoriously exclusive industry. He has completed live paintings at a Murals & Sliders event at Phil Simpson's Baltimore Gallery, a solo 48-hour experience sponsored by Tony Rave at the Griot Lounge, and the Car Tunes and Cereal festival at Saint Andrew's Hall. Most recently, he completed murals in the hallways and bathrooms at Detroit's Communication and Media Arts High School. But perhaps what he's most known for locally is his "A Dismissive Facade" series, which includes a range of fanciful, charismatic mask-like figures with East Asian, Southern European, and African cultural influences. Many of them have wide toothy grins as if they're all laughing at the same joke.
"As an artist, you're putting you and yourself and your feelings on the canvas and sharing it to the world, so the mask is an interpretation of me and how I felt on the inside," says Robinson. "We hide behind masks and independently isolate our egos from the world."
For the first eight years of her photography career, White wore a black ski mask on every shoot and assignment. This barrier rendered her mysterious, not open for consumption or assumption. If someone wanted to do more than look her in the eye, the only clearly visible part of her body, it would have to be on her own terms.
"All of the problems that females go through, like, 'Oh they don't take me seriously because I'm young or I'm cute or this or that,' I didn't go through that because people only heard my voice," says White. "That was it."
Perhaps escaping the gaze of others primed White to master the "girl gaze," a recurring theme in her editorial work. Her Instagram page is an endless stream of dewy, highlighter-dusted models commanding the foreground, making the accompanying creamy backdrops an afterthought. White makes everyone look beautiful. She gives emerging artists, expectant mothers, models, and A-list celebs the same treatment. Whether it's a Lip Bar campaign, Flint Eastwood album release, or the Takers movie promo for Idris Elba (yes, that was her first paid booking), she is focused on creating an authentic connection with others, not basking in their status or their fame.
"I do photography for the people, not the art," says White.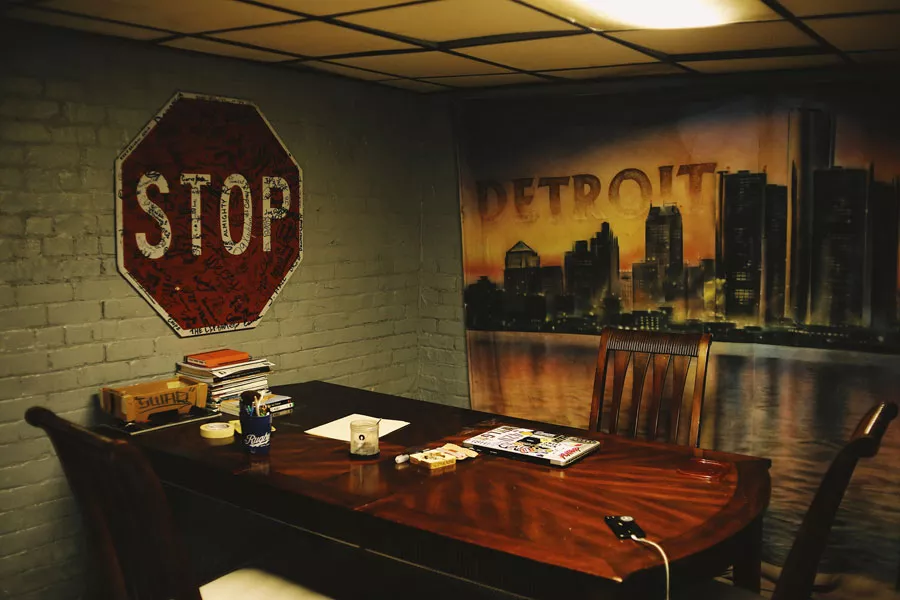 The Whlgns credit White as being the most business-minded one of the group — she showed up to the first meeting with her brand-new camera and took hold of the marketing and branding work of the group. Nowadays, about 80 percent of her time is spent in a room upstairs with a desk, a wooden table tagged with stickers, and a mannequin. This is where she works with clients to come up with ways to create compelling content.
White is a no-nonsense workaholic who goes to sleep in the early evening then wakes up before the sun to research anything that interests her. Sometimes, she admits, her roomates' laughter from downstairs pulls her from her little pocket of productivity.
"They're like brothers to me — having them around is really fucking awesome, and when people see us, everybody thinks we're real-life related," says White.
There is an ease about the entire house, but Robinson and Steele share a synchronic familiarity that exceeds the typical best friend banter because they are cousins. Robinson and Steele are inversions of each other: One wears a sleeveless black sweatshirt with a white Nike logo and the other is in a short-sleeved white Rugby Ralph Lauren tee with "rugby" written in black. They both have shoulder-length dreads, and each pay homage to their eastside origins with tattoos: Steele reps 94 and Dickerson with a tattoo on his outer arm that reads "This that eastside shit" and Robinson reps his 94 and Chalmers upbringing with a subtle "313" tattoo on his wrist.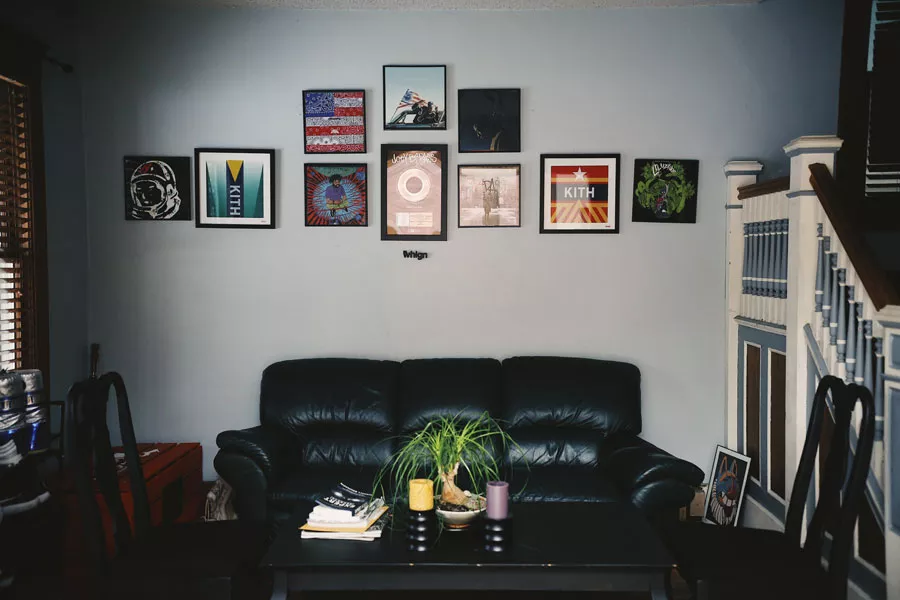 "We can't let people see our weakness because when they see weakness—" Steele starts.
"They stop believing," Robinson finishes.
Robinson is the low-key silent one, but he opens up when it's time to talk about art and life and finding a balance between the two. Steele is the charismatic and energetic one. If this were a rap group, he would be the one delivering the catchy ad libs.
The two have experienced a lot together, so when Steele dropped out of Michigan State around the same time that Tony headed to New York, it made sense for him to join in on the journey.
"I left, came to New York and I became his manager. ... I didn't even have a job, but I'm like, 'I'm focused on something,'" says Steele. "We went from there."
They stayed for the next five months and then took a detour in California for a while, but Detroit continued to beckon them with a new crop of artistic opportunities including the African World Film Festival. For a while, they used White's one-bedroom apartment in Midtown as a crash pad when they came back for events, but knew that eventually they would need a more sustainable, less crowded living arrangement for a long-term stay in the city.
While the other Whlgn roomies have designated areas in the house, Steele is more of a free-floater. He cooks a lot in the kitchen and offers insight to the revolving door of creatives who visit. His ability to talk anyone through anything made him a great fit for being Tony's manager. He's the most active on social media, especially Instagram and Twitter. His Instagram is interspersed with workout stories, motivational snippets, and enough selfies to inspire others to take self care seriously. Sure, it's spontaneous, but it's also intentional. Most of the Whlgns specialize in specific artistic industries, but Steele's art form is connection.
"If you're at peace with yourself and you love yourself, you have no problem helping others because you love yourself. Why not? Spread love," says Steele.
His next endeavor is a YouTube channel where he plans to share more motivational gems with the world. In some of his most recent videos, Steele sits in front of a backdrop spray-painted with Detroit's cityscape, a nostalgic nod to those nightclub picture-taking setups from back in the day — the kind that yield the throwback pictures you will pull out when you want to remember what it looked like to live your best life with your best friends in your best outfits.
Find out more about the members of Whlgn at tonywhlgn.com, instagram.com/ogxwhlgn, and breannwhite.com.