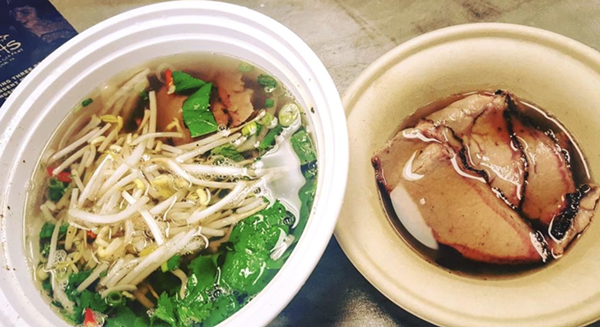 The Flint-based Vietnamese masters at MaMang return to PJ's Lager House on Tuesday with a one-night pop up that will offer some of the restaurant's hits.
Chef Tony Vu and his crew make the trip down to Detroit a couple times a year to offer traditional and fusion plates like a 20 hour smoked Texas brisket
pho
.
Vu's professional cooking career launched with a food truck in 2014 following extensive trips to Vietnam and Peru. Last year, he landed a permanent spot at the Flint Farmer's Market, from which he sources around 75 percent of his ingredients during the summer months.
We caught up with Vu ahead of this week's pop up and talked with him about the inspiration behind his dishes, how he got started cooking, and when he plans to open a Detroit location. Tomorrow's menu below is listed below followed by a short interview with Vu.
• Texas Smoked Brisket
Pho:
20-hour post oak smoked brisket to match a 20-hour bone broth.
• Fried Chicken
Bao:
Chicken thighs fried in a lemongrass and
galangal
batter, served with pickled carrots and daikon spicy mayo in a steamed sweet bun.
• Mom's Pork Spring Rolls: Secret.
• Vietnamese Brussels Sprouts: Crispy Brussels sprouts tossed in
nuoc mam.
How did you get started cooking and how did that evolve into Manang?

Those roots were laid with mom. Cooking anchors the Vietnamese household, so I cut my teeth with my mom's amazing food at home and ran around our restaurant as a kid.
I started cooking in earnest after traveling the world for a few years. I did a couple of extended stays in Vietnam and was fortunate enough to get taken in by some incredible mentors there. I came back home and immediately bought a food truck and hit the ground running. A year later I opened up MaMang.
It looks like you do a lot of fusion dishes. 1. How do you develop your recipes? And 2. Why do you choose to go that route instead of doing straight up, traditional Vietnamese?
A lot of my recipes are reflections of myself at heart. I'm a first generation Vietnamese American, with strong ties to both cultures. All of the food I cook is done through a Vietnamese lens, with colors of my travels and Midwest upbringing sprinkled throughout. I chose to do this to share a Vietnamese sensibility, which can translate deeper in our culture than a handful of traditional dishes that made it outside of Vietnam. There are, of course, traditions that I build upon. MaMang means "mom" and it's her broth that is the backbone of it all.
Is there some other nation's cuisine that you think fits well or is particularly complementary to that of Vietnam?
Lots, if you follow the equatorial lines you'll see all kinds of similarities all across the board. For me, this is a fun way to incorporate inspirations from my travels. I've done everything from Vietnamese ceviche to a Vietnamese tagine, all with flavor profiles that embellish everything that makes these dishes great in the first place.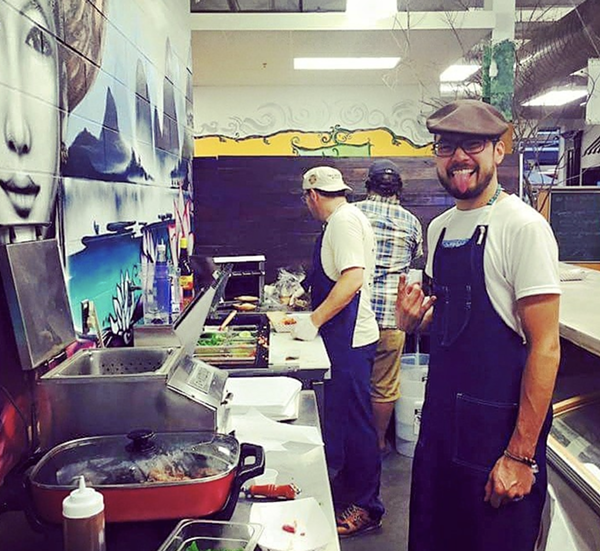 What are some of your favorite recipes?
Hands down, it's my mom's
pho
. It really is something precious that was handed down and you just have to try it. I do a very special version that calls in my Texas roots with smoked brisket. I also have a lemongrass and
galangal
fried chicken that is straight fire.
Why stay in Flint? We have lots of spaces where you could open in Detroit.

I see you, Detroit! I'm rooted in the community here and want to build MaMang as a Flint brand. We're in a very unique phase of growth right now, somewhat similar to where Detroit was 10 years ago. I consider myself lucky to be a part of the resurrection. Detroit is definitely part of the expansion plan though.
What are a few of your favorite Michigan restaurants and what's a favorite dish at each?
Wow there's so many. In the Detroit area, it'd be papusas from El Guanaco,
banh mi
from Saigon Market, Lan Zhou seafood noodles from Kung Fu Noodle, Toro from Noble Fish, and tacos from Tienda Mexicana. I also gotta show Shanghai Bistro in Windsor some love for their dumplings.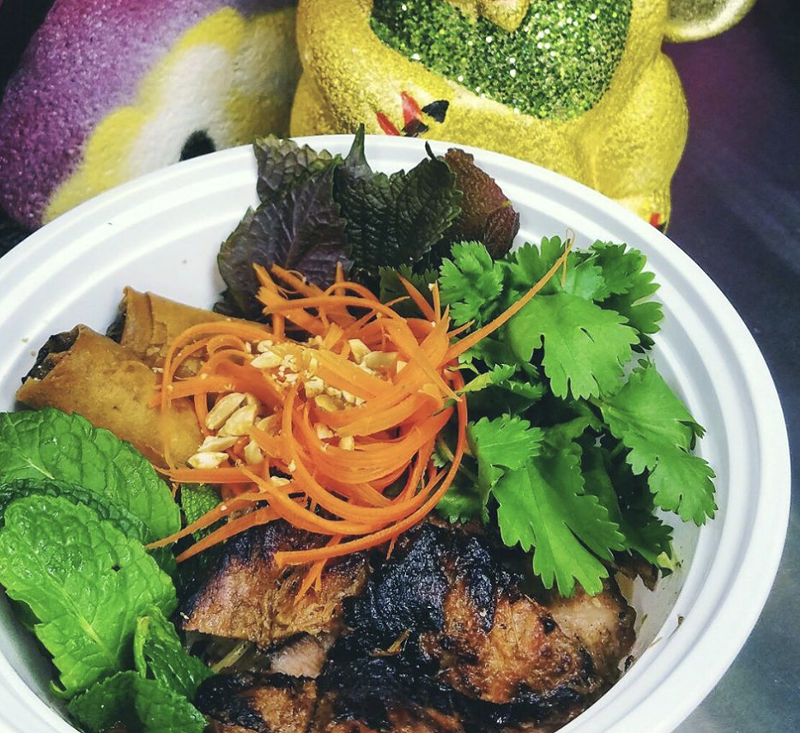 So many restaurants, so little time. Find out the latest Detroit dining news with our weekly food newsletter delivered every Friday morning.