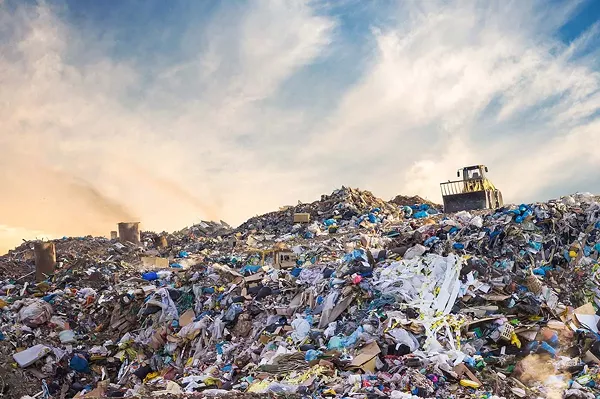 Michigan has the highest bottle recycling rate in the country. Since 1976, the state's bottle deposit program has contributed to a 90 percent return rate on pop and beer cans and bottles
That's about as good as it gets for Michigan recycling though.
"Aside from bottles and cans, our recycling rate is abysmal" Katie Parrish writes in a Michigan Distilled blog post.
Michigan has the worst recycling rate in the Great Lakes region and third worst recycling rate in the country, ahead of only Mississippi and Oklahoma, according to the Michigan Environmental Council.
In response to Michigan's poor recycling rate, the MEC is teaming up with lawmakers to overhaul the state's waste management system.
"This is something we gotta recognize there is a better use for what we consider trash," Sean Hammond, the deputy policy director for MEC, says. As of 2017, only an estimated 15 percent of residents recycle.
Michigan's low recycling rates are rooted in a 1990 law that made it easier to build landfills when there was a national crisis about running out of landfill space.


"It worked really well," Hammond says. "In fact, in our estimation, it worked too well. Now we have so much landfill space, we have some of the cheapest disposal rates in the country."
Canada, Michigan's biggest importer of trash, ships more than three million tons of trash to state landfills a year.
"This has stymied our growth of recycling in the state," Hammond says.
The MEC estimates between 70 and 75 percent of Michigan's waste stream could be recycled with available technology.


The package of bills that would address Michigan's waste management system, which will be finalized and introduced next month, would change Michigan's strategy on trash disposal. Instead of focusing on landfill capacity, the new bills would see the state incorporating more responsible waste-management possibilities.

The MEC's waste management focus comes on the heels of several statewide initiatives to address recycling problems:

Gov. Rick Snyder's proposed increase state landfills fees from $1.36 per ton to $4.75 per ton

Rep. Abdullah Hammoud (D-Dearborn) introduced HB 5485, a bill that would require apartment buildings to provide renters access to recycling services
Rep. Jon Hoadley (D-Kalamazoo) introduced HB 5486, which would expand the kinds of containers Michigan accepts for recycling
Detroit, Michigan's biggest city, didn't have curbside recycling pickup until three years ago.
If individuals are interested in learning more, the MEC will be in Royal Oak at the Hop Cat on March 14 as part of their talking trash event series.
Jack Nissen is an editorial intern for Metro Times and a masters student of environmental journalism at Michigan State University.