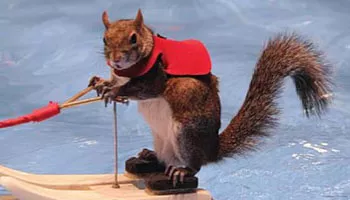 In days such as
these
, what everyone really needs is something to lift the spirits and calm the heart. Something to bring a little joy and whimsy into this so-called life. What everyone needs is a little bit of Twiggy, the waterskiing squirrel.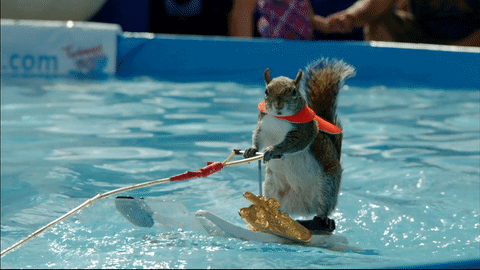 And lucky for us, the
chance to see Twiggy
is coming, courtesy of the 60th annual
Detroit Boat Show
happening at Cobo Center this Saturday through Feb. 25. The show is touted as "Michigan's biggest winter rendezvous" and a chance to hang out at a tiki bar, see some cool boats, and delight in the knowledge that summer will be here
soon
eventually.
Twiggy, a stage name of sorts that has been adapted by generations of waterskiing squirrels since the '70s, was born when two hippies good samaritans found an orphaned squirrel and "
raised it as a family pet who would ride on their shoulders even as they dipped in the pool.
" Soon, the family learned teaching squirrels to waterski could be parlayed into a successful career, including this memorable moment in Anchorman.
If you can't make
Twiggy's performances
at the Boat Show, you can always delight in the unofficial Twiggy the Water Skiing Squirrel
Facebook page
, which is described as "Just a squirrel who loves water skiing and dank memes" and features a variety of militia-wielding rodents.