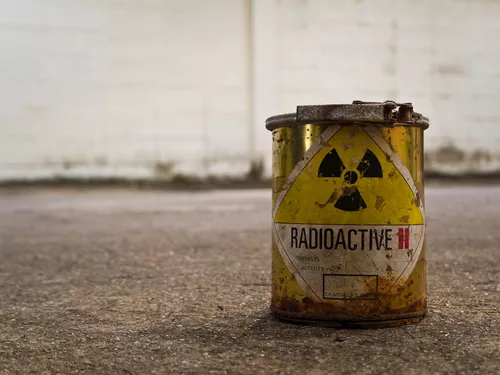 The Coalition to Oppose the Expansion of US Ecology has a message for the commissioners of Wayne County: When it comes to more toxic waste, Wayne County should just say no.
The coalition is reacting to plans by Idaho-based U.S. Ecology to ramp up waste dumping, storage, and processing at three different sites across the county, involving deadly toxins and radioactive waste.
One of the proposed actions should be well-known to regular
MT
readers: a planned ninefold expansion of the U.S. Ecology installation on Detroit's east side. Michigan's Department of Environmental Quality (MDEQ) is considering a new license that would allow the facility "to increase hazardous waste storage there in tanks and containers from 64,000 gallons to nearly 666,000 gallons." The menu of potential substances to be treated or stored is anything but appetizing: heavy metals, sludge, pickle liquor, cyanide, hydrochloric acid, even wastes containing low levels (less than 50 ppm) of polychlorinated biphenyls (PCBs).

Many of the neighborhood's residents argue they're already being "choked out" by industry
, and the expansion of the toxic waste facility is just another example of environmental injustice. The facility has other near neighbors: It's located less than a mile from several churches and mosques, about a quarter mile from the Detroit Water and Sewerage Department. The facility is also a half-mile from the most densely populated city in Michigan: Hamtramck.
Another endeavor worth saying "no" to is enlarging U.S. Ecology's Wayne Disposal Landfill, located in Belleville, which has been designated to receive 130,000 cubic yards of contaminated soil from the cleanup of a site with radioactive waste in Luckey, Ohio. You get the sense these environmentalists also take a dim view of that sort of business. But how can you say "no" to this when Michigan's laws allow as much as 50 picocuries of radioactive waste to be buried in our soil, while other states refuse to allow radioactive waste to be buried "if it is greater than 5, 7 or 10 picocuries."
But U.S. Ecology's investments in Wayne County don't stop there. Of most recent interest are the company's activities in Van Buren Township, where the company's Michigan Disposal Waste Treatment Plant processes more waste than any other facility in North America, including, critics charge, radioactive waste from fracking.
The company is now requesting that it be allowed to add dioxins
, some of the most harmful chemicals on the planet, into its waste processing stream. It also would like to be allowed to process waste outside treatment tanks. All this despite
a 2014 investigation by the Detroit Free Press
, which found more than 15 violations in the previous 10 years by Michigan Disposal and the Wayne Disposal landfill.
The message was delivered to the county's commissioners, but it is addressed to all people in the state of Michigan:
"The State of Michigan has opened up its arms to the hazardous waste industry and Wayne County is receiving the bulk of the toxins," the statement reads. "Industry must not be allowed to bring more deadly chemicals and radioactive waste into the county for processing and storing. The health of residents must be monitored so steps can be taken to protect the population in a timely manner. Please contact Governor Snyder, the Environmental Protection Agency, MDEQ, and U.S. Ecology and
express your opposition to these toxic increases in whatever way you are able.
" [Emphasis original.]