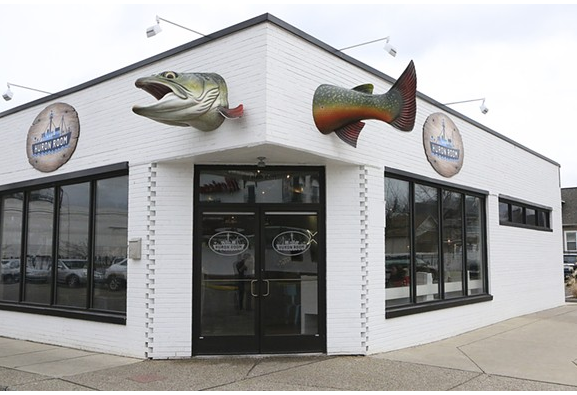 Southwest Detroit's Huron Room closed on Friday and relaunched today at 3 p.m. as curry concept Fist Of Curry. In their new eatery, co-owners Jacques and Christine Driscoll and Les Molnar are offering tastes of the world's finest curry styles all under one roof.
Jacques Driscoll tells
Metro Times
the team discussed the new concept for several months, and the decision to move forward was made suddenly last week.
"We were sitting around and just like 'OK, lets just do it, let's pull the trigger,'" he says. "We wanted to do something more our style, a little more niche, fun and creative — something we're more passionate about. We love curry, every time I see curry on a menu, I get it."
But they kept all that under wraps until Friday, and didn't let staff know of the decision until it was time shut down Huron Room. A crew of about 50 people worked over the weekend to renovate the interior and develop what Driscoll describes as a '70s vibe, though the outdoor signage has yet to be changed.
The menu is fairly short, and includes seven curries from India, Thailand, Jamaica, Japan, and more. How do they differ? Jamaican curries hold some fruit tones, Driscoll says, while Japanese chefs typically make a mild, brown curry. Thai curry is made from a paste that includes fresh herbs, while Indian curry is slightly dryer, earthier and is mixed with turmeric and coriander, for example. Driscoll describes the restaurant's tikka masala as the "everyman's curry."
Fist Of Curry is also producing it's own in-house "naan" called "non-naan" that Driscoll says is deep fried and gluten free. Part of the reason they moved forward with it is because there is no other spot to find all the world's curries on a menu along with quality cocktails and a '70s vibe.
"We said 'What if we put all the great curries of the world in one place?' And we wanted to make it a good hang out place and have a good vibe — a place where you want to get something to drink," Driscoll says. "We felt that's something that doesn't exist and should exist."
For those super bummed to see the Huron Room go, there's hope. Driscoll says they "still love the Huron Room concept, so we might be moving it elsewhere. We're looking at a couple locations on the water. But maybe we'll open it with a toned down menu."
But he says he's not making any promises until a location is secured, and he adds the Fist of Curry concept could be somewhat temporary — he says they have so many concepts in mind that they really want to do. And buying or leasing a new building in Detroit is so challenging and expensive that they might change the concept again in a year and make the rotating concept a thing.
"We've had so much fun doing this, so maybe every year we'll change the concept," he says.