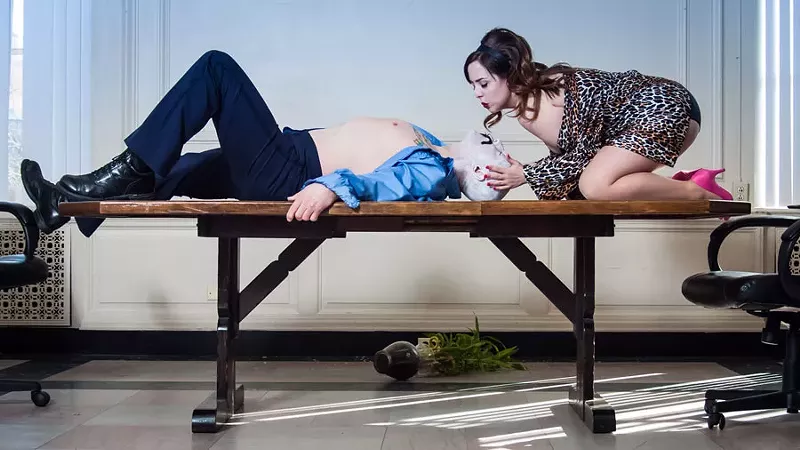 A longtime Detroit performance artist — no stranger to Detroit's busy burlesque scene — has a show on Saturday that will help bring a 30-year career full-circle. Our Lust Issue presents a fitting occasion to discuss this white-faced absurdist whose sensual brushes with beautiful women have put him in the midst of a sex-positive scene, though the man behind the makeup says he originally intended the character to be naïve and nonsexual.
Of course, we're talking about Russel Taylor, better known to cabaret audiences as Satori Circus. To hear him tell it, he grew up a sort of West Side katzenjammer kid, the one with "Class Spaz Syndrome" who had to try climbing the school flagpole, whose playful antics resulted in visits to hospitals and from police. He describes himself as "ADD before they knew what it was." But he adds that the antics of his family, or just the absurd street life of the working-class neighborhoods along Michigan and Warren avenues, made his own anarchic frolicking seem tame by comparison. For him, it's the "circus" from which he sprang.
"Whatever was going to happen was going to happen," the 57-year-old says. "One day it could be some guy outside preaching, one day it could have been some prostitute doing her john outside the kitchen window, one day it could be a fire in the neighborhood, maybe vigilantes torching crack homes, or maybe just Mom falling down the stairs."
Given his knock-around childhood, it makes sense he was drawn to the scrappy, spare counterculture of Detroit's art scene, though he came to it in a roundabout way. After taking two years up north to play hockey, he found himself back in metro Detroit at Wayne State University, and often fronting a Top 40 rock cover band called the Nasties.
"It was just covers of, like, Nazareth, AC/DC, the Kinks, at the Studio and the Token and Traxx. But meanwhile I was listening to Gang of Four, Ramones, Talking Heads, and got opened up to a lot of different stuff."
So in 1993, he and his friend Rick Maertens started an art-rock project called Fugitive Poetry and began writing fresh material, incorporating visuals, props, and costumes, doing not just music but character sketches, almost turning into a more vaudeville-type show. In fact, it was with Maertens that Taylor first donned whiteface.
"It was all about being anonymous," Taylor says. "We wanted our art to be what our art was. We didn't want people to look up on stage and go, 'There's Russ and Rick.' We wanted people to look at it and go, 'This is Fugitive Poetry.'" The two played together until Maertens grew sick with the bone cancer that would eventually fell him a few years later.
After seeing his friend off through months of hospice care, Taylor rebranded himself as a solo performer. Back then, he had a full mop of hair, and only his face was white, and his makeup might change from time to time, influenced by the expressive line drawings of children. He drew his name from a haunting Bauhaus 12-inch, "Satori" being a term signifying a flash of enlightenment. He put together an ambitious two-hour routine, and went onstage in late September 1988 at the Michigan Gallery.
"The first show was complete insanity," Taylor says. "I did two-hour shows almost completely by myself. I'd have lights set up and everything would be timed out on a cassette, and I had to rush offstage, flip on lights, run back on stage, running around at a million miles an hour. I did crack myself! I got black eyes and scratches and cuts on my head and legs from running into shit in the dark!"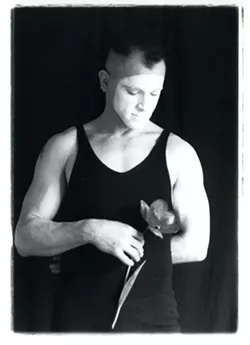 When Taylor says he performed for two hours, it's important to add that usually Michigan Gallery was a place where people would stroll into a room, take in what was happening, then walk into another room where something different might be happening. People might poke their head in, see the man in whiteface frenetically trying to keep up with his prerecorded material, and wander away.
That's not to underestimate Taylor's skill as a performer. Though his material, especially with other people, is often funny, it wavers between amusing and discomforting. It can leave you unsure whether to giggle or cringe. At times the absurdity of his conceits can't conceal the melancholy underneath.
"I think I get a lot of laughs," Taylor says. "I think I like the silence as well. Whether the silence means they don't know what the hell is going on or whether the silence means that it hurts. A lot of people think of me as fun or off-the-wall or insane — and that's cool. But there's also that small part that's dark and sad like we all are. It's not all fun and games sometimes. And I like to hope that it translates to that audience sitting there, that they get a chance to think every once in a while."
Taylor plugged away at the act for 13 years, taking the stage at 1515 Broadway and other art spaces. After going through "some personal stuff" around 2002, he set aside his tin of clown white and moved away to South Bend, Ind., where he worked for an educational company for a few years. He hardly knew his greatest successes would await him back in Detroit when he headed back in 2005.
He didn't simply fall into the lap of Detroit's burlesque scene. "I fell on my face," Taylor says with a laugh. It was his old friends who helped him back on his feet, giving him a gig that helps him pay the bills, sometimes even on time, he jokes.
Once established, he realized that Detroit had developed a sustainable fringe performance scene in his absence. "There was nothing when I left," he now says, still utterly surprised. "There was no fire, no cabaret, no burlesque, no cirque stuff. Certainly nothing like the alternative arts like we have now."
He found that other performers were not only welcoming, they wanted to play against this rubber-faced character. The burlesque gals asked first, and once he established his friendships with them, it smoothed the way to more established stage shows, such as Theatre Bizarre, Torch with a Twist, and the Dirty Show. It's worth noting that the cheekier the production, the more seamlessly he's found a way in, which has meant that over the last 12 years he has wound up in the company of some very pretty ladies.
"Actually, girls started asking me to work with them as a model," he says. "I didn't want to turn anything down. I wanted to see what that felt like, taking their direction, and sharing their direction. And that's how I met so many wonderful men and women just by doing something as easy as standing there."
He says he enjoys seeing how people use his character, which keeps his imagination nimble.
"Basically," he says, "I was working with other people trying to broaden what Satori was. I had the opportunity to do some photo shoots, and they took Satori into something else, whether into fetish or erotica. Satori Circus can do that."
Not everybody gets it, of course.
"I've had people dog me," he says. "A clown with makeup on taking off his shirt! What does that mean?"
But it doesn't get him down. It energizes him. Perhaps that's the secret of his longevity.
"This is why we do this stuff," he says. "It's to rock and roll, man. To get out there. To get shit thrown at you and see how you respond. Stab me. Shoot me. Throw something at me. I love having a reaction from the audience. It makes me happy. It makes me solid."
Metro Detroiters will have a chance to see that reaction — and to react themselves — at this week's big show at the Crofoot. It's called These Are My Friends, and it will feature Jose Pace, Lushes LaMoan, Scotty D., F.A.H. Corps, the Theatre Bizarre Orchestra, as well as a song or two from Taylor's lounge-singer alter ego, Konrad Lee.
The proceedings that evening will be immortalized as part of a documentary film with the working title Being Satori Circus. That film should be coming out this September, to coincide with the 30th anniversary of that first Satori Circus performance all those years ago. In a way, the performance will inaugurate a long look back. Taylor says it should get a premiere in time for his planned 30th anniversary event at Tangent Gallery in late September.
These Are My Friends starts at 8 p.m. on Saturday, Feb. 10 at the Crofoot Ballroom, 1 S. Saginaw St., Pontiac; 248-858-9333; advance tickets available at ticketweb.com or at the box office; $30 at the door; 18 and older only.