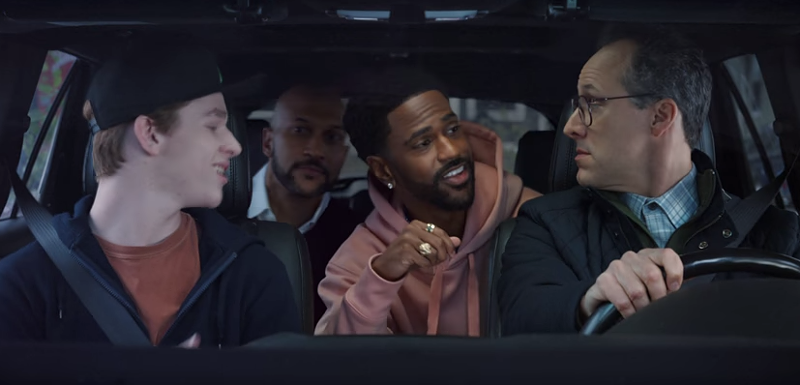 The Super Bowl would be nothing without pizza, chicken wings, and cameos from our favorite celebrity lawyers. This year, Alexa lost her voice, Morgan Freeman lip synced to Missy Elliot, and Budweiser and Stella Artois boasted their water-distribution efforts — but neither mentioned Flint. Statewide, we had local celebs and politicians grace our screens between quarters. Here's a list of the Detroiters we spotted while licking barbecue sauce off of our fingers:
1.
Gilbert busts out the big bucks
In his minute-long ad for Rocket Mortgage, Dan Gilbert enlisted the help of two Detroit natives: Keegan-Michael Key and Big Sean. Key is the real star of the commercial, popping out to help simplify today's "confusing and complicated world." Big Sean is in it for two seconds (literally) to assist Key in clarifying the meaning behind his song, "Bounce Back," with a one-word line: "Right."
#Translation The rap singer took a loss and now he's okay again. 😂😂😂

Enjoyed working with some Detroit family @KeeganMKey & @QuickenLoans for the @RocketMortgage SB commercial. DETROIT!#UnderstandFully | #SuperBowl #Ad | pic.twitter.com/16xeYPhXwp

— Sean Don (@BigSean) February 5, 2018
2. Mike Morse gets cut off
Morse's ad caused a stir on local Twitter when it got cut off mid-air. The commercial featured a guy running and getting hit by a car, thankfully, celebrity lawyer Morse was on the case. Surely Morse will have whoever was responsible for the interruption in court in no time.
Black screen/dead air during #SuperBowl may mean a make-good or partial refund for Mike Morse, who had a local TV ad cut short. Airtime on WDIV was selling for something like $80,000 for 30 seconds during the game.

— Bill Shea (@Bill_Shea19) February 5, 2018
3.
Rochester Hills family gets their time in the limelight

For a second and a half, Jack and Catherine Corombos, ages 5 and 8 respectfully, of Rochester Hills were up on the small screen during the big game. Kraft asked for families to share photos or videos to show how they enjoy the Super Bowl and the Corombos kids were among those chosen. Their mother told
WXYZ
the whole family was very excited about the spot.
4.
Shri Thanedar teaches us how to pronounce his name

Scientist and "the most progressive democrat" gubernatorial candidate, Shri Thanedar, used his 30-second slot to teach voters how to say his name. And no, it isn't pronounced as Siri or Free Darth Vader.
5.
Ram capitalizes on Martin Luther King Jr's words
One of the more controversial commercials came from Detroit carmaker Fiat Chrysler. The minute-long Ram truck ad received backlash for using Martin Luther King Jr's "Drum Major Instinct" sermon in which King specifically advised against excessive spending on cars.
Black people cant kneel and play football but MLK should be used to sell trucks during the super bowl. Unbelievable.

— Akilah Hughes (@AkilahObviously) February 5, 2018
6.
'Tough Nerd' chimes in
In his third Super Bowl ad since 2010, Governor Rick Snyder tooted his own horn for an entire minute. He took credit for Michigan becoming No. 1 in the nation for new manufacturing jobs, and also touted Detroit's narrative as a "Comeback City." Sadly, no people of color were featured in the ad.