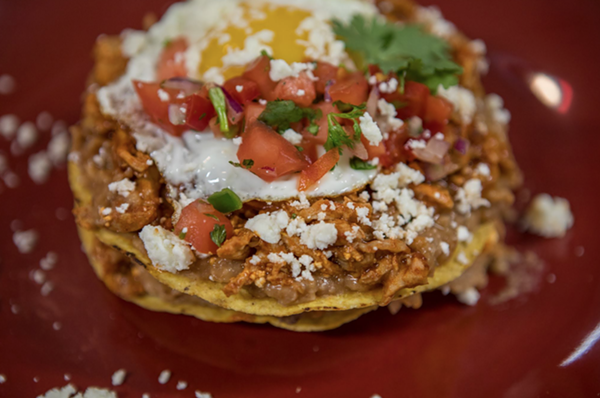 A new restaurant that highlights and borrows from cuisines from around the world is in the works in Detroit's Jefferson Chalmers neighborhood.
Alma Kitchen, which recently won a Motor City Match grant, is building out its new 85-seat space at 14300 E. Jefferson Ave., and could be open in September.
Co-owners Gary Mui and Alicia Sanchez, who are Chinese-American and Mexican-American, respectively, spent the last 15 years working together at a catering company. Mui says there are plenty of places to eat traditional food, but sometimes people want something a little different.
"We've been working together for the last 15 years and we decided we want to open a place for ourselves and to do different cultural dishes instead of one just one style," Mui tells
Metro Times
. "It's something a little different. We want people to have more choices when they go out to eat. That's what we're aiming to do — give a different experience from that standpoint."
That means soul-Mexican dishes like c

hicken and waffles with a morita pepper and agave syrup that's served over a Belgian waffle. Or an Asian b

lack pepper chicken stir fry to which Alma adds potatoes to give it a Peruvian flair, along with different local vegetables.



In the
chilaquiles
, which are constructed like a layered tostada instead of a jumble of chips, Mui and Sanchez will add citrus shrimp and a fried egg on top. A
menu
posted to the restaurant's website will be changed and see some additions and subtractions, Mui says, but it gives you an idea of where Alma is headed.
The restaurant will also hold a full bar that reflects the food menu in terms of approach.
Mui says he and Sanchez checked around Midtown, Corktown, and other neighborhoods for a space, but Jefferson Chalmers held more appeal.
"There's not a lot of development and there needs to be some more dining options in Jefferson Chalmers," Mui tells us. "We want to be a neighborhood spot, and support the neighborhood, and we just fell in love with the building. And we can make a bigger impact here than anywhere else in the city where there's more development."