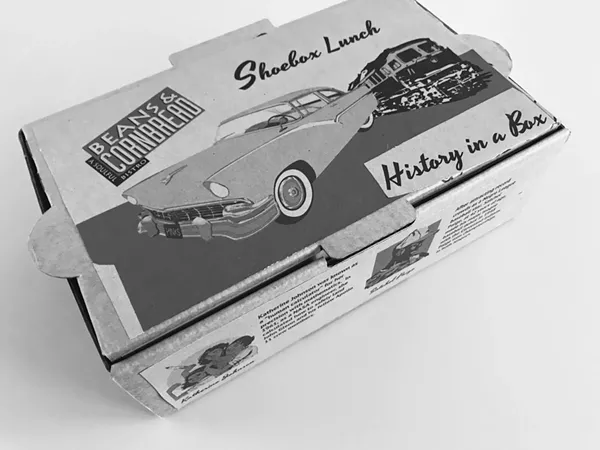 Patrick Coleman says his mother and grandmother told him a lot of stories growing up. They told him what is was like to travel in the South at the height of Jim Crow-era America. It wasn't an easy, or particularly pleasant, feat for black people.
Coleman says because black people were often barred from eating in restaurants — if they traveled by train, they would often be banned from the dining cart — they'd pack their lunch in a shoebox.
"You couldn't stop and eat," Coleman says. "You couldn't dine in the dining cart. So people would pack their fried chicken and cornbread and eat it out of a box."
After years of hearing these stories — and over two decades of operating soul food restaurant Beans and Cornbread — Coleman will offer shoebox lunches at his Southfield restaurant as a part of Black History Month.
Inside the boxes, customers will find traditional soul food options like the aforementioned fried chicken and cornbread, plus perhaps a piece of scrumptious peach cobbler. Meatless options, like the restaurant's Harlem burrito, will also be available in the boxed lunches.
The "History in a Box" meals will cost $10.50 a piece, which is a steal when you consider not only the sheer number of calories you're likely to get out of the deal, but also that the box is a keepsake item meant to be saved.
"This isn't something disposable," Coleman says. "We've decorated the box with all sorts of black history. We have information about the Freedom Riders, Katherine Johnson, and Satchel Paige."
The box also has passages about George Wallace, the Alabama governor who famously said he wanted "segregation now, segregation tomorrow, segregation forever" during his 1963 inaugural address, as well as some history regarding Jim Crow laws.
"You're experiencing history, you're doing what people had to do to sustain themselves," Coleman says of eating out of the boxes. "There are kids who have no idea this happened. I think every kid in the sixth grade should have one of these boxes. I think this would be something great for corporations to serve their employees."
The boxed meals will be available throughout February and 10 percent of their sales proceeds will go to Central Detroit Christian Community Development Corporation to support youth education programs. Beans and Cornbread will also give meals to 60 CDC youths on Feb. 6, 2018, at 6 p.m.
Beans and Cornbread is located at 29508 Northwestern Hwy., Southfield. For more information, call 248-208-1680 or go to BeansCornread.com.