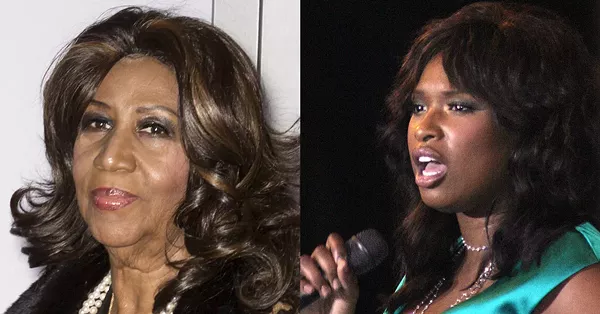 The 2018 Grammy Awards were full of surprises, but one of the biggest revelations was announced before the ceremony even began.
During a pre-award show party, producer and music industry executive Clive Davis announced that singer and actress Jennifer Hudson has been cast to play Aretha Franklin in an upcoming biopic about the "R.E.S.P.E.C.T." singer's life.
According to Deadline, Davis brought Hudson onstage, during which time he told the crowd she will star in the MGM-produced film.
Following the announcement, Hudson sang versions of "Think" and "R.E.S.P.E.C.T." for the crowd.
Hudson, who won Best Supporting Actress at the 2007 Academy Awards for her role as Effie White in
Dreamgirls,
was picked by Franklin herself for the upcoming role,
Deadline
reports.
The film — which has reportedly been in the works for at least seven years — will be produced by Scott Bernstein (
Straight Outta Compton
) with music by Harvey Mason Jr. (
Dreamgirls
). So far, there is no name or release date for the project.
Previously, Franklin signaled she wanted actress
Halle Berry
to play her in the biopic, but Berry expressed concerns about singing for the role. Actress Audra McDonald was also in the running.
Franklin has
18 Grammy Awards
to her name, including a Lifetime Achievement Award and five recordings in the
Grammy Hall Of Fame
— "R.E.S.P.E.C.T.," "Chain Of Fools," "Amazing Grace," "A Natural Woman (You Make Me Feel Like)," and "I Never Loved A Man The Way I Love You."
Here is Hudson performing "R.E.S.P.E.C.T." at The John F. Kennedy Center for the Performing Arts in 2014.

Anthony Spak is an editorial intern with Metro Times and a recent graduate of Oakland University's journalism program. Spak spends most of his time in Detroit playing music or eating gyros at Golden Fleece.