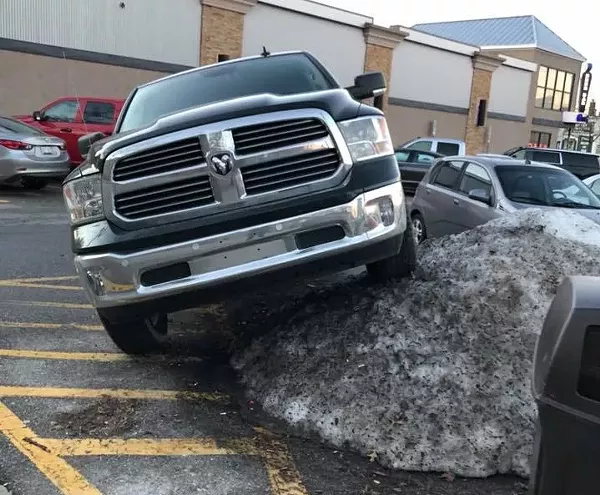 One downside to winter in Michigan is the issue of parking. (Who are we kidding — there are countless downsides to winter in Michigan, but we'll just focus on the issue of parking here.) Parking lots need to be plowed, that snow needs to go somewhere, and what that usually means is you're down at least a few parking spots.
In a community with a low supply and high demand of parking spots like Ferndale, that can be a problem. That is, unless you drive a big-ass truck — like, say, a Ram pickup. If you drive a made-in-Warren Ram pickup, you can park seemingly anywhere in Michigan.
Just look at this stupendous parking job spotted outside One-Eyed Betty's! We would have loved to see whoever pulled off this feat actually climb out of their car... and back in at the end of the night. We're going to ignore the fact that the half of the truck that is not parked on a mini-mountain of black snow is technically parked in a no-parking zone, and we're hoping Ferndale P.D. did too. Honestly, 10/10.