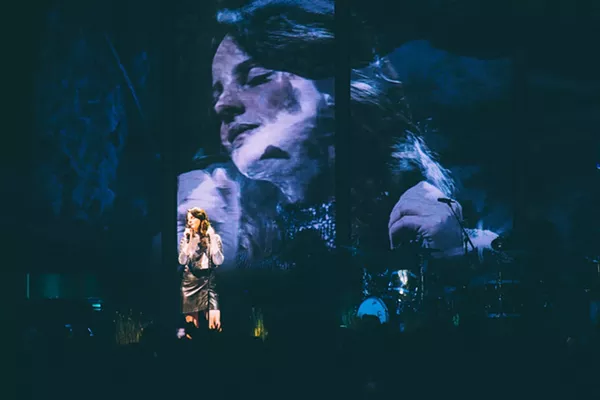 There's something beautifully macabre about a gaggle of teenage girls screaming the words "We were born to die" into a microphone, adjusting their flower crowns mid-freakout. But this is commonplace for a Lana Del Rey show. As the unofficial empress of melancholy and a pioneer of "sadcore," she has single-handedly ushered in a new era of manic pixie dream girl aesthetic — a Bond girl on quaaludes. Swoon.

Lady Lana brought her "L.A. To The Moon Tour" to Little Caesars Arena Wednesday night. Though it may have appeared to be a disappointing turn out (the floor was less than half-full due to the tightly formed crowd and the upper-bowl had been curtained off), the air was undeniably electric and there was no shortage of fangirl (and -boy) tears. We were in Lana's world now.

This world was a sleepy rendition of a California lagoon and a perpetual summer trapped in a Hollywood motel. Palm trees, beach chairs, and a faux shoreline composed of faux rocks festooned the stage. A projection of water consumed the floor and the screen behind her toggled between the moon, the sun, butterflies, and of course, lots of Lana.
The singer emerged in a silver sequined top, leather mini-skirt, and an enchanting case of Rita Hayworth bedhead, kicking off the 22-song set with "13 Beaches" from last year's Lust for Life. "Pretty When You Cry" followed, in which she laid across the stage joined by her set of faithful backup dancers. This was a theme on Wednesday night: Lightly choreographed and simplistically theatrical.

"I can't tell you what it means to be here with you tonight in one of the coolest cities in the whole world," she told the crowd. "We've been talking about this show all week."

Even the most unremarkable gesture (crouching, for example) elicited a response one might expect from a run-of-the-mill, microphone headset-wearing, Teen Beat pop star. Screaming. Guttural screaming. The set was laced with a constant flow of interruptions as fans shrieked feral declarations of Lana love — a distraction that might irk some performers was received with smiles and coy hair flips from their queen and even fueled a fit of laughter during "Ride."
Lana tapped into her inner Marilyn Monroe and crooned an even breathier version of "Happy Birthday, Mr. President" to introduce "When the World Was at War We Kept Dancing" where she altered some of the words to reference our current troubled leadership, threatening to break the president's Twitter and mentioning fake news. This comes as no surprise as she very famously placed a witchcraft hex on Donald Trump last year. "Is it the end of an era?" she asked. "Is it the end of America?"
"Change," "Black Beauty," and "Young and Beautiful" were turned into a seamless medley and served as an intro to what could be considered an unconventional, yet totally magical, intermission. More than half-way through her set, she took pause and sauntered to the front row, taking to the stairs in slow-motion. It is here that she spent nearly ten minutes taking photos, signing autographs, and collecting gifts from fans — never once did her pouty smile falter. There was nothing self-indulgent about this moment, surprisingly. In fact, it resonated with sincerity and gratitude.

"I hope it's OK that I took a minute to see my friends," she said arranging her gift bounty along her grotto facade — which, over the course of the show, had grown into an altar.

Lana returned to the stage and performed "Video Games" from a swing that had been suspended from the rafters, followed by an a cappella version of "Get Free," moving into "Summertime Sadness," and her closer, "Off to the Races."

Lana did what Lana does best — she brought the sunshine, but more than that, she basked in it. And we feel pretty lucky she invited us along for the ride.