(Find more photos of Bella's here.)

When I asked Hugo and Lucia Torres what made their restaurant different from the many others in southwest Detroit, the answer came easily: "Más familiar" — more family-like. It's tranquilo, or quiet, they say.
Hugo cooks on weekends, while Lucia presides all the time. They mentioned other qualities that have set Bella's Mexican Cuisine apart since they took over operations in August: the fresh juices they make, the café de olla — coffee grounds are boiled with sugar, cinnamon, and orange peel — and champurrado, the thick corn and chocolate drink that's perfect in winter. Other restaurants on the Bagley strip that orient toward gringos don't bother with these. I could detect no flexing of the Bella's menu toward American tastes.
Not that the place is self-effacing — there's a multi-colored moving neon sign out front that you can't miss.
The beverages are a good place to start, and the selection of hefty, just-squeezed juices include orange, carrot, and beet in the winter, or any combination thereof. I tried a 20-ounce orange juice for $3, more of a Jalisco price than a Detroit price. It tasted like it came from a sidewalk vendor with a hand juicer squeezing the juice into a plastic bag and offering a straw for takeaway — the way I get it each morning when in Mexico. The others are just as fresh and strong. A "small" carrot juice was 16 ounces and more carrot-y than a carrot.
During the summer, Bella's mixes nopales, celery, spinach, and aloe vera for a healthy, green drink. That's also when "eskimos" are offered — a mix of evaporated milk and crushed ice along with strawberry, chocolate, or banana. Horchata, Jamaica, and Jarritos soft drinks are the other beverages. I liked a giant horchata that was sweeter than most.
When you walk in to Bella's, the front area looks like a work space. Keep going to the back, where its roomy and brick arches are almost the only decoration, aside from some matador posters.
Dinner begins with just-made chips and salsa still warm from the stove. To my taste, the salsa's heat level was just right — enough to be interesting but not a test of courage.
When I asked what dishes customers order most, somehow I knew it wasn't going to be chimichangas (which aren't on the menu). Lucia said her customers ask most often for menudo, the quintessentially Jaliscan birria de chivo (goat stew), and beef barbecue. She serves red pork pozole, the hominy stew made with guajillo chiles, and also makes corn tortillas by hand, producing a thinner, very slightly crisp version — you can see the marks of the comal. Carnitas are sold at $10 per pound.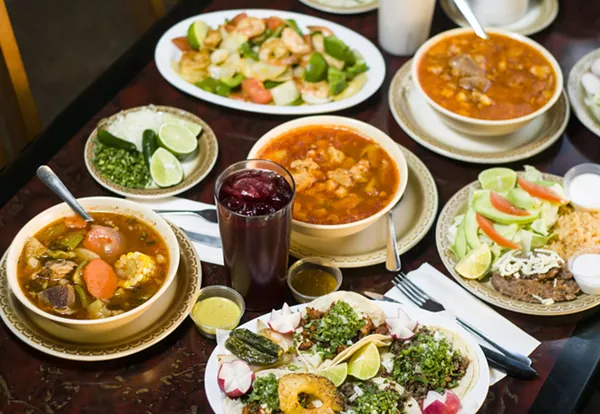 I was disappointed she was out of birria when I asked, but a large and simple shredded barbacoa de res (beef barbecue) filled the gap nicely, which held some pieces of fat thoughtfully dotting the meat. Salsas in squeeze bottles allow you to complement until your heart's content.
On another visit I ordered the chiles rellenos which come topped with cooked-but-still-crisp onions and green peppers in tomato sauce. Again, heat levels were adequate, not overly challenging.
Bella's offers eight guisados, or stews, of various forms of beef, pork, chicken, and goat. Guisado al pastor, for example, is an almost sweet treatment of pork which uses orange juice and pineapples. The dish turns a friendly orange with achiote.
For breakfast you may ask for pancakes with eggs or chorizo. I got chilaquiles, which means different dishes in different states of Mexico. In Jalisco, it's squishy — you start with crisp corn chips and soften them by cooking with broth, garlic, a little egg, and green or red salsa. Cheese goes on top, and crema makes a pleasing garnish.
Bella's also serves $1.50 tacos, of course ($2 if for some unaccountable reason you want a flour tortilla). Tortas and sandwiches on bolillos are $5.50 and served with tomato, lettuce, jalapeño, avocado, and crema.
If I had a wish for Bella's, it would be for whole beans instead of refried, and for less TV. Odd how it's hard to wrench your eyes from the screen, even when it's a couple fighting over custody of their child in front of a pretend TV judge, all in Spanish.
Both the hours at Bella's and the menu appear to be moving targets — don't hesitate to ask if you don't see something. Pay attention to the specials on the chalkboard near the door, which may include tongue tacos or menudo, a whole fish or chiles rellenos.
Torres says the restaurant closes at 6 p.m. in the winter, but it was open till 8 p.m. during several of my visits. Best call to make sure. Look for the lit-up neon sign. Summer hours are 7 a.m.-8 p.m. Cash only.