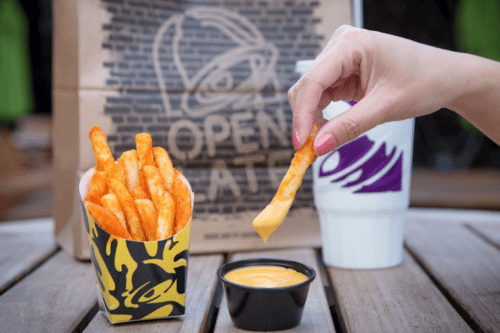 2018 is going to be a great year you fries — er, guys.
From the makers of
the
Crunchwrap (it's a
taco
sandwich
for god's sake.) comes one of the most anticipated culinary Taco Bell creations since, well, the Crunchwrap, probably
— Nacho Fries.


Starting on Jan. 25, Nacho Fries will be released for a limited run on Taco Bell dollar menus nationwide. That's right, $1.
The fries, which are described as being "crispy" and having a "bold, Mexican seasoning" (is there any other kind?!) will come with nacho sauce for dipping. Though they will be served a la carte for the low, low price of $1 price, other options will be made available for the product's run. Nacho Fries will be served as a Supreme for $2.49 or a Bell Grande for $3.49, topped with Taco Bell add-ons (pico de gallo, anyone?), and a new $5 meal-box will also come with fries, a Doritos Locos Taco, a Cheesy Gordita Crunch, and a medium drink.
In the meantime, we'll be salivating.
Thanks to Youtube user gatorpics09 for this exhilarating preview