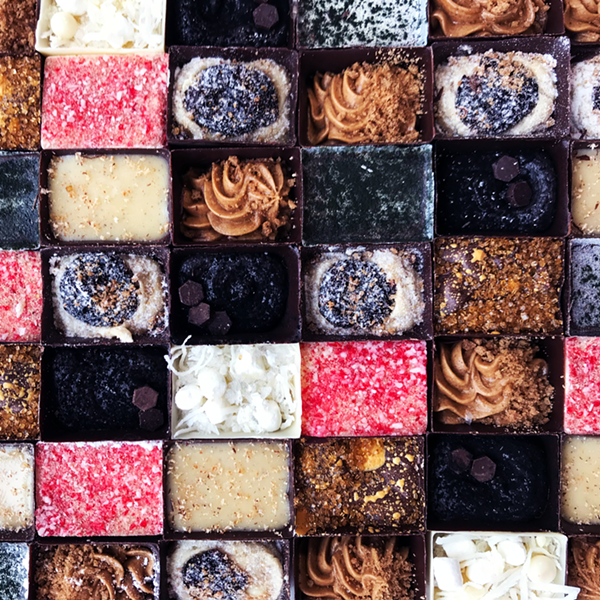 Jane Slaughters' top desserts
Jerk chocolate ice cream at River Bistro:
Chef-owner Maxcel Hardy said he wanted to marry his Bahamian background to his love of ice cream, so he designed this flavor and got Detroit Ice Cream Co. to whip it up. The big bowl was filled with rich chocolate that holds a hint of caramel — and then a nip of heat at the end of each spoonful. How do master chefs manage to make their flavors reveal themselves one at a time like that?
S
esame-and-green-tea soft serve at Sushi Coup:
The sesame was peanut-butterish and I wasn't put off by the gray color; the green tea was slightly astringent. Owner Jack Chantharangsy mixes his own soft-serve, using a blend of products that are 6 percent and 12 percent butterfat, so it's denser than some soft-serve, and quite creamy. He adds extracts, and the machine swirls two flavors together — the $4.50 serving was plenty for two. If your ice cream indulgence has been more along the lines of chocolate and caramel, these Asian tastes are a revelation. Other weekly changing flavors include taro, black sesame, matcha, honeydew melon.
Foraged Bolivian Chocolate at the Apparatus Room:
G​rapefruit and chocolate? Sounds horrible. But pastry chef Duncan Spangler said he was looking for some acid to work with high-end Felchlin's chocolate from Switzerland, and the result knocked me out. Spangler first made a custard with the chocolate and paired it with a tangy goat's milk sherbet, then placed grapefruit sections on top.
Buttermilk panna cotta, also at the Apparatus Room:
The traditional combo of ginger and rhubarb was paired with slippery panna cotta, for a stunning heat-and-bland two-punch that managed to be both light and rich. Rhubarb was puréed and added to ginger sherbet, more rhubarb was poached in vanilla syrup, some rhubarb soup was poured all around, and candied rhubarb appeared on top.
Chocolate gelato at La Pecora Nera, imported from... Toronto:
The maker highlights the fact that its gelatos are relatively low-fat compared to premium ice creams — just zero to ten percent. Instead Gelato Fresco touts its fine ingredients such as Dutch cocoa, which is the flavor that comes through here, with just the barest hint of salt.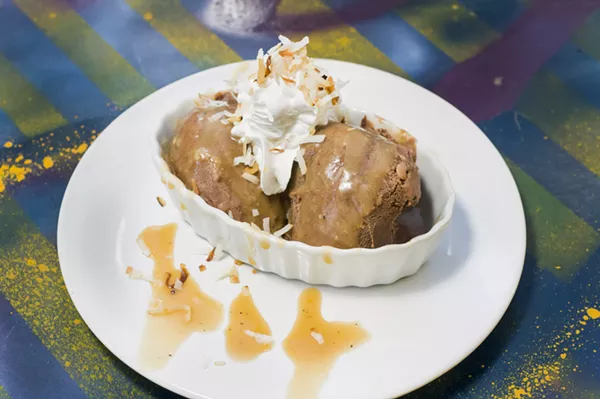 Tom Perkins' top desserts
Carrot and chai pie from the Gingersnap pop up:
Summer Radtke's Sunday night Gingersnap pop up at Baker Streetcar is the only Hamtown pop up that offers weekly dessert in the form of pie, and her great strengths as a piemaker are her creative recipes and crusts. While Radtke inherited skills from her mom, mastery of the latter is the result of years of practice and experimentation to develop what she accurately describes as a "flaky, melt-in-your-mouth" crust. Such it was in the mildly sweet and spicy carrot and chai pie that's ringed with toasted almonds, then crowned with a healthy portion of whipped cream.
Dark Sea Chocolate shake from Treat Dreams:
Ferndale and Midtown's craft ice cream parlor churns out inventive new flavors weekly and is among Michigans best ice cream makers. While sea salt and chocolate is a common combo, the employment of olive oil to add more depth to ice cream with an almost earthier element is something new in these parts. It's even better when blended with whole milk and taken through a straw.
Bons from Bon Bon Bon:
Hamtramck's Bon Bon Bon is perhaps at its best when owner Alexandra Clark's expertise in food science and her creativity is on display in bons like the Strawberry Balsamic with balsamic reduction, strawberry jam, and dark chocolate olive oil ganache in a dark chocolate shell. Or it's perhaps Bon Bon Bon is at its best in its winter collection with bons like the Doug Fir — a Douglas fir-infused dark chocolate ganache that will make you stomp your feet in enjoyment. Or it could be said that it's at its best when its rolling out the standards like the Bumpy (chocolate cake cream, buttercream frosting, and a dark chocolate shell). In short, it's impossible to go wrong.
Atol de elote at Encuentro Latino:
The corn-based Guatemalan drink is thick, creamy, and warm with milk and vanilla that's spiced by a healthy amount of cinnamon. The perfect antidote to an early winter deep freeze.
Cake cup from Mocha Cafe
The equation for the cake cup at the Yemeni Mocha Cafe in Hamtramck is pretty simple – cram a piece of chocolate-y cake and drifts of frosting into a 16-ounce cup with sprinkles, chocolate chips, peanut butter cups, M&M's, Oreos, syrups, sugar balls, cookies, and anything else in the candy aisle and — viola — you have an unrefined sugar bomb.