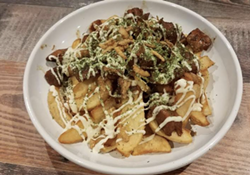 A new restaurant specializing in ramen and Asian fusion dishes opened yesterday in the former V&M Polish Kitchen and Fiddlehead's space on 13 Mile Road.
Eater
reports that it's a product of restaurateur Greg Vartanian and former Little Tree Sushi and Edamame chef/owner Eddie Bautista.
Edo will specialize in ramen as will as Japanese poke, sushi, and "Asian bowls" made of Fillipino and Hawaiian recipes. That means rare-in-Detroit dishes like
daing bangus
, a Filipino standard of fish marinated in vinegar and garlic, or
sisig,
which is crispy pork belly served with ginger, onion and jalapeños.
The ramen menu offers ten options from "traditional" to the Hog with deep fried pork belly and
shumai
. Further down the menu is a selection of udon, Japanese stir fries, sushi rolls, and Edo fries with items like thick cut fries topped with beef and kimchi.
The restaurant is located at 4313 W. 13 Mile Road. Find its web page
here
.