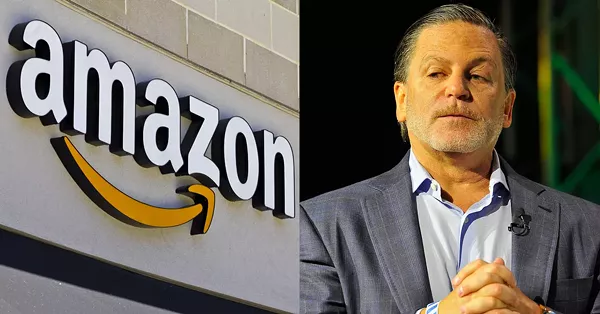 We knew it would be a race to the bottom, but holy shit we did not think Detroit's political and corporate leaders would actually put the city up for sale in their quest to secure Amazon's second headquarters.
Crain's Detroit Business
managed to get the wraps off the 242-page book and summary document that contain the pitch spearheaded by billionaire Dan Gilbert, offering us a glimpse into how much public money our leaders may be willing to throw at the e-commerce giant. While the exact total is redacted from the documents obtained by
Crain's
, a cursory look at the corporate welfare package may leave one wondering — what's the point of bringing Amazon here again?
As part of the giveaway,
Crain's
reports Amazon could:
• Avoid paying real estate and personal property taxes for 30 years


• Avoid paying Detroit's 2 percent corporate income tax or the city's utility users tax under the state's Renaissance Zone Program


• Keep its employees' state income taxes for 10 years, and keep 50 percent of those taxes for the next 10 years


• Receive $106 million in incentives on the Windsor side of the joint pitch, with the idea that it would put 5,000 workers in the Canadian city
Wow, that's a lot of free shit! And if that free shit wasn't enough to lure a company led by a man whose net worth recently
climbed to $100 billion
, Gilbert — the richest man in Michigan and the owner of much of Detroit's downtown — has turned full-blown salesman in an effort to close the deal.
"What we are proudly selling you today is: Detroit, Michigan," Gilbert says in a letter to Amazon included in the pitch. He goes on to describe the city as having the "lowest prices," "biggest selection," and "fastest delivery," of any of the 238 areas vying for Amazon's business.
'What we are proudly selling you today is: Detroit, Michigan,' Gilbert says in the letter to Amazon.

tweet this
"Lowest Prices?" reads the ensuing explanation. "Detroit has the lowest prices and overall cost structure that you will find in any major urban core, including the cost of real estate, talent, and taxes."
To be clear, it's not just Gilbert trying to give away the farm, because, even though he's been described as
Detroit's mayor
and has literally been referred to as
"boss" by Detroit's mayor
, the farm is, technically, not Gilbert's to give. This bid was co-signed by Governor Rick Snyder, actual Detroit Mayor Mike Duggan, and other political leaders from around the region.
And if you think
your
approval is required to let a behemoth corporation avoid paying taxes for the services you and your employer likely do pay for, don't be so naive. The tax incentives are apparently "available to Amazon with no further legislative action," according to the summary document.
So how low exactly did Detroit go in this race to the bottom? With the dollar estimates kept secret, we can't yet be sure.
But some back-of-napkin math tells us that, on the state income tax capture alone, Amazon would likely be able to pocket well above $1 billion (we multiplied using a conservative jobs estimate — 20,000 employees in the first 20 years, each with an average salary of $100,000). To put that in perspective, Chicago, which has been described as having assembled one of the more
"perverse" Amazon offerings
, plans to give the company $1.3 billion in income tax captures, among other breaks. New Jersey has offered possibly the most money to Amazon in its Newark bid — an incentive package worth $7 billion.
Amazon, for its part, has promised to invest $5 billion and eventually create 50,000 jobs in the region where it puts down stakes. More jobs would follow — with other tech companies likely to cluster around Amazon. All of the new residents filling the high-level jobs would then create demand for lower wage service and construction industry jobs.
To be sure, those are big economic benefits, but they come with
additional consequences
. Amazon's first home, Seattle, once a middle-class city with distinct character, has been transformed since the e-commerce company arrived as a startup in 1994 — and not entirely for the better. As one Seattleite put it in a recent story for
Politico
, residents there are "keenly aware of the costs, not least the nation's fastest-rising housing prices, appalling traffic and a painful erosion of urban identity" associated with Amazon's presence.
"What was once a quirkily mellow, solidly middle-class city now feels like a stressed-out, two-tier town with a thin layer of wealthy young techies atop a base of anxious wage workers," Paul Roberts wrote in the piece.
Amazon has said it will whittle down the field of candidates for HQ2 in possibly three rounds before it makes a final decision next year. Just how low will Detroit and Michigan go? We'll likely get a better idea if the city advances to the intensified second round of battle.