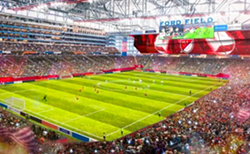 It looks like Detroit's bid for its own Major League Soccer team might be a miss.
The Motor City was named as one of four finalists to receive one of two available MLS expansion franchises by 2020 — a list that includes Sacramento, Nashville, and Cincinnati. However, on Tuesday the league
announced
it would make a "special announcement" in Nashville on Wednesday.
We can see where that is probably heading. Meanwhile, Sacramento is expected to be a shoo-in for the other franchise due to the fact
that it has already started construction
of a soccer stadium.
And therein lies the problem with Detroit's MLS bid. The league has said it would prefer expansion cities to have soccer-specific stadiums, and in April asked that the Detroit bid include a new stadium.
Initially, the bid — backed by Quicken Loans' Dan Gilbert and the Detroit Pistons' Tom Gores — involved an MLS-specific stadium to be constructed at the downtown site of Wayne County's scrapped "fail jail" project. However, that plan changed when the Detroit Lions' owners, the Ford family, got involved and presented an alternative plan that would see a Detroit MLS team share Ford Field with the Lions.
And with Nashville
approving
a public-private deal for a $275 million stadium last month, it seems that Detroit's fate was sealed.
Detroit could get another chance in 2022, though, in which the league is offering two more expansion teams.