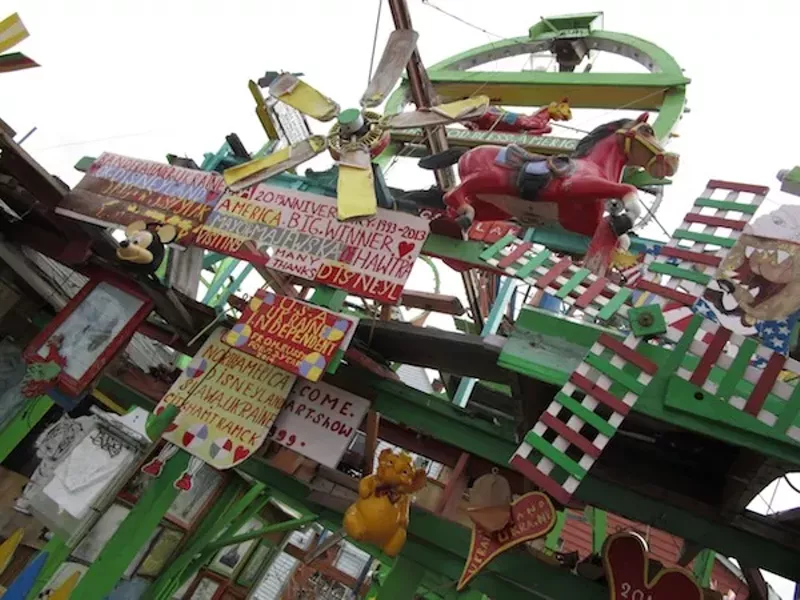 Today brings
an unusually insightful article about the outsider art installation known as Hamtramck Disneyland
. It comes from the nonprofit-funded magazine
Pacific Standard
. The 2,000-word feature story by Liana Aghajanian hits all the points you'd expect: a description of the whimsical artwork, a brief bio of its creator Dmytro Szylak, how the Hamtramck-based nonprofit Hatch Art stepped in to save the piece, and how local artists are now moving into the flats on the property.
What's more, the 2.1-square-mile melting pot continues to benefit from immigration, and many residents see the value of a one-of-a-kind art environment that capitalizes on that story. And it isn't just locals with Eastern European roots who want to preserve and protect Hamtramck Disneyland. Aghajanian writes:

Salah Hadwan, a 27-year-old Yemeni American who grew up in Hamtramck and is now a member of the Hamtramck Board of Education, was one of these local supporters. When he found out that the installation might be destroyed, he rallied a popular local restaurant, Royal Kabob, to donate 10 percent of its sales for one day to Hatch Art. Hamtramck Disneyland "shows that, regardless of what's going on in the U.S., there's always that hope that you can come to the U.S., come to a city like Hamtramck, and freely express yourself in whatever way you think is unique to you," he says. "It's symbolic of immigrants."
Aghajanian neatly ties together these themes, and illustrates how art is just one of the gifts offered by our new arrivals. It's a point worth underlining, especially given
the toxic anti-immigrant rhetoric that has coincided with the rise of President Donald Trump
.