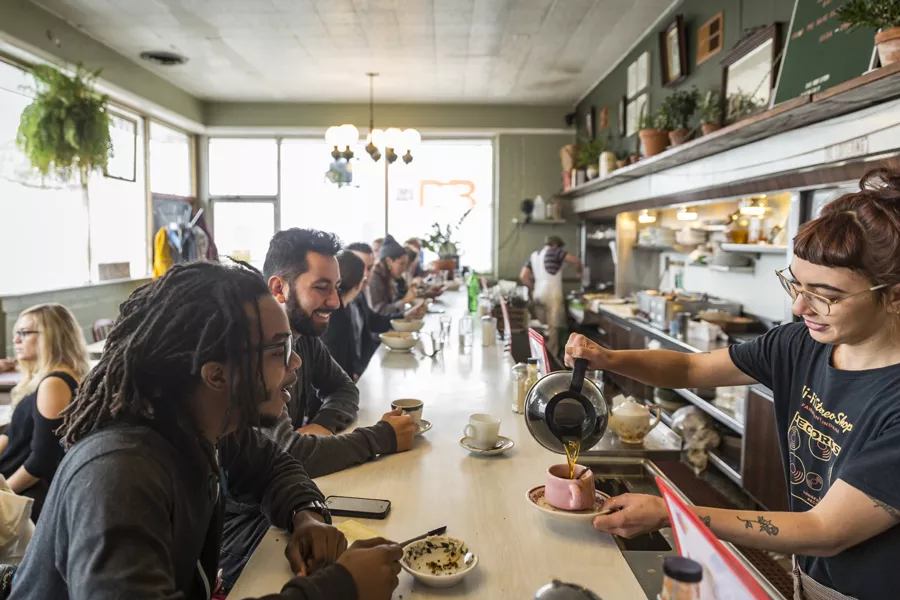 The 21st century has seen an explosion of books and documentaries arguing that eating is a political act. It began in 2001 with the publication of Eric Schlosser's Fast Food Nation, then gathered steam in 2004 with the film Super Size Me. It reached a higher pitch in 2006 with the publication of Michael Pollan's book The Omnivore's Dilemma. The message of these films and books is clear: Industrialized food systems take a toll on our health, the environment, and the people who work in the industry.
The dining end of that story has been coming into finer-grained view more recently. Five years ago, Tracie McMillan's book The American Way of Eating chronicled her undercover work at a family-oriented restaurant chain and as a picker in the agricultural fields of California. The next year, Saru Jayaraman of the Restaurant Opportunities Centers United wrote Behind the Kitchen Door, and wrote last year's Forked: A New Standard for American Dining.
While Jayaraman and McMillan have set their sights largely on fast-paced chains, mistreated workers aren't restricted only to them. Just because restaurants put a premium on ecologically sound practices such as local sourcing, heirloom varieties, or free-range animal husbandry, it's no guarantee the workers serving your meal, preparing it in the kitchen, or even raising it in the field are treated well.
The scope of the problem is best summed up in a video from Jayaraman's group called, "Do You Eat Ethically?" It shows a well-dressed young couple out at a fancy-looking restaurant. As the titles show, they are about to dig into what sounds like a wonderful meal that illustrates a commitment to sustainability: organic, free-range filet mignon and locally sourced produce, complemented with a biodynamic, sustainable wine list.
Then the camera pulls back into the kitchen, where their meal was made, showing the workers. Many of the staff working the front of the house earn $2.13 an hour, can't afford health insurance, or are victims of wage theft. The runner has 15 years of experience but has never been offered a chance to be promoted to a server. The pastry chef struggles to find childcare while at work, and is sexually harassed daily. The line cook is working while sick and cannot afford to see a doctor.
These sorts of conditions aren't that much different from those described by George Orwell in Down and Out in Paris and London 100 years ago, where the narrator worked more than 17 hours a day at a chic restaurant — and lived in poverty. As anybody who's seen Michael Moore's Where to Invade Next knows, it's an understatement that workers in Europe today have it a bit better than 100 years ago. Yet such conditions persist in the United States, especially at fast food restaurants and family dining chains.
But that's changing, as many restaurants embrace the so-called 'triple bottom line" approach, in which not just profits but people and the planet are taken into account. In fact, some locals are leading the way.
Jayaraman's organization, the Restaurant Opportunities Center, actually maintains a branch right in Detroit. In fact, it runs its own restaurant, Colors Detroit, which puts social justice at the top of the menu, and earns rave reviews doing it, with online ratings averaging from four to five stars. It's all part of a mission aimed at helping transform the state's restaurant industry by showing how the dining business doesn't need to exploit the people who put food on diners' plates.
The state director of ROC-Michigan, Dr. Alicia Renee Farris, says that business practices can be brought into line with more fundamental questions. "What does it require to uplift our humanity?" she says. "How do we want to be viewed as a society? Do we want to be viewed as caring and respectful of all people in that we are concerned about the ethics of dining?"
Farris says the center pursues its goals by trying to work with business owners to show them that better practices can be profitable. You can run a restaurant with fair wages that don't rely on tipping.
"Yes, costs have to be adjusted, we acknowledge that," Farris says, "but we should not be focused on balancing our books on the backs of vulnerable populations, paying people the lowest that we can." The center's association is ready to work with entrepreneurs to suggest other ways to cut costs and improve sustainability, attract a skilled workforce, and how to fine-tune procurement by buying from local farmers or even joining with other restaurants to buy as collectives.
"We want businesses to be profitable. We want businesses to be sustainable in the long term," she says. "We just have to look at our business plans differently and rethink some things in order to have to ensure that people are able to meet their basic needs as well as to live what we consider the American dream: life, liberty, and the pursuit of happiness. How can you be happy if you're in a constant struggle as to how you're going to pay your lights, your gas, the kind of things that are basic needs?"
The center also has a consumer arm, Diners United, made up of diners who value restaurants demonstrating a commitment to workplace justice. "These are people who, when they go into a place, they want to see that racial and gender justice are taking place," Farris says. "They want to see that there are women in prominent places in the restaurant, whether that be management or a banquet captain, versus low-paid servers."
The goals even go beyond the well-being of individual servers, bussers, runners, or cooks. The way Farris sees it, higher wages translate into a more vigorous economy for everybody. "The more people are paid, the more disposable income they have, and the more they can buy in other places," she says. "So that actually contributes to the well-being of the economy. If people have money to spend, they usually spend it."
It sounds like a tall order: Wages high enough to not rely on tips, opportunities for advancement to all employees, working toward racial and gender parity. But Farris doesn't stop there, proposing training, opportunities for education, hiring people with barriers to employment, even profit-sharing. Is it pie in the sky? Well, not when you consider several restaurants in and around Detroit already embody many of these approaches to running their restaurants.
Farris points to Russell Street Deli, "where they make sure their employees are taken good care of and have benefits," and Rose's Fine Food, where servers and dishwashers start at $10 an hour and have tips split among them, as "another place that gives great opportunities."
"That's just a few," she says. "There are others that are taking the high road to profitability."
One of the businesses Farris suggests as a model employer is Zingerman's, which runs a traditional restaurant at its Zingerman's Roadhouse location. The servers there are paid under a fairly traditional compensation model of a modest wage plus tips, but it regularly adds up to more than $20 an hour. At the company's newest restaurant, Korean eatery Miss Kim, there are no tipped employees, allowing front-of-the-house and the back-of-the-house staff to enjoy similar wages.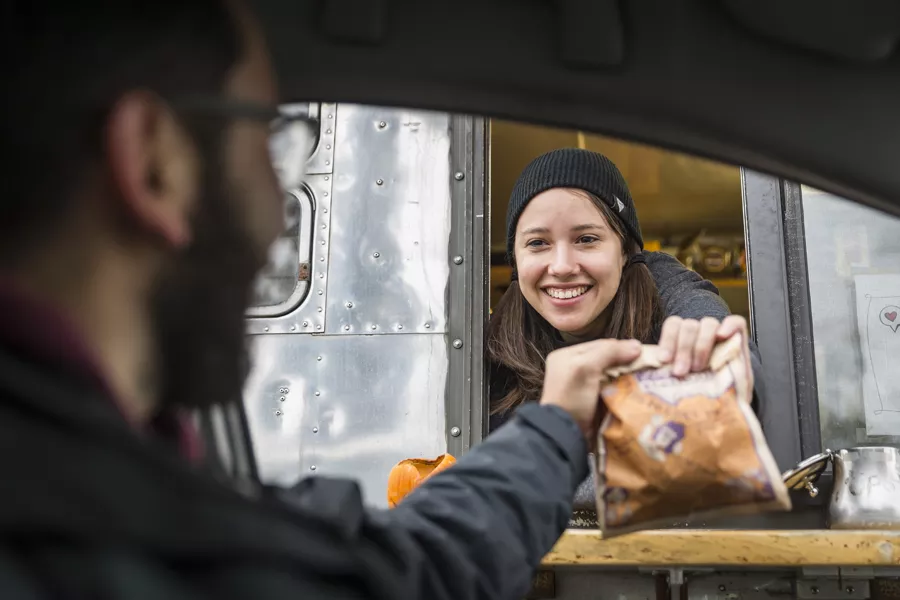 What's more, being a Zingerman's employee has some outsized benefits.
"We try to pursue social justice across the board," says co-owner Paul Saginaw. "We've always paid a higher than minimum wage. Currently our minimum entry-level wage is $11 an hour, and then you go up from there. We're working hard to increase that. We also have gain-sharing, so all the businesses have annual plans, and if they exceed that annual plan, part of the gain on that plan is shared with all employees."
Not only does Zingerman's share profits with employees, they invite long-term employees into a form of brand ownership. "If you're there for two years, you can buy a share in the brand," Saginaw says. "The brand is a separate business, the intellectual property, and you can buy a share in that, and that pays a dividend every year we're profitable."
Zingerman's even gives its workers a seat at the table where the company is managed. There are 17 managing partners running 10 separate businesses, and three regular staff workers. Through a system of nomination and selection, employees are placed on the board, where, Saginaw says, "they have the full decision-making authority of partners. So that the staff perspective is always present in every decision that we make." What's more, all corporate decisions are arrived at by consensus. "We don't vote on anything," Saginaw says.
Diversity and opportunity for advancement are also a core part of Zingerman's mission. The business has a "diversity and inclusion committee" that Saginaw says is "made up of a cross-section of employees, and they're responsible for making sure we're an inclusive and inviting workplace. They give themselves goals, and we try to meet them." And the company offers plenty of ways to advance beyond staff. "Almost all the folks that are in management were not hired in as managers. The only folks that are not home-grown would be technical and administrative experts," Saginaw points out. "You know, a food business is not necessarily going to be able to grow a technical expert or a human resources expert or a financial analysis expert, and so those are positions where we recruit from outside. The rest of the management team is recruited internally."
Saginaw and company also try to lower traditional barriers to employment. As he puts it, "We have folks that have been previously incarcerated, we have folks that have that are differently abled — and we do that across the board."
And those aren't all the lengths to which Zingerman's goes to ensure its employees are happy and productive. "Five percent of all of our profit goes into a fund that we call our Community Chest," Saginaw says. "That's an emergency relief fund for employees that are experiencing a financial crisis."
Saginaw says Zingerman's also works to ensure that even the people who raise the food are treated well. "We certainly like to know about the integrity down the food-chain supply lines, and we are very careful who we buy from," Saginaw says. But there's no formal inspection program or checklist. (Other businesses, such as Corktown's Farmer's Hand, an all-local, artisanal grocery and cafe, carefully vet their vendors, inspecting organic practices on farms and checking on working conditions.)
That said, almost everything else appears on Zingerman's food justice checklist. More surprising still is that Saginaw and company would rather not tout their practices.
"I'm a little wary of organizations that use their acts of charity or what they believe to be social justice as a blatant marketing ploy, and so because of that I'm very hesitant to blow that horn," he says. "We're just gonna tell you that you're going to get a really great experience, you're going to have great service and great food and that's what we're here to do."
Is the dining public willing to reward restaurants that embrace a social justice approach to dining? Not all contenders have been able to survive in the long term. Burger-and-shake concept Moo Cluck Moo offered starting wages of $12 an hour at its Canton and Dearborn Heights locations, but closed in 2016 when the company shifted to food trucks and catering instead.
'Happy food always tastes better. If you remember mom or grandmom cooking in the kitchen, you could feel the love from that preparation. Same kind of thing in restaurants.'

tweet this
In truth, examples of other restaurants that treat employees well would seem to trade in more sophisticated offerings. They might range from the creative brunch dishes at Rose's to the artisanal pizzas at Supino to the sandwiches that come with wine pairings at Mudgie's to the high-toned fare at Mabel Gray. It suggests that restaurateurs who provide the extra effort in the food largely embrace many of these concepts already.
It makes sense. As Alicia Farris puts it, "Happy food always tastes better. If you remember mom or grandmom cooking in the kitchen, you could feel the love from that preparation. Same kind of thing in restaurants. When people are cared for, I call it 'happy food.' If the chef is happy, the servers are happy, and people all along that continuum are happy, then of course the food is going to be more joyfully prepared and served."
Farris thinks it makes a difference. "It sets the atmosphere and the taste in terms of how people are preparing it," she says. "Are they preparing it because they're really committed to giving these people a good-tasting, quality meal? I definitely think it shows when people are passionate about what they're doing and feeling that they've been cared for. It really makes a difference."
Or as Zingerman's Paul Saginaw says, "I believe that generosity leads to joy. And if you have a belief that there's such a thing as 'having enough,' then it's very, very liberating. In a business, it gives enormous freedom to innovate, and I believe that makes anything better — especially the food."