Are you a deer? Do you suffer from low blood pressure?
Then I've got a restaurant to show you.
It trades in the cuisine of northern Macomb County, which appears to rely heavily on Detroit's mining industry.
There is, in short, a lot of salt. But that's forgivable. After all, how much American cuisine rides on that time-tested culinary formula of "salt + fat"? In that way, Kid Rock's Made in Detroit — a "new American" eatery with a Southern bent — is nothing new. Bob Ritchie, aka Kid Rock, opened it in the recently minted Little Caesars Arena in Detroit's Cass Corridor.
And the new American fare he rolls out of the kitchen is a thing people want, especially before a hockey game. I understand, so I can forgive that the House-Brined Wings that arrive wet with the "Detroit honey hot sauce" are a good pick on paper, but leave you searching for the "honey and hot" through the wall of sodium.
And because the people want to eat salty finger foods beneath a large-screen television (and below an excellent portrait of Kid Rock's late hype man Joe C.), I can forgive that the sodium-bomb Fried McClure's Pickles are so coated with thick, salty, soggy crag — which is, to be clear, encasing a salt-packed pickle chip — that the well-loved McClure's flavor is rendered unidentifiable.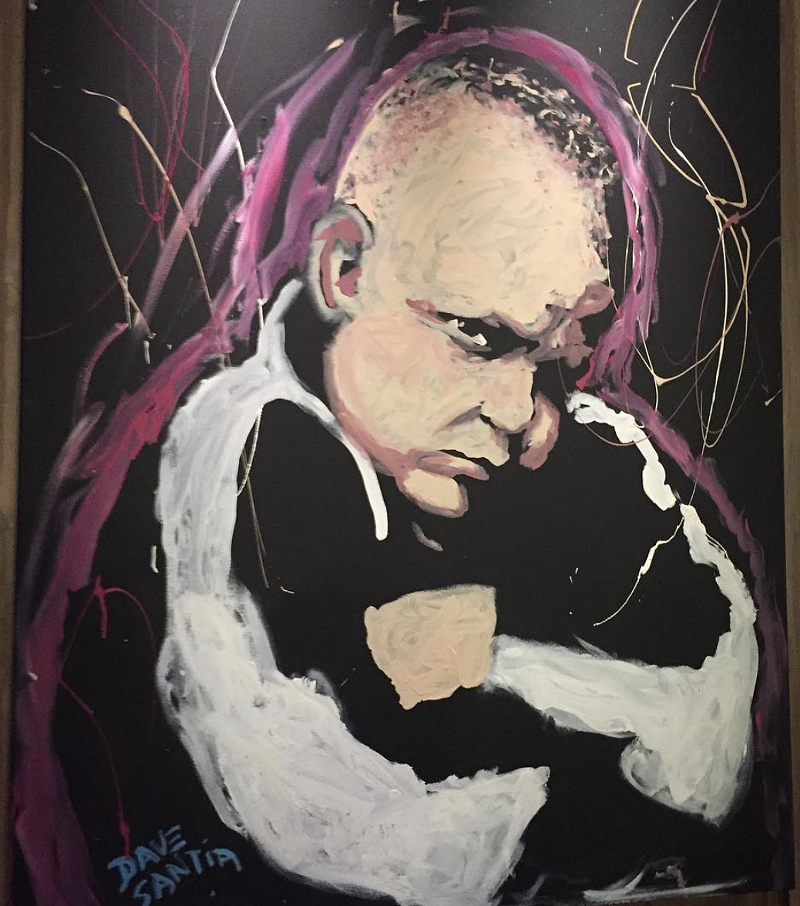 Yes, people want new American bar cuisine before hockey. So even though the $16 American Goulash might seem like a good idea but is in reality a sub-average dish of glorified Hamburger Helper that crackles with sodium, it gets a pass. It's bar fare.
And here's a fourth pass for the same failure to execute in the Hamtramck, a $16 burger with a 7-ounce patty lost between two flavor voids billed as "potato pancakes." The package, mostly meaty and mushy, seems to absorb any discernable flavor outside of the omnipresent sodium.
In fact, I'll acquit another misfire — Bobby's Buttermilk Fried Chicken, which at $19 came with thoughtful presentation, the right level of crag, and some crisp pickle chips, but ... lacked $19 worth of flavor.
I'll even forgive the mostly flavorless Brussels sprouts appetizer that came with cheddar, Neuske's Slab Bacon, and a house barbecue sauce, and the $9 mac and cheese appetizer made with Pinconning cheese and potato crumbles (aka crumbled potato chips). Ditto for the $8 cast iron cornbread, which comes so syrup-logged that it should be on the dessert menu.
Though I have some criticisms, it should be noted that some of my dinner guests disagreed with my assessments, and approved of dishes like the mac and cheese. One even suggested that Kid Rock's support of President Donald Trump and his well-documented disdain for Metro Times could impede my ability to objectively consider his foray into food service.
Look, it's no secret that Bob and Metro Times don't have the warmest friendship. Late last year, he fired off a 3 a.m. email to staff writer Michael Jackman containing a vague threat. And in September he trashed our music writer Jerilyn Jordan after she wrote an unfavorable recap of his six-night LCA stand. Maybe I went in with a prejudiced palate?
I don't think so. Because as much as I want to deliver a Pete Wells-on-Guy Fieri thrashing, I found Made In Detroit to be surprisingly chill — unless, that is, there's a Wings game, during which time a line winds out the arena-side entrance. There are bright spots on the menu, and Ritchie and company exceeded expectations (which, OK, were low).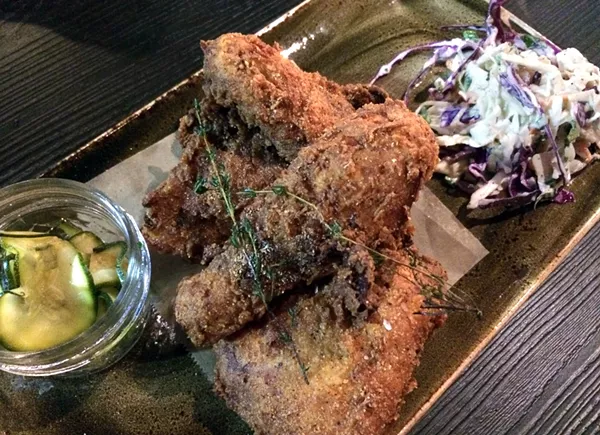 Others in our party praised the mac and cheese for its resemblance to the out-of-the-box Kraft stuff on which they grew up. I prefer what the folks at Southern Smokehouse and Sweet Soul Bistro along McNichols in Detroit prepare — deep, rich mac and cheese with gooey strings that hang from the fork during every bite.
But here's praise for the beet salad — a composition of goat cheese, pear, grapefruit, candied walnut, arugula, with a lemon thyme vinaigrette. (Yes, of course we snowflakes at Metro Times would go to Kid Rock's restaurant and love the beet salad.) The Made In Detroit Burger did its job well, and the $14 cocktails — with options like the Bawitdaba (Woodford Reserve Bourbon, apple cider reduction, and smoked cinnamon) and the Cocky Lemonade (Tito's Vodka, strawberries, lemon, basil, elderflower) — were exceptional.
Perhaps the best item at Made In Detroit is fittingly one that really is a product of Detroit — the coney dog appetizer. It comes with two mini hot dogs on Texas toast that are coated in thin chili and layers of green and red onions. But it's $7 for the equivalent of one coney dog.
Really, there's no serious crime at Kid Rock's Made In Detroit beyond the price point: our group of five diners tallied a $375 bill. A good chunk of that went to the cocktails and drafts, the latter of which run $6.75 for domestic and $11 for craft. That comes out to $75 per person, which is up there with what you'll pay at most of Detroit's best high-end restaurants.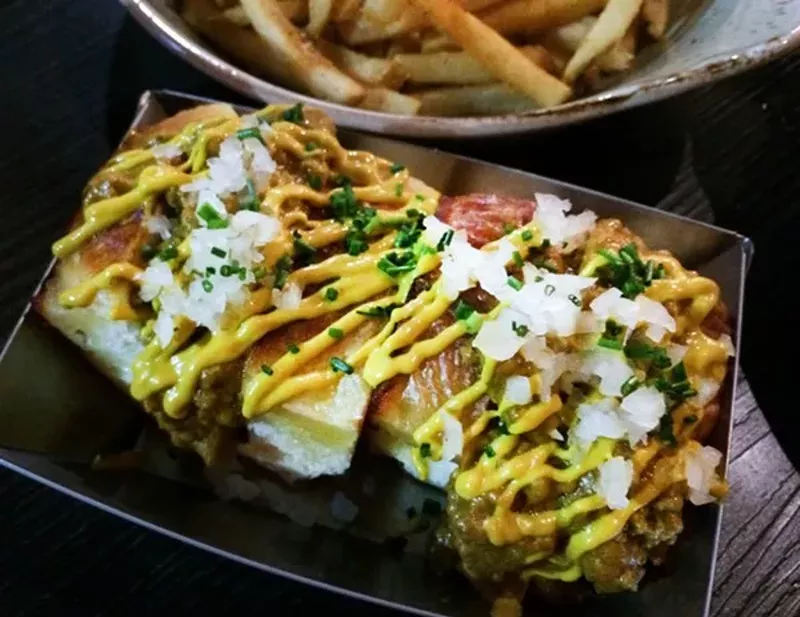 And, yeah, these are arena prices. But the math on a night out at the arena and Kid Rock's restaurant is a bit shocking. Many of those dining on a game night might have dropped $75 per ticket plus $30 for parking. Add to that another $150 after tip for bar food at Made In Detroit, and another beer during the game and — wow — it's a $400 evening.
That's a bit odd since Ritchie bills himself as a working-class hero. He even railed against welfare moms during his six-night stand at LCA in September, yet failed to note that billionaire Mike Ilitch used — conservatively — just under $300 million in taxpayer assistance to build the arena in which Rock's restaurant operates. That's nearly double the state's allowance for welfare services in 2017.
Start putting the pieces together — the $7 coney dog, the $19 fried chicken, the taxpayer assistance for the arena, the inflated ticket prices, the parking lot gouging — and it feels like Kid Rock's Made in Detroit in Little Caesars is a millionaire and his billionaire buddies fleecing people whom he's supposedly representing. And that's harder to swallow than anything on the menu.