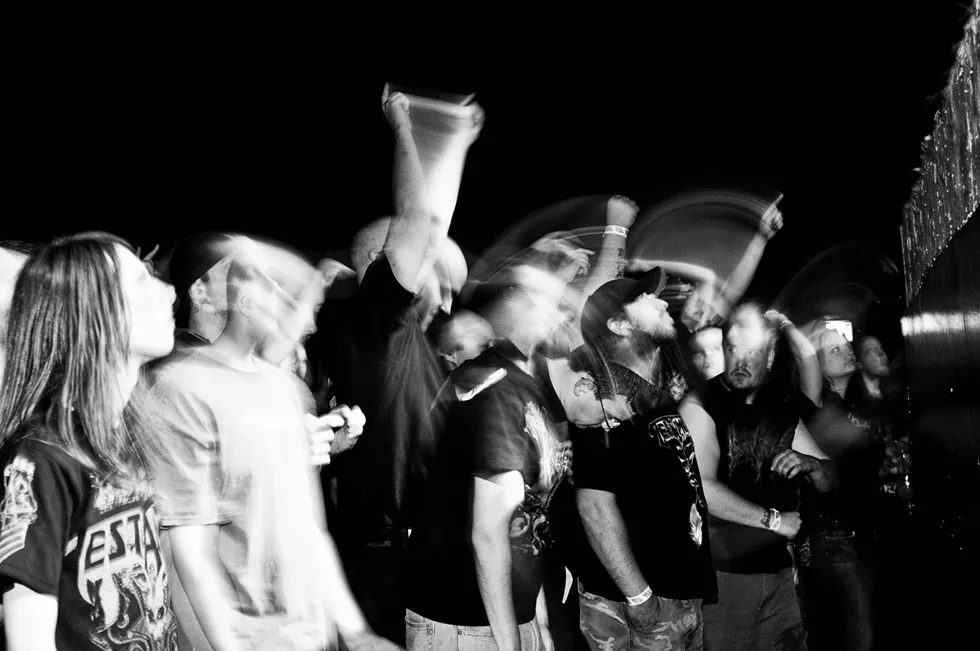 If you're a metalhead in Detroit looking for a hall to see your favorite band, Harpos is, and has long been, the spot. Sure, it's notoriously grimy, and the bathrooms have been better known for keeping water on the floor than in the toilets, but fans go there anyway. When it comes to intimate gatherings of heavy metal in the Motor City, there's no place quite like it.
And the legends knew it, too. Over the years, some of the biggest names in metal — the likes of Motörhead, Ronnie James Dio, and Megadeth — passed through the hall to give Detroit's metal scene a hell of a show. The venue has also hosted plenty of hip-hop, including Snoop Dogg, LL Cool J, Lil' Kim, and OutKast.
But heavy metal has always been Harpos' bread and butter. In February of 2017, the Harper Avenue club was bought by Ruzvelt Stevanovski, the former owner of metal club Blondies, who promises to breathe new life into the club for future generations of metalheads.
In the meantime, past employees and patrons look back at the iconic venue. These are their stories.
From humble beginnings to hell-raising ends
Harpos was originally built in 1939 as Harper Theatre. It operated as a movie theater until it was rebranded and transformed into a nightclub in the 1970s. In 1979, it was purchased by Ron Baltrusz, along with business partners Rick McNeil and Kurt Foltz, who turned it into a metal venue.
Ron Baltrusz: My earliest memories of Harpos would just be the transformation and the things we had to do to make it live-show ready. It was a club when we bought it, but it was a disco and one of the main things was that we had to do was run power to what would be the backstage. My brother was an electrician, and he brought in five other card-carrying electricians who would work five or six days, 18 hours a day, just getting power from one side of the building to the back stage.
Baltrusz also had to worry about putting in the stage and a sound system that could handle a melt-your-face-off show.
Baltrusz: There was no real stage there. We had to build a stage. We built the stage, at first, four feet high and about 20 some feet deep, and then we had an acoustical problem once we got the stage in. After we were there three or four shows, we had to raise the stage another two feet. We had to actually separate the wood by laying carpeting down and making the riser isolated from what was the whole stage. The room was an acoustical nightmare. When the theater was built, it was designed when they didn't really have a sound system or whatever, so the architect of the building said it was like its own megaphone. ... It was a major undertaking, but we did it and got it all done and we opened in January of 1980 with Mitch Ryder.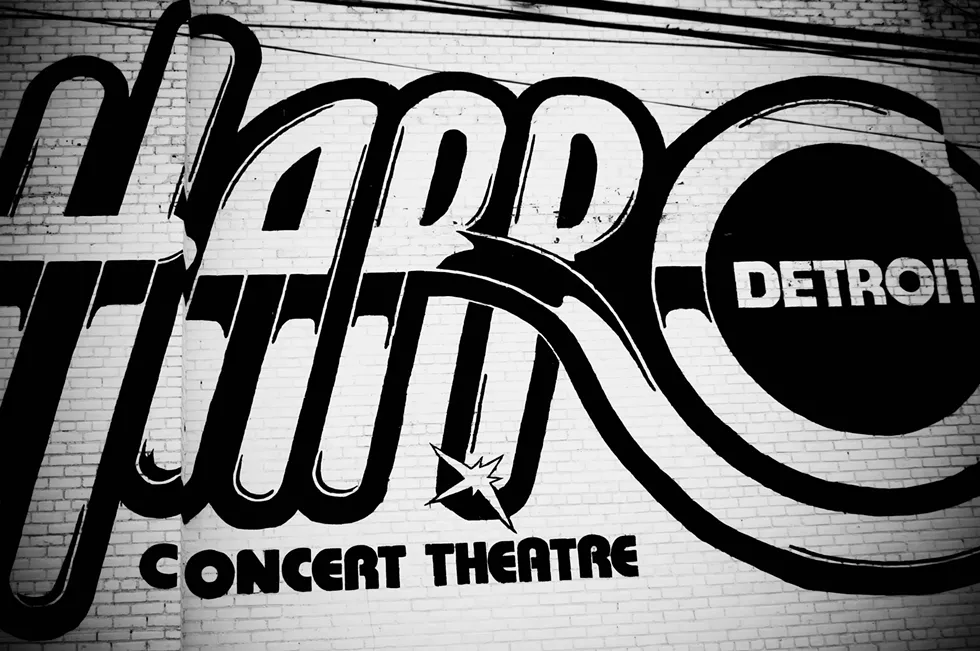 When it did finally open, Harpos had character that stuck.
Jennifer Gentile (bartender): The marquee definitely [stands out]. It was huge. As soon as you'd turn the corner and see the marquee and who's playing, you'd get excited. The carpet was famous, and the dancefloor was this big white elephant in this heavy metal, hard rock venue. It's this giant disco floor that lit up and it's still there. [I remember] the velvet curtains that frame the stage because they're absolutely ludicrous, loud and big, very gothic-looking and they set the stage for everything — [plus] the video screens and the smell of beer. No matter what time you walk in there: the smell of beer.
Tim Smith (photographer): I remember that crummy curtain. That frickin' curtain in the back. I said to Ron one time, "man, that curtain is terrible" — it was almost like a leopard print curtain — "you gotta get rid of that." And he said, "You got a spare $10,000 to get a new backdrop, Timmy?"
Matt Bruorton (bartender, security): My favorite part [of the club] was the pit area because you could really get close to a band. You could have a good time in the pit, and before I started working there, that's all I was doing: getting in the pit, slam-dancing and having a great time.
Mark Staycer (fan): I do remember the big, vertical marquee and remember it saying "Harper," then sometime later seeing "Harpos," and thinking "Wow, they must have saved themselves a lot."
Baltrusz maintained ownership of the club for more than a decade, bringing in 75 to 100 major shows a year. He did his best to keep his patrons safe around the club, up to and including hiring burly bikers and security dogs, but after losing two lawsuits for incidents that happened outside the building, he and his partners were forced to file bankruptcy. They operated for over a year under bankruptcy, but after some additional legal issues, Baltrusz lost the club.
Ron Baltrusz: They converted our [chapter 11] to chapter seven, or whatever, and the bank came down and shut us down. I was gone. I lost everything and my two partners lost everything that we had. That was it. I was done. The next owners bought it from the bankruptcy court: a mother and two sons.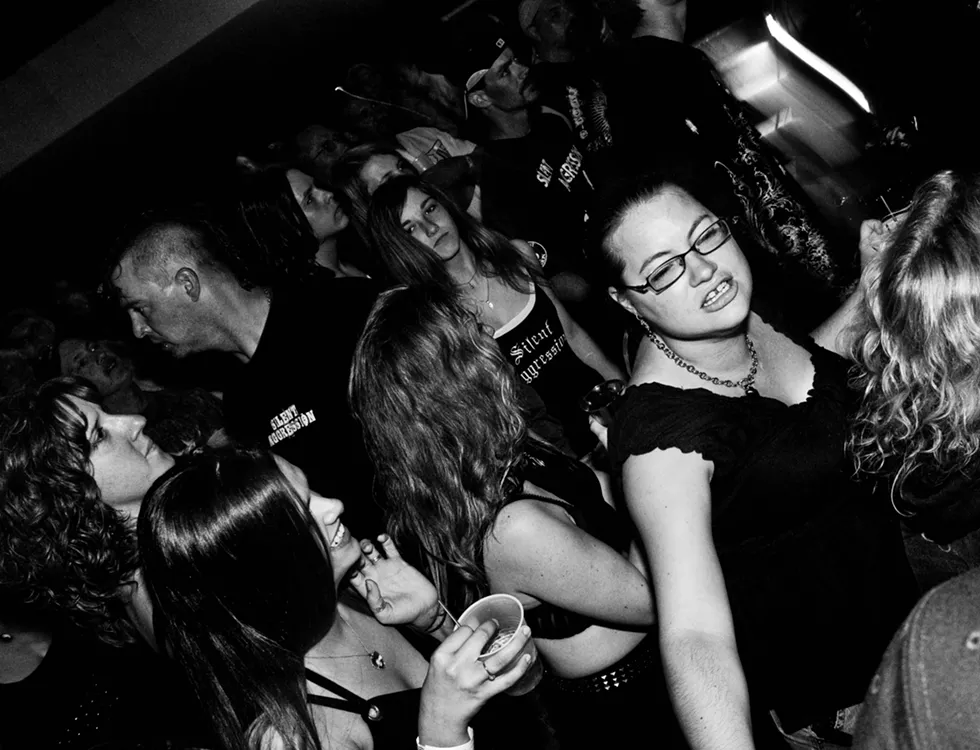 Fond memories
During Baltrusz's tenure and beyond, the club attracted metal and rock lovers from all over metro Detroit.
Staycer: My earliest memory of Harpos was attending Harper Theater... As I recall, as birthday gift when I was 13. [I remember] asking auntie to take me there as a special treat to see Elvis Presley in Viva Las Vegas and a surf movie called Ride the Wild Surf. Growing up in the 'burbs, we didn't go into Detroit all that often. From time to time, yes, but we more or less stayed in the burbs until many years later when we realized that the Harper Theater had been dramatically changed into a concert venue. [That's when] a friend of mine and I saw an early group there called the Look. It was one of the early shows there [and] I can find no record of this particular concert that I know we went to.
Gentile: [Harpos] was the place to play, to see or be seen if you wanted anything to do with rock 'n' roll in the '80s, [and] the music is the first thing that comes to mind. I worked there every weekend so [I saw] pretty much everyone that was on my dad's list from like from 1986 to 1990. I've seen everyone from Anthrax and Beastie Boys to Motörhead. Anybody who came through that time frame, pre-grunge.
Smith: I don't even know how [Harpos] got on my radar... I think one of my buddies had gone up there [and] said it was a really neat place, a former movie theater and a really neat place to see a show... I think it was just word of mouth and I just started going up there and it seemed like a pretty cool place... It was a really great time back then [and] being into photography I would call the box office and ask if they allowed cameras. Most of the time they would, but every now and then they wouldn't. When they did, I'd bring my camera up there and take photos, then I'd go back at a later date and maybe have the band sign some if I could get ahold of somebody backstage, or even get backstage.
It just so happened that I photographed Johnny Van Zant, Ronnie's brother from Lynyrd Skynyrd. He had a band called the Johnny Van Zant Band [and] it was one of the first bands I ever took photos of at Harpos. I went back when they were playing again and it turned out that Johnny's dad, Lacy, brought me backstage and introduced me to the band and had them sign some photos and he said, "Man, these photos are really good, do you know the owner of the theater here?" I said "Well, no" and he said "C'mon, I'm going to take you up and introduce you to Ron. I think you should have a job here." So he took me upstairs, introduced me to Ron and he hired me as the house photographer.
'I always wanted to check it out and, obviously, in school, no kids could venture down there — God forbid their parents found out [because] it's a pretty rough area and club.'

tweet this
Marc Kaul (singer, Bludshot): I saw Slayer there in 1987. Slayer, Overkill, and Motörhead: that's my first memory of being there before I ever worked or played there... I just remember more or less being there [and] that it was a great show. I also saw Megadeth there around the same time.
Bruorton: I lived in Detroit and all my friends and their friends were all talking: "Man, you got to go to this place called Harpos. It's really cool." So I think I was like 18 years old, it was '89 and I went there with a friend of mine. We went in and these two bouncers were just huge and I was intimidated — back then I was really skinny — so we walk in and we hear some band playing. It was metal, like '80s rock. We started going all the time and before I knew it I ended up working there for a few years and yeah, I've been going there like, 25 years.
Don Schwartz (fan): My first time visiting Harpos, had to have been summer of '91 I think, or the spring. I might have still been in high school [and] I went with a buddy of mine just randomly. I always wanted to check it out and, obviously, in school, no kids could venture down there — God forbid their parents found out [because] it's a pretty rough area and club — so I went down there and we actually saw a Led Zeppelin tribute band called the White, if I remember correctly... We walked in and it was pretty intimidating because I had never been in there. We were speechless, you know? It was like sensory overload. I probably stayed maybe an hour, hour and a half, and then we left. Nothing too eventful. We just walked in, checked it out and it was like "Whoa, I was actually in here." And that was it. The next time I went on my own I want to say it was October or November of '91. I went by myself to go check it out. A band called the Spin Doctors was playing, and that was right before they had their big radio hit.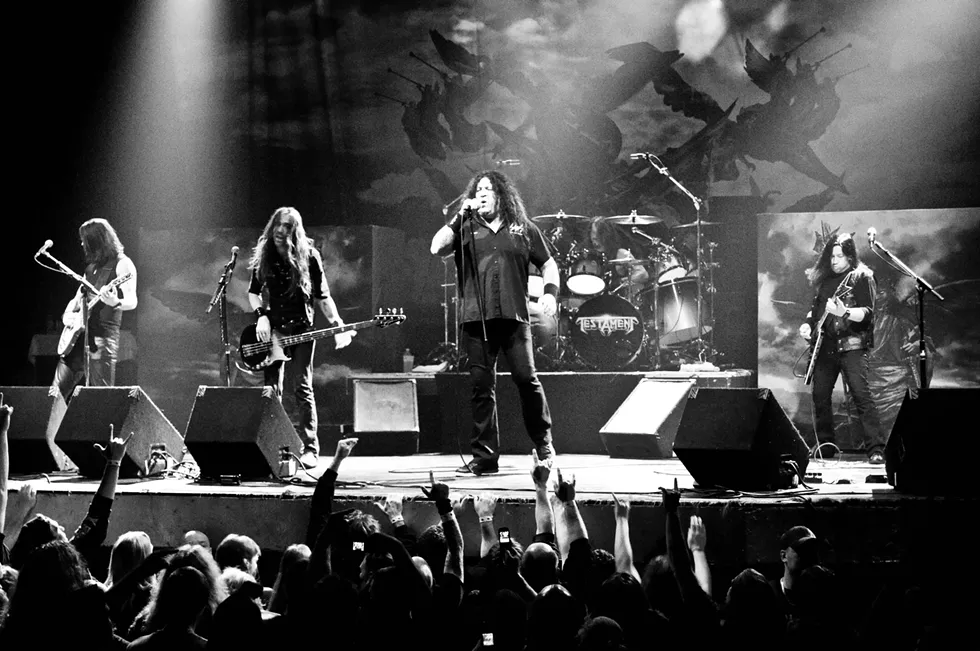 Crazy times
One of the best things about the venue is how intimate it is, and how often huge names would mingle with patrons.
Staycer: Joe King Carrasco & the Crowns really knocked me over. Here's this skinny dude from Texas walking out on stage — trotting actually. He was really high-energy and wearing a red velvet cape and a big crown that reminded me of the Imperial Margarine commercial.
Schwartz: Harpos was like an out-of-control animal. It was the biggest and the loudest. It was just intense. They had the wet T-shirt contest, they had the men's hot buns contest, they had the 50-cent beers and kamikaze shots in a barber's chair... I met Ronnie James Dio, I met Lemmy in his dressing room so it was like, "Wow," you know? ... We're playing the Heaven and Hell album from my car and he's like, "I like that song." It's really surreal to have him standing outside of your car hanging out with you like he's one of your friends.
Regulars like Bruorton, who became known as "Dr. Feelgood," even became mini-celebrities at the place.
Bruorton: Dr. Feelgood was one of the things was one of the fun part of going. My friends kind of dared me. They had the hot buns contests for the men, and the hot ladies contest, and I got a few drinks in me and everyone was like, "Matt, you should get up there and do the hot buns contest." Well, I did it one time and I won because I did it differently from everybody else. Everyone that was going in the contest was really fit, had long hair and looked like a stripper. Well, I'm fully tattooed, got a gut and bald head, and I went up there with "I love Harpos" stickers all over the front of me to cover up the front part, took everything off and walked on stage. I was getting guys screaming for me and laughing and that's how I won. It was audience participation and the judges didn't matter. [It became] an every-weekend thing I was doing it and winning.
And employees got to see actual celebrities at the best, worst, and most hilarious.
Baltrusz: Motörhead had come in for their fourth or fifth performance and their arrival time was set for noon. We opened the doors at 8 p.m. and they didn't get there until about 6:30 p.m. Lemmy, the lead singer, was so apologetic to me. He tells me that they had to stop and fuel in Battle Creek and they all got off the bus while they were fueling up the bus. Somehow, when they left the truck stop, they left Lemmy behind. He had no identification on him, no money on him and he's trying to get help to get his bus to stop. These cops that come to answer the [911 call on him] say, "Well, we can't take you with us" but chased down and caught the bus 50 miles down I-94 and had them turned around to pick Lemmy up back up in Battle Creek.
Kaul: I worked there in '92. I used to do the radio spots, like voiceovers, and I was also a kind of hospitality. One time, I had to go get Glenn Danzig's prescription. Literally, they hand me the prescription, there was about 2 feet of snow on the ground, and they give me a $100 bill. I had to drive to find a pharmacy that was open that late and they didn't give me enough money, so I got what $100 could buy and I went back. I went to hand him his prescription and he got so mad because I didn't get it all.
Smith: Alvin Lee from Ten Years After was very good friends with George Harrison, and he played a couple of nights there. I had this shirt, an original 1964 Beatles shirt that didn't fit me. It was too small. I wore it under leather because it was very small and I went backstage with my buddy and Alvin says, "Cool shirt, mate." I said, "Thanks Alvin, I heard you and George are friends." He says, "Oh, yes, mate, as a matter a fact, we have a band that we play together, myself and George Harrison and Tom Petty and Roy Orbison." It turns out it's the Traveling Wilburys and they canned him.
Gentile: My dad, being the owner and the booking agent, was someone that everyone wanted to talk to. It's late one night, like 10 til 2 a.m. and they had already called last call. I'm walking through [the club] in my waitress uniform when this guy says, "Hey, hey." There's four guys standing there: one has a top hat on and one has a bandana on. So I'm like, "Yeah, what?" He goes, "Hey, your dad owns Harpos, right? Your dad's the one I've got to talk to?" I'm like, "Yeah, do you want a drink?" He's like, "Yeah, yeah do you want to get us a beer?" So I go, get a beer, come back and can't find them.
Now I'm mad because I had to go get four beers. They come running up and go, "Oh, those are our beers?" and then tip me 50 cents. Then he says, "Hey, we're in a band from L.A. and we're opening tomorrow night," and I'm just like, "Yeah, just pay me for the beer and let me be on my way." Then he says, "Can you get us more beer?" and I was so annoyed that I said, "I don't know how you do this in L.A. but this isn't how we do it here. It's last call, too late, you got your beer, I got to go." And he goes, "Here, here can you give this to your dad?" So he throws a cassette on my tray, which is wet from beer anyway and I go to walk away. Then he says, "Hey, my singer thinks you're cute, can you give him a kiss?" And I go, "What? No. Ew," and I walk away.
I go up to my dad's office and tell my dad "There's a band down there... They're really weird and they wanna play here so here's their cassette." He says, "Yeah, give it to me." So I give it to him and he says, "I'll take care of it." So, two years go by and I'm watching MTV one night and — holy shit, it's the band. It was Guns N' Roses.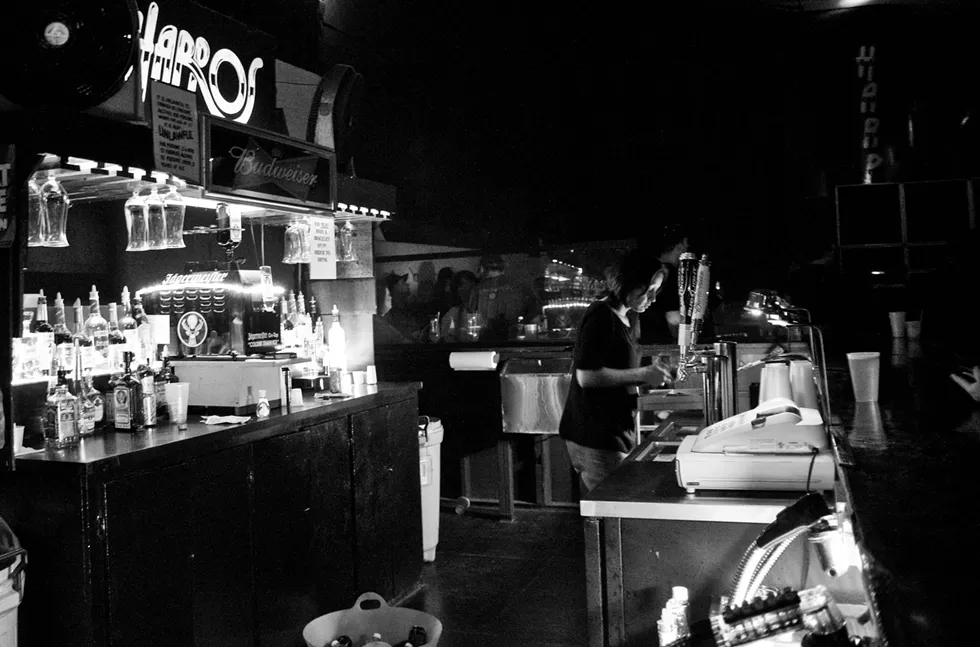 Bad reputation

Despite all the fun, over the years the club earned a reputation for being rough around the edges, mainly due to its location in a disinvested, hardscrabble part of town.
Smith: They always said, "Do not go far from the theater." I remember that the stage manager had been shot at just going down to the chicken joint down the street, back when I was there in the '80s.
One time, I think it was Meatloaf, his truck pulled up with the equipment and he got out and went to the theater and someone stole the truck. All of his equipment, gone.
[And] one time, my brother was waiting outside, [and] he didn't want to leave his buddies. [He and] hundreds of people were standing outside waiting for a Motörhead concert and a car pulls up outside. The guy gets out of the car and throws a brick into the crowd.
Schwartz: It was fun but yeah, it's a dangerous neighborhood. There were shootings all the time, carjackings, and, yeah, you'd get your car broken into. It happens, but you still went. You kind of risked all that shit just for a good time.
With all the nonstop partying over the years, Harpos gained notoriety for being grungy and crazy too.
'One time, I think it was Meatloaf, his truck pulled up with the equipment and he got out and went to the theater and someone stole the truck. All of his equipment, gone.'

tweet this
Schwartz: We really did stupid shit, nothing dangerous, but just acting very young and drunk, very juvenile and acting like Beavis and Butthead: girls throwing their tops off, peeing in the girls' bathroom, peeing on the floor, peeing in beer. You could go to the bathroom and there was a garbage can in there, and why not? Are you going to hold it? Are you going to wait for a thousand people to go in those teeny bathrooms or are you going to go right there on the floor?
Now you'd see that and you'd be like, 'What the fuck is that? What is going on?' [But back then] when the bathrooms were flooded, you'd think, 'This is awesome, there's blood and beer and water all over the bathroom floor,' you know? [We were] just being 19 [with] not a care in the world. We went there for the party — a lot of us are much older and we don't do that anymore, so we can laugh about it now. [We were] headbanging and being stupid, not being violent [but] letting loose and letting all of your aggression out and stuff like that. Metal has that effect on people. You don't do that at the opera.
Reality check
But when Steven Krass, a member of the Feisty Cadavers, was shot during an attempted carjacking across the street after a show in 1996, the good times quickly turned to heartbreak.
Gentile: That was a horrible, horrible time. I knew Steve. Everyone knew Steve. That was a huge loss. It kind of set the tone all the way around for Harpos and the demise of it, or at least the downward spiral. I do remember getting phone calls the next morning and the phone calls never stopped. Everybody knew him and everybody knew that band... it could have happened to anybody and it really was a horrible, horrible thing that happened. The Harpos staff, my dad, were so adamant about safety, and at the point when it happened, nobody wanted to go back down there. It was a huge reality check that somebody can walk up to you and just end your life for whatever they got from him: $2 in change or whatever. It was heartbreaking. He was a really happy-go-lucky guy. Just a really, really nice kid and it's a damn shame.
Kaul: It was a very sad end to an era of innocence in the music scene of Detroit.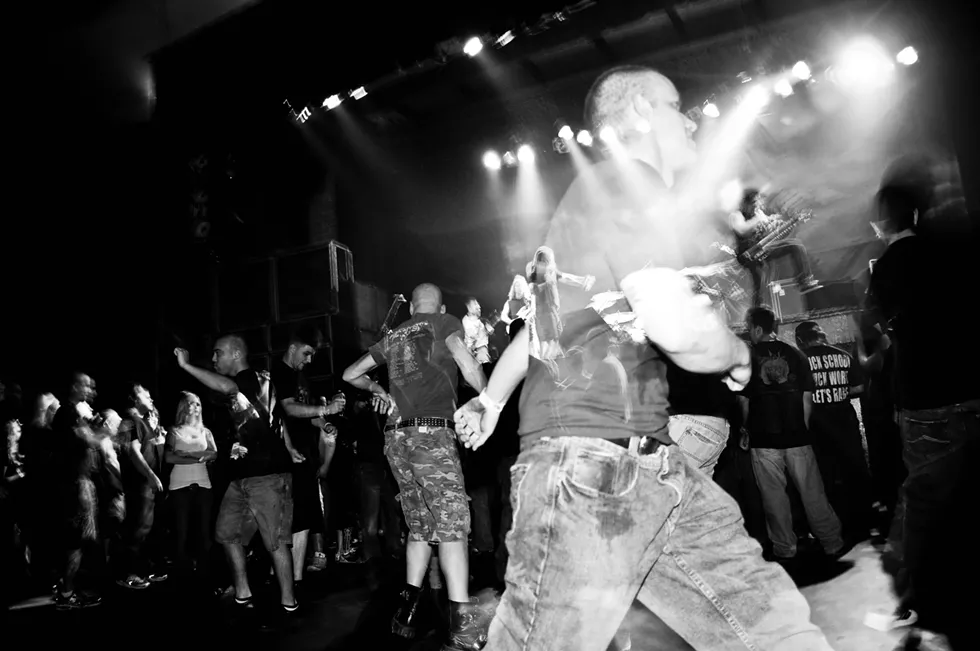 Looking toward the future
Through the rest of the '90s, and into the '00s, the club continued to operate as a music venue. These days, the club is undergoing work. Carpets are being removed, offices are being emptied, and things like the roof and bathroom are slowly being fixed to bring the venue back up to snuff. Though the days of old are gone, patrons and employees that spent the better part of their late teens and twenties frequenting Harpos are looking forward to the club's future.
Baltrusz: I'm really proud of what we brought to the city and for the city. It was a lot of work, but I'm really proud of what we built in the time that we had it... I'm sure Ruzvelt is going to do a good job and I wish him mammoth success.
Gentile: Ruzy is an extremely smart man, and I know my dad feels the same way. If there really truly is one person in Detroit who has the capability, connections, the knowledge of Detroit's market, the bar business and the bar itself, it would be him. It would be nice to see him restore that kind of a feeling, you know, the excitement. It would be nice to have that back in Detroit for people to go to and see all different types of artists. Not just one genre, but all genres. I wish him all the success in the world, and I mean that. I've known him most of my life. He's a fantastic man and I want him to succeed.
Brouton: I used to do security at his last club, Blondies, and Ruzvelt knows what he's doing. He knows the business, he's a great guy and I gotta give him props because he's making Harpos great again. He's cleaning it, he's painting it, he's pulling the carpet out, he's fixing the sound system, and he's fixing the roof. He does have a long way to go, but in steps, and that's what's making it awesome to go back to because who wouldn't want to go back to the legendary Harpos and see it improved?
Schwartz: When I first walked in I hadn't been there in several years from my own personal boycott and I could definitely feel a change when I walked in. It felt good. It felt like home again. It was still dingy and dirty and smelled, but we slowly started cleaning it and I could tell that this is going to be cool. Ruzvelt put a whole different vibe on that bar. It's fun again. It's a different kind of fun, but it's still fun. This is what Harpos needed but it's going to take time. Some of that stuff is still like Harpos. If you don't like it, I don't know what to tell you: go to a jazz club, go to the opera. This is fucking rock 'n' roll and if you don't like it, go home.
Harpos is located at 14238 Harper Ave., Detroit; 313-824-1700; harposlive.com.
Stories from:

Ron Baltrusz was a co-owner of Harpos for more than 10 years beginning in 1979. He and his partners turned the club from a disco into a metal venue and put the iconic "Harpos" painting on the back of the building, which faces I-94.

Jennifer Gentile is Ron Baltrusz's daughter and worked as a server, and later a bartender, at the club. She even spent her senior prom hanging out in the club.

Tim Smith started out as a metalhead with an eye for photography and ended up as Harpos' official photographer after Baltrusz learned of his talents.

Mark Staycer remembers when the club was still showing film and caught a couple of shows at Harpos in its early years, before moving away from Detroit.

Matt Bruorton hung out at Harpos so much that the owners at the time asked him to be a bartender and shortly after that he began working security.

Marc Kaul was another frequent patron of the club and also played the stage with his band, Bludshot.

Don Schwartz spent a lot of time seeing and meeting his favorite bands at Harpos and even got to help out Iron Maiden back in the day.