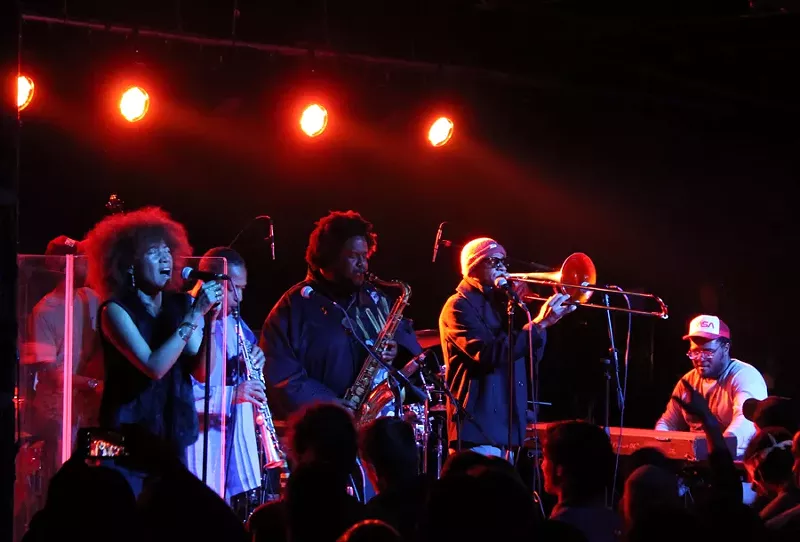 Kamasi Washington implored the audience at the Magic Stick Wednesday night: "Diversity is not something that should be tolerated, it is something that should be celebrated." Donning a magnificent robe covered in cosmic circles easily perceived as celestial bodies and his signature smile, Washington's presence alone was enough to make one feel welcomed and warm.
That diversity he spoke of was fairly represented in the crowd — black, white, young, and old alike came out for a pretty strong showing for a somewhat expensive show ($35 at the door!) held during the middle of the week.
The beauty of diversity is also the message behind Washington's latest release, the aptly titled
Harmony of Difference
. During the performance he referenced the genesis of this work as a desire to create musical harmony by uniting disparate melodies in order to show people the beauty in differences.
"I wrote the
Harmony of Difference
to remind us all of just how beautiful we are … as a metaphor for how beautiful it can be when we all come together," he told the crowd before launching into
Harmony
's masterstroke "Truth," the sixth movement which merges all the previous songs into one. Expansively peaceful yet scorching with power — this is "Truth" the song and Washington's own truth as a performer and composer.
Other highlights of the two-hour set included a highly spirited version of "Change of the Guard," the 12-minute tour-de-force that opens
The Epic
and a song that I could listen to on repeat for hours; a funky burner called "Black Man" written by vocalist Patrice Quinn and pianist and keyboardist Brandon Coleman, a testament to Washington's love and respect for his band members (his sets always seem to include a song or two written by bandmates); "Re Run," for which Washington brought his dad Rickey onto stage, where he remained for the rest of the show; and a much more upbeat, less spiritual version of
The Epic
's "The Rhythm Changes" — not my favorite treatment of the song, but interesting to hear 'the hit' performed in such a different way.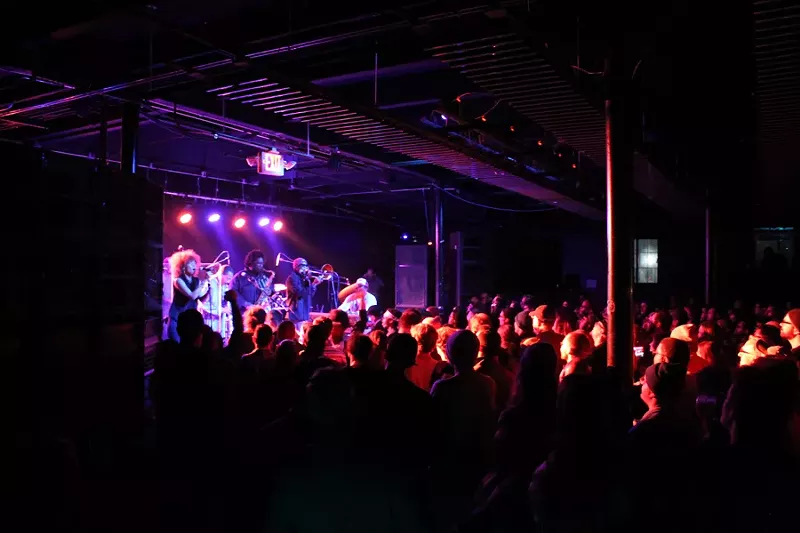 I've had the good fortune to now see Washington and his rotating cast of bandmates three times; happily, Quinn, Coleman, trombonist Ryan Porter, and his father Rickey on saxophone and flute have been present at each. But the Magic Stick, while able to provide an intimate experience that isn't possible at a theater or outdoor venue, just isn't set up for a jazz performance in terms of sound. It was hard not to feel like you were seeing jazz through a rock set-up — not ideal for the sprawling spirituality of the Washington experience, which can fill up a whole lot of space when that space is there to be filled.
It is true that Washington's trajectory has been marked by decidedly non-jazz appearances, whether in settings more geared toward rock like the Magic Stick or on the electronic and hip-hop label Brainfeeder that is home of his opus
The Epic
. This speaks to his own musical growth as much as it does the difficulty of selling jazz to mainstream audiences, but there remains something to be said for the experience of such powerful music without the kinds of distractions, sonic and otherwise, you'll find at a spot like the Magic Stick.
Nevertheless, the crowd certainly seemed to love it and the space for dancing up so close to the performance itself is something that folks probably won't get much of a chance to experience elsewhere. That alone gave this specific show a unique shape, and there's no denying that Washington and his band are masters, soulful jazz titans projecting peace and emotion out into the world. It is a pleasure and honor to bear witness to the depth of their skills and love, no matter where that happens to be.