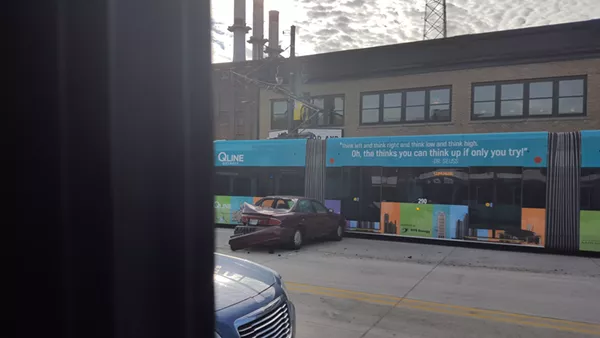 On Monday, Nov. 6, Megan Owens took Detroit's QLine streetcar to get to a meeting downtown. The trip downtown went without a hitch, and after the meeting ended, Owens tried to take the QLine back to the New Center area. But as soon as she boarded the streetcar she was told by the operator that there was an accident and the ride would be delayed at least 45 minutes.
The entire system wound up being down for several hours, following a collision involving a streetcar, a DDOT bus, and a car that left three injured. As could be seen by released
surveillance video
, a car pulled out from behind the QLine streetcar, which was parked at a station on Woodward Avenue and Canfield Street. It was then struck by the bus, causing it to ricochet into the QLine. The injuries, reported as minor, were sustained by people on the bus and car.
As the executive director of Transportation Riders United, a nonprofit that works to improve public transportation in southeast Michigan, Owens is well-versed in the region's public transportation options. After she got off the downed QLine, she managed to catch a DDOT Reflex express bus.
"I got to where I was going possibly even quicker, in 15 minutes," she says. "I happened to be able to catch that express bus. It's pretty quick, but it only runs every 45 minutes. So it happened to work out."
As the bus drove by, Owens snapped a photo of the scene of the accident and posted it to Facebook.
Both Owens' post and the news coverage sparked a debate about the safety and efficiency of the QLine, the first streetcar to travel down Woodward Avenue in more than 60 years. But despite the fact that the QLine operator was not at fault — the streetcar was parked — much of the news media appeared to frame the collision as a problem with the QLine itself. For example, a headline on WJBK Fox 2 read
"QLine shut down due to collision with bus and car."

Owens took to Facebook to vent that the QLine did not have its own dedicated lane — its tracks share the street with civilian vehicles. "My biggest disappointment is that they didn't do it in its own lane, so they're stuck sharing traffic waiting at lights," she says. "It doesn't provide a quick, reliable trip."
A dedicated lane was a cause she says she and TRU argued for during early feedback meetings with M-1 Rail, the QLine's operating entity. "I laid out a report that explained why center-running dedicated lane transit rail transit was much more effective and reliable, and pointed out how if it ran along the sides and shared traffic it was likely to be frequently delayed and would run much slower," Owens says. Yet M-1 Rail personnel seemed unfazed, she recalls.
She says M-Rail didn't seem particularly concerned with building a system that was fast or reliable. Instead, M-1 Rail opted for a design that utilizes both center lanes and curbside lanes to promote foot traffic to businesses. "I do remember, 'business-friendly circulator' were their precise words," Owens says. "The goal was economic development. Transit was the means."
So what kind of track record does the QLine have so far? According to traffic crash reports obtained by
Metro Times
under the Freedom of Information Act, the streetcar system has been involved in a half-dozen collisions since it opened to the public in May. Five car collisions involved civilian drivers attempting to make a turn in front of the QLine. No major injuries were reported, though a sixth incident involved a motorcycle driver who was hospitalized after his vehicle caught the QLine track and toppled.
What kind of track record does the QLine have so far? The streetcar system has been involved in a half-dozen collisions since it opened to the public in May.

tweet this
"Time and education are a part of it," says M-1 Rail spokesman Dan Lijana. He also noted there have not been any reported instances of QLine operators found to be at fault. "All of our operators are trained to drive defensively," he says. "That's something that I think is one of the reasons why we haven't had a major accident."
Lijana also notes that some traffic signals along the route offer the QLine priority, and that M-1 Rail is looking at other traffic signal-related options that could help avoid the potential for collisions. "We've been in discussion with the city of Detroit and the state of Michigan on some methods that both speed up the headway and can improve safety that allow the QLine more of a right of way of passage, and for that matter, buses too," he says. "Those discussions are continuing to go on as we get a little bit more experience out on the road, carrying passengers."
But Lijana concedes there is still a learning curve to be expected with the public. "Part of it, too, is drivers understanding that it's a vehicle that takes longer to stop than a semi truck," he says.
According to Lijana, 47 tickets have been issued for vehicles parked improperly along the QLine's tracks and 18 vehicles have been towed since August. (The QLine opened to the public in May and had been testing for months before then, but numbers for tickets issued during that time were not available.) However, Lijana notes that the number of tows have been declining as more people get accustomed to the QLine's route, and credits the diligence of parking enforcement in keeping the QLine tracks clear.
Lijana also points to other changes that have been made to improve the QLine's efficiency. He says the system's digital arrival time prediction system, which users have complained is inaccurate, has improved. He also says QLine operators are learning how to navigate the route faster through repetition. He advises riders to follow the QLine on Twitter (
@qlinedetroit
) or download the official app for the latest news on delays or other traffic issues.
But critics like Owens wish the improvements would come faster.
"I still think (the QLine) is a net positive for the city. I still think there's value in having an easy, attractive way to get around the downtown and Midtown area," she says. "I just haven't been seeing the improvements over the past several months."
She adds, "the frustrating thing is we're not the first ones to do this. We're not re-inventing the wheel, here."