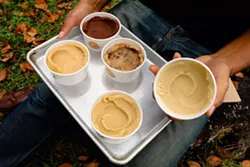 The owners of Detroit Dough are now threatening legal action against the woman who
alleged one of the company's founding members sexually assaulted her
and has a history of sexual harassment.
In
a Facebook post
, owners Autumn Kyles and Victoria Washington say they are "dedicated to empowering women to take a stand, to speak up and speak out" while also saying they "remain confident that there is no truth to the allegation made against Daniel A. Washington and our attorneys are looking into any recourse we may have."
"While we are dedicated to empowering women, we are equally dedicated to finding truth and seeking justice," they wrote.
The full statement is below:
Previously, the Detroit Dough owners
announced
that Washington would be stepping down "effective immediately until this matter is resolved."