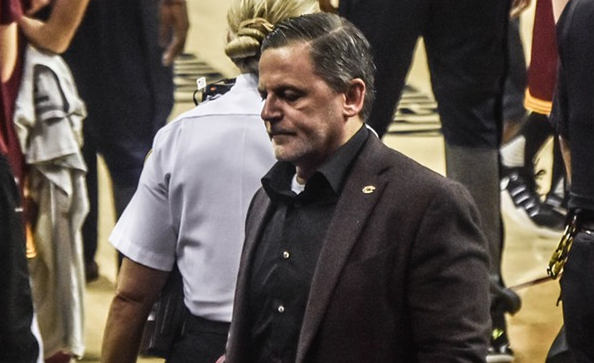 Oh, we got a good one out of Dan Gilbert today.
The billionaire who
helped precipitate the housing crisis
(but
denies
it),
bought buildings for cheap
in a city decimated by the catastrophe, and proceeded to create a downtown oasis dubbed
"Gilbertville"
says he has an "inclusive" vision for Detroit.
Yes, all 140 square miles of it.
"The city is one organism. If the neighborhoods don't do well, downtown won't do well,"
Gilbert opines
in an interview with
Detroit News
columnist Bankole Thompson.
According to Thompson, Gilbert says that he agrees people are being left behind in Detroit's comeback. And he has what appears to be a pretty solid solution to the problem.
"Fundamentally, the response to poverty must go back to growing opportunities to access sustainable jobs," Gilbert says.
The thing is, many would argue that Gilbert, Detroit's biggest employer, has not served as the best model for growing job opportunities for Detroit's poor residents — of whom there are 242,000.
While Gilbert's family of companies has added 17,000 jobs to Detroit, the number of Detroiters it's hired has never been released. An estimated 3,600 of Gilbert's employees live in the city, but it is unclear how many of them lived in town before joining one of his companies. Further, we'd venture a guess that few were poverty-stricken when they came on board.
Studies looking at Detroit's resurgence have described the city's recent
job gains as generally
benefiting white workers from the suburbs
. While those studies do not say which companies have contributed to this trend, Gilbert is the city's largest employer and moved his businesses there in 2010.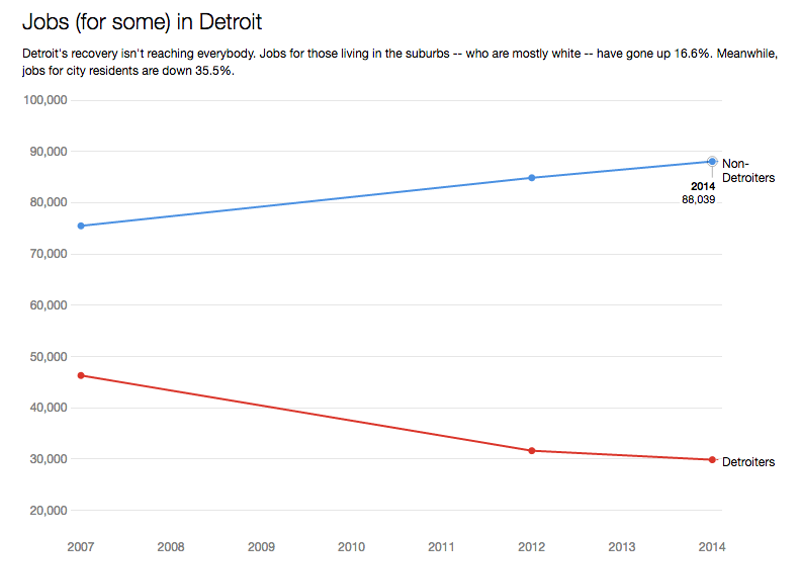 Meanwhile, as Gilbert's companies helped add the majority of new jobs to the city between 2010 and 2015, the Census American Community Survey found the percentage of African-American Detroiters employed in the city actually went down during that period, from 36 percent to 33 percent. Detroit is 82 percent black and poverty is concentrated among its black residents.
Of course, there's a limit to what one man can accomplish. Gilbert, for his part, has long claimed he's about helping the city. After Bedrock's
"See Detroit like we do"
fiasco over the summer, a rep sent us a statement on the family of companies' commitment to "drive job growth and increase economic opportunity for all."
Gilbert highlighted an example of that in his interview with Thompson. He says a call center called Rock Connections employs 1,100 people and serves as a "point of entry" through which Detroiters can access pathways to better jobs.
"While education is important [in hiring], we focus on finding team members who have passion and enthusiasm," a Quicken Loans representative said of the call center's hiring practices. A quarter of Rock Connections' staff is comprised of Detroiters, which is a higher percentage than in Gilbert's companies overall.
Separately, Gilbert's Bedrock reportedly donated $250,000 to a
$10 million skilled-jobs training facility
intended to help Detroiters fill the construction and carpentry jobs made available by a wave of new development. (Big developers have had trouble meeting a 51 percent Detroit labor quota and Gilbert himself will be put to the test when he breaks ground on a series of new downtown developments, including the city's tallest sky scraper at the old Hudson's site.)
All of that is a start, but for some, it might not seem like enough to warrant overtures about how to save the city's poor.
Still, we appreciate Gilbert's sentiments. This statement, in particular, really resonated with us: "Detroit is at a place in its history where we can
set the table for inclusive growth
that will benefit generations to come."
By all means, Dan, invite us to dinner.