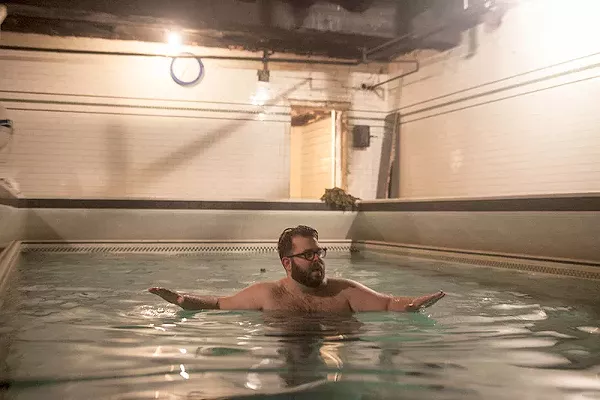 Paddy Lynch is a third-generation Irish Catholic undertaker. But now, the 33-year-old Detroiter's new title is caretaker, which is connected to his effort to revive a North End building featuring almost 100 years of the neighborhood's Jewish history, the Schvitz.
"Like grief, there's something deeply human about the experience [of taking steam with others in a 190-degree sauna]," Lynch says. "So, at a certain point it kind of blows up all the various boundaries and borders we put around us — whether they be religious or nationalistic or political or social."
The Schvitz — Yiddish for "sweat" — started as a center for the mostly Russian-Jewish community on Oakland Avenue in Detroit in 1918. About a decade later, the basement was dug out as a cold pool and a traditional Russian banya sauna was built. In the early 20th century it was necessary — many residences in working poor neighborhoods did not have hot water. However, it also served as a way to not only get a good steam but connect with traditions like the platza, an old world massage featuring a hand broom made from oak leaves. One could also get a highly regarded steak dinner.
But as the decades wore on, the club grew a seedier reputation. At one point, it was a popular hangout for the infamous Purple Gang. Eventually, it became known as the host of notorious "couples nights" (see Detroitblogger John's 2009 Metro Times story) for swingers. As the clientele changed, so did the decor, and carpet and drop ceilings covered intricate black and white tilework, beautiful tin ceilings, and even a ceremonial cleansing tub.
For the undertaker and his partners, Jessie Nigl and Alan Havis, reviving the Schvitz is a labor of love born out of an understanding of what the club was, what it became, and what it can be again. But it's also about understanding that they truly don't make places like this anymore. The Schvitz is the last of its breed in Detroit.
As renovations started last year, it became apparent the club didn't particularly need additions as much as subtractions. The old carpeting, wood paneling, and other outmoded interior design ideas would fill at least 14 dumpsters in the process, Lynch says.
But a bigger question remains: Can the new owners strip away a hardened patina of the Schvitz's more lascivious past while resurrecting a new appetite for old world steam and victuals in metro Detroiters beyond the core members who kept the place humming along, just barely, over the last few decades?
"The first time I walked into the place, as a lot of people have, I had that reaction to the space, 'This place is amazing, it's in really rough shape, something has to be done about this,'" says Nigl, a former manager of Slow's BBQ and Selden Standard who will run day-to-day operations at the Schvitz. "And, for my own selfish purposes as a woman (I thought), 'This isn't right, something has to be done about this. Women should be allowed to have access to this space in a nonsexual way.'"
Though the Schvitz had been, for many years, a men-only club except for those "couples nights," they rolled out ladies brunches about a year ago. Under the new ownership, the schedule will split the week between men only, women only, and bathing suits-mandatory co-ed days.
But beyond making the historic bathhouse more welcoming to women, Nigl and Lynch are also seeking to make the fortress-like facility more open to residents in the North End neighborhood.
"Some of the people in the community that we've reached out to ... were like, 'I can't believe I'm in this building, we thought we'd never go in this place, our grandmothers always told us cross the street when you walk by there ... that place is filled with dangerous white men,'" says Nigl.
Along with stripping away of the paneling and the profane, the Schvitz has rediscovered the sparkle along with its sacred past. That's because a Mikvah, a special tub used in Jewish purification rites, was unearthed beneath the floorboards of the old video room where many a porn film had been screened over the decades. After contacting an area rabbi, the hope is for the bath to be rehabbed and made available to the faithful. Lynch said that would make it the only operational Mikvah inside the city of Detroit.
After a few soft openings, working through the labyrinth of the city's permitting process (especially after decades of lacking compliance under old owners), Lynch and company plan to open the doors to the public this week. With it, the caretaker feels that — like a moth to flame — there's something innate in our psychology, no matter the culture, that draws us close to the heat and the restorative properties steam can bring. It was during what Lynch describes as a depression several years ago that he discovered that the steam at the Schvitz is good medicine.
"Some of the most ancient philosophers talked about if you can sweat it out, chances are you'll be cured," Lynch says. "That's a lot to be said for sweating it out."
Then again, maybe they will come for the borscht?
The Schvitz plans to open to the public Nov. 1. Men only on Wednesdays and Thursdays from 4 p.m. to 10 p.m., and Sunday from 8 a.m. to noon; women only Tuesday from 4 p.m. to 10 p.m. and Sunday from noon-4 p.m.; and co-ed Monday 4 p.m. to 10 p.m. and Sunday 6 to 10 p.m. The Schvitz is located at 8295 Oakland Ave., Detroit; 313-871-9707.