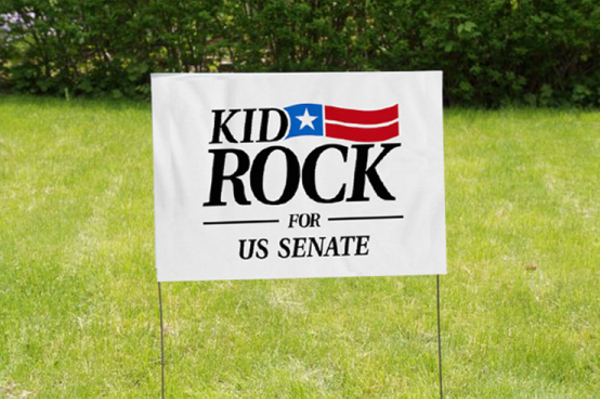 This morning, Kid Rock confirmed once and for all that he is not, in fact, running for U.S. Senate. (We imagine somewhere in Washington D.C., Debbie Stabenow is breathing a sigh of relief.)
Rock made the big reveal on Howard Stern's SiriusXM show, telling Stern that it was all a joke all along. "Fuck no, I'm not running for Senate. Are you kidding me?" he told Stern, the
Free Press
reports
. "Who couldn't figure that out? I'm releasing a new album. I'm going on tour too. Are you fucking shitting me?"
For months, Rock teased the idea that he would run for Michigan's Senate seat. The website
kidrockforsenate.com
surfaced in July, selling T-shirts and yard signs. In the months that followed, the rap-rocker maintained it was real — all the while attacking the "fake news" media and keeping his poker face even after watchdog groups said
he could be fined
for violating campaign finance law.
In Kid Rock's mind, it was all a bit of performance art. "It's the worst advice I ever gave myself, but it's been the most creative thing I've ever done," he told Stern. "And I've gotten to see everyone's true colors."
Indeed. But who was the joke on, in the end?
In an attempt to figure out if the Senate run was real — and if people would really vote for him — we sent writer Jerilyn Jordan
to his six inaugural shows at the then-new Little Caesars Arena
last month for a
Metro Times
cover story. On opening night, a violent Charlottesville-esque clash between Black Lives Matter protesters and pro-Kid Rock motorcycle groups was arguably narrowly avoided, with the protesters dispersing mere minutes before the bikers arrived.
Anyway, we're glad that's all over. Thank you, Rock 'n' Roll Jesus.
Rock's new album
Sweet Southern Sugar
drops Nov. 3.