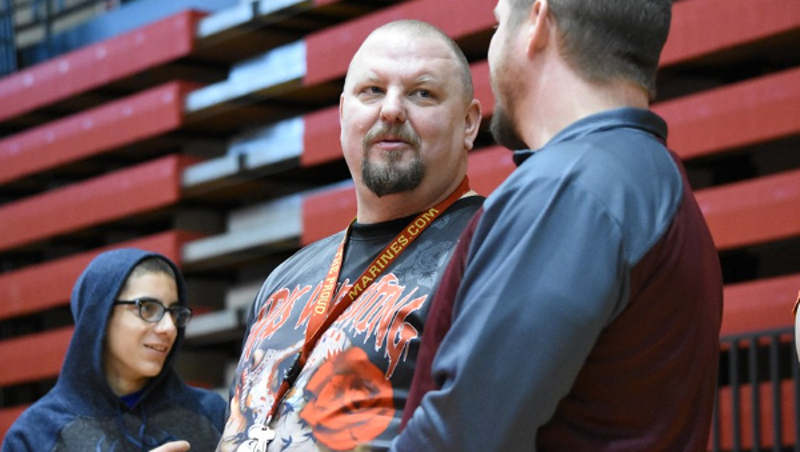 Female wrestling coach, promoter, and advocate Brent Harvey has died. He was 46.
As postings to
his Facebook page
indicate, on the evening of Friday, Oct. 20, Harvey was riding his motorcycle to Whitmore Lake High School to watch a football game when he was killed in an accident.
Harvey was at the center of
our cover story four months ago
about the female scholastic wrestling scene, and how Harvey and others in that scene advocated for growing the sport, as well as establishing a state-sanctioned female scholastic wrestling championship. A former high school wrestler himself, Harvey rediscovered his passion for the sport watching his two daughters compete, and had spent more than a decade focusing on coaching girls. Through his "War of the Roses" series, he gave hundreds of girls the opportunity to challenge other females on the mat.
He had also picked up where the former U.S. Girls Wrestling Association, a trailblazing Michigan organization headed by Kent Bailo in the 1990s, left off. When Bailo's operation folded about a decade ago, Harvey began promoting his War of the Roses matches, incorporating it as a nonprofit in 2009. As the number of events mushroomed to dozens per year, Harvey scrambled to gain sponsors and fundraising to help kids pay for all of the traveling involved.
We spent the better part of a year watching Harvey help train young athletes, coach them at matches, and watched him come and go as he drove all over the country running matches that helped female wrestlers compete with one another. In that tightly knit world, where coaches and athletes are almost like family, the feelings of loss among the hundreds he's helped mentor will loom large.
The posting to his Facebook page, apparently from his wife, spoke for many of those who commented: "I am beyond heartbroken, not only for myself and our girls ... but for the thousands of kids, both girls and boys whom he has impacted over the years with his passion for wrestling."
But the ideals Harvey worked for, though they are still pursued by others, have lost a powerful advocate.
Our June story also featured Cliff Cushard, one of Harvey's colleagues and a girls' wrestling coach at Adrian College. Cushard had this to say:
Brent was a loud voice in the world of women's wrestling. He sometimes rubbed people the wrong way because of it — but it was always for the goal of growing the sport and fighting for the girls to have the same thing the boys had.

He had his sights set on one goal and no one was going to get in his way. He didn't care who you were, what group you were with or the internal politics of the sport. If he thought it was the right thing to do he would do it.

We lost that loud voice. Now many of us need to pick up where he left off. Perhaps with dozens or hundreds of us working to continue his legacy, we can equal his one voice.


To read June's cover story about Brent Harvey and his work,
click here
.
UPDATE: Those who knew Harvey may pay their respects 3 to 8 p.m. today, Oct. 27, 2017, with funeral services at 10 a.m., Oct. 28, 2017, at Borek Jennings Funeral Home, 7425 W. Michigan 36, Whitmore Lake; 810-231-0200. Click here to see Harvey's memorial wall, with many comments from those who knew him.