Voters Not Politicians is
working to gather 316,000 signatures
needed to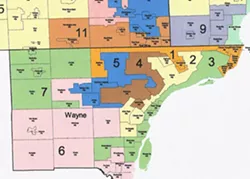 put a proposal on the November 2018 ballot that the group says will end gerrymandering of electoral districts, if it's approved
The non-partisan, non-profit group is proposing amending Michigan's state constitution to establish a 13-member citizens' commission made up of five independent voters and four each from the two major parties.
It has 180 days from Aug. 17 to collect the signatures, and well-attended festival and weekend events are excellent places to gather large numbers of them in a short time. So far, it has collected over 200,000 signatures, which equates to three per minute. That's "a pace Alan Fox of Practical Political Consulting says no petition drive in Michigan has matched since the 1976 bottle bill," Voters Not Politicians says.
Below is the list of locations where you can find Voters Not Politicians volunteers collecting signatures. Exact locations and times where/when volunteers will be at events are not always available, so keep your eyes peeled for them. In some cases, volunteers will be outside or the near the entrance of the event instead of inside it. For example, volunteers will be near the entrance of the University of Michigan football game, but not in the stadium.
Check the website for times, location, and other details.
To volunteer check
this site
for details.
Friday, Oct. 6

Battle Creek: Battle Creek Books
Grand Rapids: ArtPrize Downtown Grand Rapids (ArtPrize locations)
Chelsea: New Chelsea Market
Caro: Tuscola County Pumpkin Festival Downtown Caro
South Haven: Black River Books
Jackson: Grand River Farmers Market
Ypsilanti: First Friday outside Bona Sera
Ann Arbor: "Pod Save America" performance at the Michigan Theater
Ann Arbor: Martin Sexton Trio concert at The Ark
Holland Fire Truck Parade Downtown Holland (intersections on 8th Street)
Saturday, Oct. 7

Ann Arbor: Michigan Wolverines vs. Michigan State Spartans football game at Pioneer High School (northwest lawn); Stadium & Park/Industrial
Ann Arbor: Shovels & Rope concert at The Ark
Kalamazoo: Kalamazoo Farmers Market
Midland: Midland Farmers Market in downtown Midland (Ashman & Ann)
Milford: Oakland County high school cross-country championship Kensington Milfood Twp. Metropark (Possom Hollow shelter) 4570 Huron River Pkwy.
Sherman Township: Gay Fire Department Pancake Breakfast at the Sherman Township Fire Department
Holland: Holland Farmers Market in downtown Holland (intersections on 8th Street)
Marquette: Marquette Farmers Market at Marquette Commons
Norton Shores: Sweetwater Local Foods Market Mercy Health (Lakes Village campus)
Owosso: Owosso Farmers Market
Chelsea: New Chelsea Market
Battle Creek: Battle Creek Books
Dexter: Dexter Apple Daze in Monument Park
Grand Rapids: ArtPrize Downtown Grand Rapids (ArtPrize locations)
Caro: Tuscola County Pumpkin Festival in downtown Caro
Fraser: Fall Festival in Steffens Park
South Haven: Black River Books
Grand Rapids: Art Prize Fountain Street Church
Empire: Empire Hops Festival in downtown Empire
Highland Township: Fall Festival at the Highland Activity Center
Fowlerville: Witches Night Out at the Fowlerville Fair Grounds
Marquette: Harvest Fest Downtown Marquette
Escanaba: Harvest of Harmony at Escanaba School
Sunday, Oct. 8
Grand Rapids: ArtPrize in downtown Grand Rapids
Chelsea: The New Chelsea Market
South Haven: Black River Books
Jackson: "In Plein Air" Art Show
Portage: Portage Farmers Market
Caro: Tuscola County Pumpkin Festival in downtown Caro
Ann Arbor: Skate Against Hate Veterans Park Skate Park
Monday Oct. 9
Battle Creek: Battle Creek Books
South Haven: Black River Books
Holly Township: Holly Township Library
Chelsea: New Chelsea Market

Tuesday Oct. 10


Albion: Irene's Superior Unisex Salon
Battle Creek: Battle Creek Books Battle Creek Books
Chelsea: The New Chelsea Market
Jackson: Grand River Farmers Market
Marcellus: Marcellus News storefront
Midland: Grace Dow Memorial Library
East Lansing: Hubbard Dance performance at Wharton Center
Bay City Redistricting Reform Town Hall at the Bay City State Theater
Waterford: L.A. Cafe
Wednesday Oct. 11


Holland: Holland Farmers Market
Battle Creek: Battle Creek Books
Chelsea: New Chelsea Market
Marcellus: Marcellus News storefront
Midland: Midland Farmers Market

Thursday, Oct. 12


Battle Creek: Battle Creek Books
Chelsea: The New Chelsea Market
South Haven: Black River Books
Midland: Grace Dow Memorial Library
Albion: Irene's Superior Unisex Salon
Owosso: Oktoberfest at Owosso Farmers Market
Holland: Fall Fest Downtown Holland (intersections on 8th Street)
Flint: Flint Art Walk Downtown Flint (Saginaw & Court)
East Lansing: "Great Gatsby" performance at Wharton Center