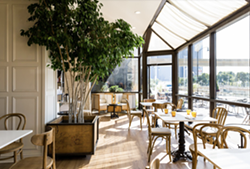 La Dulce
recently relocated
from Royal Oak to the Crowne Plaza Hotel in downtown Detroit, making some notable changes to its menu in the process. But as part of an effort to raise awareness of and funds for those impacted by a recent 7.1-magnitude earthquake that hit Mexico City, it's shifting its concept from a tapas eatery to a Mexican restaurant.
The
Freep
reports that co-owner Luis Negrete has several relatives who live in Mexico City and the nearby states of Puebla and Oaxaca. Proceeds from some of the dishes will go to relief efforts.
"I was a bit afraid of making a Mexican restaurant and seeing what the response was in terms of what I wanted to do," Negrete told the
Freep
. "Right now, I don't care. I'm just going to go for it because it helps build awareness. It's not just the menu changing, but to keep the word 'Mexico' in the minds of people. ... It might get to Christmas and many people (in Mexico) may still not have a home."