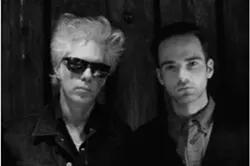 Filmmaker Jim Jarmusch is returning to Detroit.
Jarmusch will perform at MOCAD on Thursday, Nov. 2 as part of Sqürl, his musical side project with producer Carter Logan. The band will provide a live soundtrack to four films by noted surrealist artist Man Ray. Tickets are available
here
.
As a filmmaker, Akron-born Jarmusch has a history with Detroit. His 2013 film
Only Lovers Left Alive
was set and filmed here. (Sqürl provided the score, earning a Cannes Soundtrack award.) Most recently, in 2016 he released
Gimme Danger
, a doc on Iggy Pop and the Stooges.
The band self-describes themselves as a "marginal rock band from New York City who like big drums & distorted guitars, cassette recorders, loops, feedback, sad country songs, molten stoner core, chopped & screwed hip-hop." They have released music on Jack White's Third Man Records (and White appeared alongside White Stripes bandmate Meg in Jarmusch's 2003 film,
Coffee and Cigarettes
).