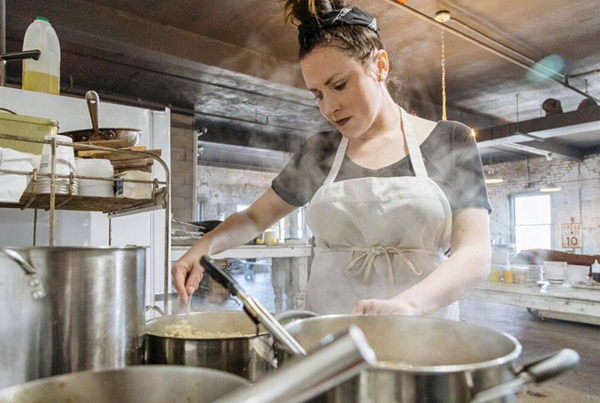 Lady Of The House, the long-awaited restaurant of chef Kate Williams, opens next week in Corktown's former St. CeCe's space.
The soft opening is today, and the
Detroit News
reports that the former Republic, Parks & Rec, and Rodin chef will be joined by sous chef Larissa Popa, who also worked in Republic's kitchen. Christian Stachel, who previously worked at Wright & Company, is LOH's beverage director and general manager
According to its website, Williams will specialize in "nose to tail, whole animal preservation and utilization, as well as highlighting local farms. Williams is also focusing on #uglyfood, which is about minimizing food waste on farms in an effort to feed more people and promote more hungry folks to grow their own food."
The space seats around 65 and will have nods to Williams' Irish-American heritage. Once open, the restaurant's hours will be Wed. through Sun. from 4:30 p.m. to 11 p.m. The bar is open until 2 a.m., and brunch will be available in the fall.
Visit
www.ladyofthehousedetroit.com
for more info, or visit the
Facebook page
.