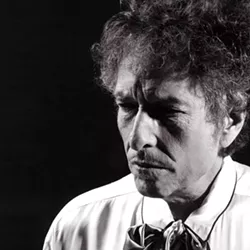 The prolific singer and songwriter Bob Dylan is gracing us with his presence at the gorgeous Fox Theatre on Wednesday, November 1 for a once in a lifetime performance.
Dylan toured extensively last year but never came around with a Detroit date. Finally the "Like A Rolling Stone" singer confirmed a new tour with Detroit in the mix.
Dylan will be performing with his legendary backing band, alongside special guest Mavis Staples opening for him. While getting to see Bob Dylan will be a treat for any rock n' roll fan, Mavis Staples will surely be a nice surprise for those who are not familiar with the Kennedy Center honoree. The gospel singer is a true gem and you'll be happy you got to see her perform live. This writer saw her at the Bonnaroo music festival a few years back and she took us to church and back.
Tickets go on sale Friday, Sept. 15 and range from $35 to $129.50. You can purchase them at OlympiaEntertainment.com or ticketmaster.com
Now here are some Dylan and Mavis Staples songs for you to jam out to for the rest of the day.