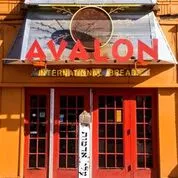 Avalon's newest location and concept launches today in New Center.
The shop at 2990 W. Grand Blvd. will offer baked goods, Mighty Good Coffee, made-to-order sandwiches, salads, and a sweet and savory biscuit bar with seasonal toppings.
The cafe also serves handcrafted ice cream made by Reilly Craft Creamery, one of the vendors inside Avalon's large bake house on Detroit's east side. A variety of ice cream treats like Faygo floats, Italian affogato, and ice cream dowsed in espresso are on the menu.
According to a release from the company, Avalon celebrated its 20th anniversary this month, and the Biscuit Bar joins three Detroit storefronts; a coffee shop in Detroit Metro Airport; Avalon Cafe and Kitchen in Ann Arbor; and Avalon Cafe and Bakery in downtown Detroit.
The public is invited to join the Avalon team for a charity grand opening celebration from 4 p.m.to 7 p.m. that includes an ice cream social, a cakewalk, and other family-friendly events. All proceeds will benefit Oakland Avenue Urban Farm, a nearby organization dedicated to cultivating healthy foods, sustainable economies, and active cultural environments.